Cloud ERP systems, such as Acumatica's true cloud ERP, provide rich vertical solutions, which make the move from legacy to cloud-based ERP systems much easier for end users. In part one of a three-part series on cloud migrations, Acumatica VAR SWK Technologies, Inc. dives into three core vertical solutions.
There's no doubt that the marriage of the Internet and business applications has forever changed how organizations leverage ERP systems. When we discuss how cloud applications can be used to fuel, grow, or scale your business, we tend to focus on the technology stack and skip over important vertical functionality. The evolution of cloud ERP systems—such as Acumatica cloud ERP—has provided vendors with a platform on which they can provide deep, niche vertical solutions for a wider range of mid-market customers. These developments enable end users of these vertical solutions to migrate their ERP systems to cloud computing much more easily.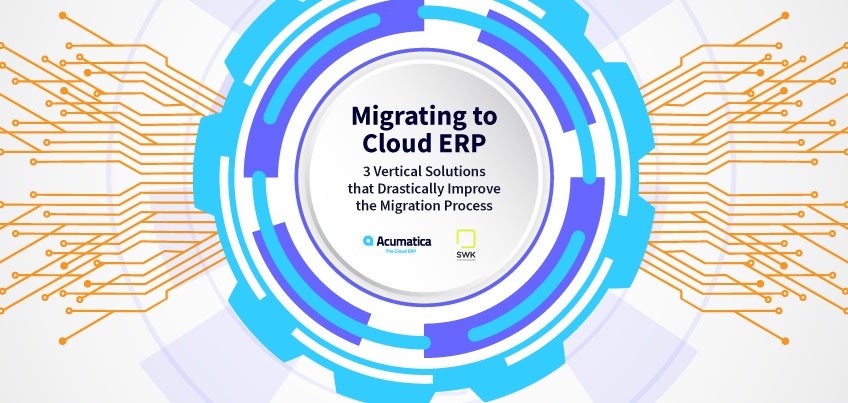 Cloud ERP migration made easier
Here are three of the core vertical solutions delivered by a cloud ERP system that drastically change how end users approach ERP migrations:
1. Field Service ERP
We're currently seeing a major shift to service-oriented models across all industry lines. Businesses that have historically been product/merchandise-focused are now adding service components to their line-up, such as Acumatica's Field Service application, to be able to meet changing consumer demand. Other typical field service industries like HVAC, medical device installers, etc., require a specific set of functionalities to run their business on-the-go.
In the past, many companies would deploy a legacy accounting system and manage service appointments, orders and equipment in a series of Excel spreadsheets. There were a few organizations who adopted bolt-on systems that integrated with their legacy apps, but these were often clunky and caused more harm than good.
The ubiquitous nature of cloud computing and cloud ERP allows field technicians to easily access a mobile application to start a job, allocate inventory, and collect a customer's signature. Back in the office, the dispatcher can view a live feed of data and know what their technicians are working on. In addition, integrations with systems like DocuSign enable customers to receive and electronically return signed documents to the central ERP hub. After their cloud ERP implementations, field service companies enjoy a single source of truth, while focusing on delivering high-quality products, service, and support to their customers.
2. Manufacturing ERP
Manufacturing is an industry with complex business operations and software requirements. Not only do they require a connected GL to their AP, AR, Distribution Management and Manufacturing ERP software (BOM, Production and MRP), their folks require scanning and shipping solutions that update their central database in real-time. Supply chain management professionals require access to data as soon as it is available. On top of that, many manufacturers are being forced to used EDI tools that don't integrate with their ERP systems.
Cloud ERP systems like Acumatica were built on platforms that support ease of use and connected apps. The notion of the connected cloud is a reality for everyone in today's global economy. A connected cloud ERP platform allows users to manage their business from a single application yet leverage tools like Scanco for barcode scanning on the shop floor, and MAPADOC to connect with their EDI trading partners.
The key is to look for a modern manufacturing system that supports connections with systems out-of-the-box via supported connectors. This approach allows manufacturers the ability to include everyone in their business management system, from the CFO viewing financial dashboards to folks on the shop floor recording direct labor through a barcode scanner.
3. Nonprofit ERP
One of the most historically underserved industries in the legacy ERP world was the nonprofit sector. Many organizations were tied to off-the-shelf accounting systems like QuickBooks. The problem with this software approach is that QuickBooks never could account for the unique functionality a nonprofit organization requires, such as grant management, fund management and fund accounting. To make it even worse, multi-entity nonprofits wound up with totally separate databases and would require full-time personnel just to marry together data and provide a consolidated view of the organization.
Today, there are nonprofit ERP systems available that provide a wide range of nonprofit functionality. Modern cloud applications also better facilitate integrations with credit card processors, eCommerce sites, and lockbox vendors, just to name a few. The cloud subscription approach has changed how nonprofit organizations pay for cloud ERP software and ultimately manage their IT infrastructure. Organizations that have no interest in managing servers on-site now have a plethora of options that require no IT maintenance, including upgrades.
Meet your customers' needs with cloud ERP software
The delivery of robust software in a cloud environment has given software vendors a competitive approach to offer strong vertical solutions to customers. Are you using a system today that doesn't fit your vertical industry? If so, contact us here at SWK Technologies, Inc.; we have a technology solution that will support the way you do business.