Businesses around the world have entered into a new, unexpected state of work. Unfortunately, not all are prepared to support a 100% remote workforce. Acumatica's new eBook on business resilience and cloud ERP can help.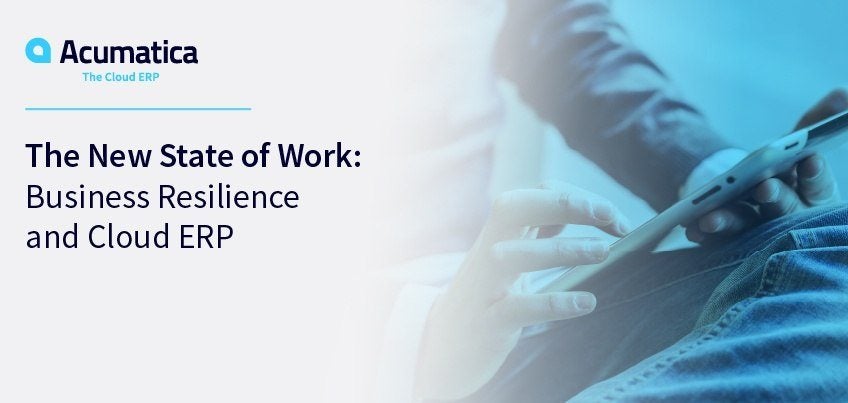 Are you and your team adjusting to the sweeping COVID-19 closures of non-essential businesses and to working remotely? If you're struggling, Acumatica's new, complimentary eBook, The New State of Work: Business Resilience and Cloud ERP offers helpful, practical advice.
You'll learn how Acumatica's modern, mobile cloud ERP solution can:
Ensure team productivity
Allow safe and secure access to vital information from anywhere, at any time, and from any device
Provide a single source of truth so everyone is on the same page
Enable you to communicate easily with every team member
You'll also learn how a virtual workforce can benefit your business both now and in the future.
Surviving and thriving in the new state of work
"The visibility and reporting that Acumatica provides are a lifesaver. I am currently homeschooling my kids and running a multi-million dollar company from my home," says Liza Palmer Gipson, VP Sales and Marketing at Palmer Foodservice.
She and thousands of other Acumatica customers have enabled a remote enterprise and ensured business continuity through Acumatica's fully integrated and accessible cloud ERP software. Their reasons for implementing a cloud-based ERP solution may be different, but they've all found that the decision has kept them afloat during this unforeseen pandemic.
As you'll read in the eBook, Acumatica allows your business to acclimate to changing conditions. Seth Bray, CEO of PennAir, has experienced this firsthand. "While our competition struggles to adapt, our team has been able to work anywhere and maintain business continuity under any scenario because we're running PennAir on Acumatica in the cloud."
Safety Management Group CFO Rebecca Ogle says, "My team has been working remotely since Tuesday, March 17, and we've all been able to stay business as usual: efficient, functional, and productive—and still serving clients. It's been so nice to know we have reliable software we can use from the comfort of our home."
That reliability is possible for several reasons. One, Acumatica's solution is based on an open, flexible Acumatica cloud xRP platform. It uses standard web technologies and development languages, which allows users to personalize Acumatica for their specific business needs. And it's built on the world's best cloud and mobile technology that affords users 99.5% uptime. Two, SaaS capabilities are continuous as Acumatica maintains disaster recovery and business continuity plans, supported with data centers in multiple domestic and international locations as described in Acumatica's COVID-19 outbreak service commitment statement.
Acumatica CEO Jon Roskill also addressed the success Acumatica customers have had during the crisis. See the video below to hear his message.
Acumatica's cloud ERP technology powers businesses worldwide
Acumatica's cloud-based ERP technology powers businesses around the world, keeping them running smoothly from anywhere, at any time. Interaction Associates—a 100% virtual boutique learning and development company—is one of them. Business Operations Director Chris Williams offers three expert tips in a recent post on how to ensure remote workforce success and says, "If you're looking for a cloud-based solution that is flexible for your current and future business needs, I would highly recommend considering Acumatica."
If you haven't yet made an ERP investment, Chris and many other satisfied Acumatica customers would urge you that today is the day. Acumatica's new eBook will walk you deeper through the why and how.
For any questions or if you would like to schedule an online demonstration, please contact our team today. The COVID-19 crisis will eventually come to an end, but your need to be a successful, connected business is ongoing. Let us walk with you into the future.