It's official: nominations are now open for the Acumatica Product MVP & Developer MVP programs. We need you to let us know who you think deserves the honor, and we'll make sure they're recognized at Acumatica Summit 2020.
Here at Acumatica, Acumatica Summit 2020 is on our collective mind. Taking place January 26-31, 2020 in Las Vegas, Nevada at The Cosmopolitan of Las Vegas, it's going to be here faster than you think. We've been urging registration so you can take advantage of our early bird pricing (which ends in early November). Now we want to urge you to start thinking about possible ISVs, VARs, and Acumatica developers who you think epitomize what the Acumatica MVP programs stand for.
If you have someone in mind, including yourself, nominate them (or you) right now. If you're not sure what an MVP looks like, let me fill you in on the qualities and actions we're looking for.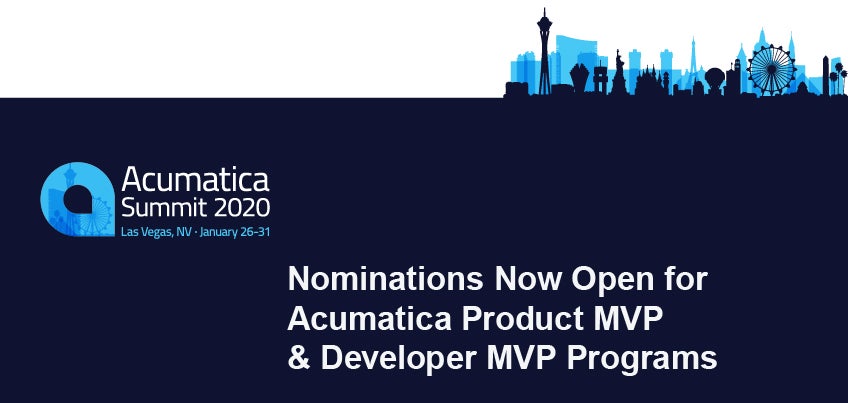 Who's eligible to be an Acumatica Product MVP & Acumatica Developer MVP?
The easy answer to this question is: everyone. Everyone who is contributing to the community and putting forth the effort to nurture the growth and success of the Acumatica community.
MVPs are those who are well versed on Acumatica's cloud ERP product and cloud xRP platform, sharing their knowledge with others without expectation of payment or applause. They also participate in our dedicated forums, such as Stackoverflow, LinkedIn, and GitHub, and attend our annual Summits. Their contributions serve to strengthen our community and to influence the direction we take in every new release of our cloud ERP software.
Those who are selected as an Acumatica Product or Developer MVP will:
Receive a token of appreciation in a recognition ceremony during the Summit's Welcome Reception
Have an Acumatica MVP Badge or Acumatica MVP Developer Badge, which can be displayed on profile pages, social media, resumes, and third-party forums
Write guest blogs for Acumatica Developer Network and attend quarterly synchronization meetings
Participate in our forums by answering questions and submitting sample codes (recognizing Developer MVP contributions in a leader board format with the leaders acknowledged quarterly)
MVPs speak to their experience
As a current Acumatica Developer MVP, Joe Jacob, Senior Software Engineer at Crestwood Associates LLC, has this to say about his experience. "I came from the Dynamics SL space, and when I moved into Acumatica, it seemed like a whole new world. There's a lot of devotion, a lot of thought put into building a team and a community."
In reference to the characteristics of an MVP, Joe says, "It helps to have someone who is not only able to communicate but willing and wanting to communicate with a community. It's not always easy because you invest hours and hours to come up with a design pattern, but you need to realize it's a healthy thing to share. It builds community and helps the product grow and succeed."
And he expects the Acumatica Product MVP and Acumatica Developer MVP programs to grow. "It's easy to buy into Acumatica because I've seen it under the hood. The way Acumatica exposes their source code to a decent degree, you can appreciate how well it works and how well it's designed from the bottom up, and it's exciting."
Gregg Mercede, CEO of Cloud 9 ERP Solutions LLC, is an Acumatica Product MVP, and he, too, is excited about Acumatica's cloud software. "As an advocate for Acumatica, part of what gets me up in the morning is the excitement and love for the software and the platform."
His effort to grow his business is intertwined with his advocacy for Acumatica. In addition to a YouTube channel, where he provides insight into Acumatica's platform, he spends time answering questions and offering suggestions. He's also very forthcoming about things he thinks can improve.
"If I see something that can be improved or if enough customers ask about it, we'll take that extended effort and will either raise a case with Acumatica or put it on the ideas website. I'm on there quite a bit with simple or advanced concepts that I think in the end will make the platform better, easier, more sellable, and will eliminate tech support questions for us and Acumatica."
He continues, "I think we're all stronger together…mostly because of the attention that Acumatica gives to people such as myself. There are many companies who turn a blind eye to feedback. They don't value it. You won't get MVPs if you have that kind of attitude. Acumatica is the reverse. They love and enjoy the feedback."
Nominate your MVP today
Every year, a diverse group of Acumatica team members reviews the nominations, and every year (check out the winners for 2018 and 2019), we have seen increase in the  number of awardees. This reflects the great work many of you are doing in the community—and it's something we greatly appreciate. We're excited to open the nominations (they'll remain open until November 15th, 2019), and hope you'll start flooding us with your nominees.
Thank you to every person who contributes to the Acumatica community. We've been humbled by the support of the community. We're clearly seeing a transition happening, where members are leading the engagement with other members. We've witnessed Acumatica user groups being hosted, organized, and driven by community leaders. It's an exciting time, and we hope everyone will take the opportunity gather together at one time and place during Acumatica Summit 2020.
As Gregg says, we're stronger together.
If you have any questions about the nomination process or Acumatica's cloud-based ERP, contact us today.