With Acumatica Summit 2021 confirmed and on its way, it's time for Acumatica community members to nominate their fellow customers, partners, and developers (or themselves) for the Acumatica MVP Program.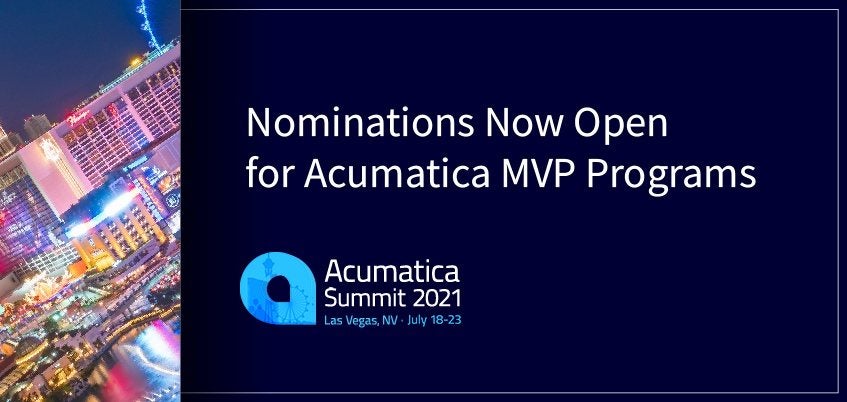 It's probably safe to say that we're all counting down the days until the end of 2020. To help keep us going, we need to focus on positive, uplifting things, so I have two for you: Acumatica Summit 2021 is definitely happening (at the Wynn Las Vegas, July 18 – July 23, 2021) AND nominations for the Acumatica MVP Program are now open.
You can read more about registering for this year's Summit (our early bird special is still on!) and about what we're doing to make our premier cloud ERP event as safe as possible during the pandemic. Today, we're going to focus on Product and Developer MVPs and what you should look for when you consider who to nominate by or before January 15, 2021.
MVPs: Passionate, dedicated, and involved
The goal for Acumatica's MVP (Most Valuable Professional) Program is to publicly acknowledge and thank our customers, partners, and developers who enthusiastically champion Acumatica's cloud-based ERP and platform.
They take time to engage with our team, letting us know what is and is not working. They participate in our dedicated forums, including Stackoverflow, LinkedIn, and GitHub, while also contributing and participating in our relatively new Acumatica Community Forums. Furthermore, they faithfully attend our different events, such as our Launch Day Event/Roadshow as well as our aforementioned annual Summit.
Acumatica Surveys, a COVID-19 Employee Wellness Tracker, is a perfect example of our MVP's work within our community as well as an example of their expertise. Our strong community of Developer MVPs rose to the occasion in collaborating in record time on building a Survey Framework solution for our customers to track the wellness of employees during the COVID-19 pandemic. They delivered the first version of the solution to Power Storage Solutions in few short weeks – not months. Read about the full story here.
Developer MVP Brian Stevens, Lead Developer at SETECH Supply Chain Solutions, LLC, is an avid supporter of Acumatica's cloud ERP solution. "With an impressive set of base features and strong support for customization, Acumatica ERP fueled a fresh wave of innovation in how we manage indirect material storerooms for our clients."
As an MVP, he says the MVP program has kept him connected with Acumatica insiders and some of the "most talented Acumatica developers" around the world. "Fulfilling my duties as a Developer MVP has enriched my understanding of the software with each person I have been able to help along the way."
Acumatica Solutions Architect for Kensium Solutions Yuriy Zaletskyy—who was also named our 2019 Developer of the Year—is another Acumatica advocate and MVP participant. "I have worked with a number of platforms over my long career as a developer. Without a doubt, my involvement with Acumatica's platform and community of developers has been the most rewarding and grateful working experience I have ever been a part of over the years, from the numerous collaborations with the core group of Acumatica Developer MVPs, through the extended international members around the world."
Both Brian and Yuriy are perfect examples of passionate, dedicated, and involved MVPs who are excited about helping Acumatica's product grow and succeed.
Nominate your MVP today
With nominations open, now is the time to let us know who you've seen selflessly sharing their Acumatica knowledge. Perhaps that person is you. Who else knows the depth of your commitment and all that you do on our behalf?
There are a few benefits of being selected as an Acumatica MVP winner. MVPs will:
Be awarded an Acumatica MVP Badge or Acumatica MVP Developer Badge, which can be displayed on profile pages, social media, resumes, and third-party forums
Receive a plaque as a token of our appreciation in a recognition ceremony during Acumatica Summit 2021's Welcome Reception
Write guest blogs for Acumatica Developer Network and attend quarterly synchronization meetings
Participate in our forums by answering questions and submitting sample codes (recognizing Developer MVP contributions in a leader board format with the leaders acknowledged quarterly)
As a reminder, nominations will continue through January 15, 2021, and the winners will be announced in February during the Acumatica 2021R1 Launch Event.
Don't wait to nominate a Product and/or Developer MVP and don't wait to register for Acumatica Summit 2021. In uncertain times, the MVP program and our annual cloud ERP event both contribute to support the growth and success of the Acumatica community.
Contact us with any questions about the Acumatica MVP Program and nominations or about our cloud ERP software. Any questions regarding Acumatica Summit can be directed to our Summit Event Team.