The Acumatica Cloud xRP Summit is back for it's forth year of delivering top-notch developer content online. Attendees of the free, virtual developer conference will receive great insights into Acumatica's Cloud xRP developer platform.
Current and prospective developers, partners, and customers are invited to attend the fourth-annual Cloud xRP Virtual Developer Conference. The Acumatica virtual DevCon promises to be another exciting and comprehensive event with sessions covering both the fundamental and advanced features of the Acumatica cloud xRP developer platform.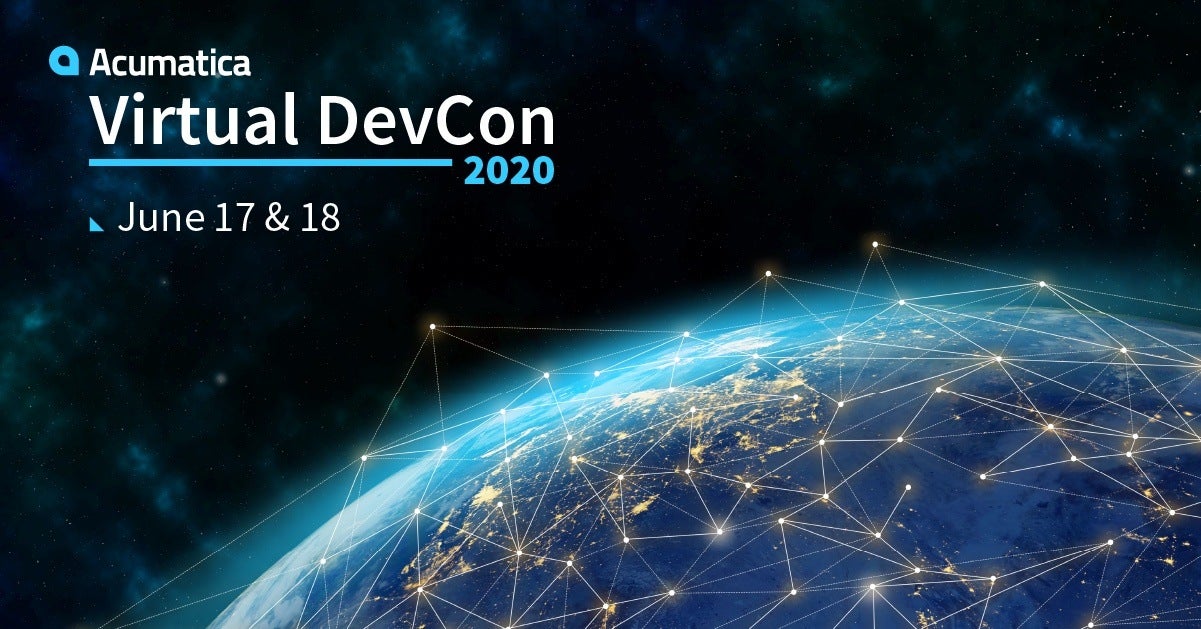 Acumatica Developer Conference Details
This year's DevCon is happening on the 17th & 18th of June. It's a great opportunity to cultivate & refresh your knowledge of Acumatica's cloud xRP developer platform and join our the dynamic Acumatica developer community for this two-day event. As a registered attendee, you'll participate in the free, two half-day event (each day will be approximately four hours with two 10-minute breaks) without leaving the comfort of your home or office.
Each session is either 30 or 60 minutes in length, and you'll hear from Acumatica developer engineers, other subject matter experts, and a few of our Acumatica Developer MVPs (from SPS Commerce, Kensium, interastar, and others). A number of the sessions are newly developed and are packed with insightful, cutting-edge material you won't want to miss.
After the initial Kick-Off & Welcome at 9:00 AM (PST) on Day 1 (Wednesday, June 17) with Ajoy Krishnamoorthy.  Senior Developer, Dhiren Chhapgar will be presenting the fundamentals & best practices of the Acumatica cloud xRP framework. With his 6+ years of deep developer experience as well as teaching the framework class numerous times, means his experience & insight will inspire and educate every attendee, whether you've been an Acumatica developer from the beginning or just getting started.
We're also offering a selection of brand-new sessions. Solution Architect, Dmitry Naumov will provide you some sage advice on how to approach application testing and how to best leverage Unit Testing and the API Testing frameworks. We'll complete our coverage of building quality applications with Patrick Chen's (SPS Commerce) session on our Testing SDK on Thursday. Macro Villaseñor from interastar will deliver a session, combining Notifications & Webhooks technologies, illustrating how they can be used to synchronize changes between Acumatica instances.  Lastly, I would like to highlight another new session that Sergey Marenich, one of our most distinguished developers at Acumatica is putting together for this year's attendees.  He will be presenting an overview of the new Acumatica System Integration Framework Architecture – BigCommerce and Shopify Connectors are such examples. This framework is capable of handling real-time and schedule sync, tracking of the sync history – as well as code independent communication with Acumatica..
Please review the full agenda of our 2020 Virtual Developer Conference as I am confident that all of this year's content will be valuable and will help you in your ongoing and future developer projects that you'll be delivering to your customers.
Acumatica DevCon 2020
Acumatica Cloud xRP Summit 2019 affords participants excellent training and resources through live presentations, downloadable content, and a discussion forum. It's an added value of being a part of the Acumatica developer community—at no charge to you.
We encourage attendees to use the hashtag #CloudxRPSummit during the live online event to offer your comments and encourage others to join us.
The free online conference offers a "bird's-eye view" of the inner workings and future evolutions of Acumatica's cloud xRP platform. Register today and take advantage of fresh, exclusive content right at your fingertips.
If you have questions about the 2020 xRP Cloud Summit, contact us directly via email. Any questions about the Acumatica Developer Network can be directed to partners@acumatica.com, and you can check out our Acumatica Developer Content for the latest developer blogs, resources, and events for our developer community, such as our comprehensive guide for Onboarding New Acumatica Developers, where provide a sort-of "one-stop shopping of developer resources & guidance for new & experienced developers alike.