Connecting your business through seamless cloud ERP integrations is not only necessary, but it's also as easy as 1, 2, 3. Acumatica's Director of Product Marketing discusses why it's essential and how to make it happen. 
Are you a connected business? Not sure? If you use multiple, disconnected cloud applications every day to run your business (Microsoft Office 365 for email and collaboration, Salesforce.com for CRM, and Smartsheet for project management, for example), then you're not a connected business. However, don't stress out. There's a relatively simple fix to this problem: Implement a modern cloud ERP solution with open APIs that can help you seamlessly integrate these applications.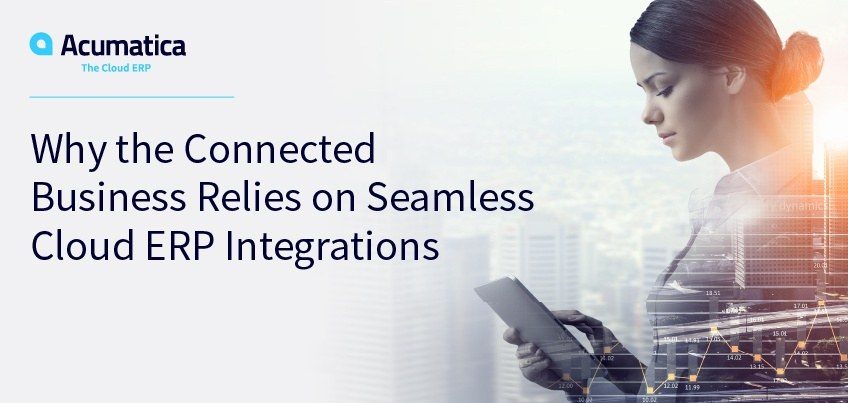 Why seamless cloud ERP integrations are critical
Whether you're in manufacturing, distribution, construction, or <insert any industry>, your business must be connected in today's digital economy. It's critical that you get your people, processes, and technology under a single pane of glass to ensure maximum efficiency and profitability.
What does "under a single pane of glass" mean?
According to Webopedia, it's integrating "information from varied sources across multiple applications and environments into a single display." This integration is only possible when you choose to implement a cloud ERP solution with open APIs. Open APIs use a universal language, which makes it easy for developers to connect multiple applications, thus eliminating what we call "islands of automation."
However, as interesting as open APIs are, we won't dive into the specifics of how open APIs work today. Instead, we'll focus on why a connected business relies on seamless cloud ERP integrations to succeed.
Seamless integrations:
1. Enhance efficiency and streamline data
There's not a business in existence that doesn't want to improve its efficiency. Doing things faster and better can only increase customer satisfaction, repeat business, and the bottom line. That's why seamlessly integrating your many cloud applications (such as Adobe Document Cloud for managing/signing documents and Avalara for sales tax automation) within one central system will not only save you time, it will also eliminate the frustration of having to switch from one application to another all day long. It will allow data to seamlessly flow to and from your centralized cloud-based ERP solution, providing a single source of truth across the company.
Let's not forget that shopping online, either from a laptop or a mobile device, is fast becoming the preferred method for consumers to purchase goods or services, which means companies must power their online shopping apps and mobile purchasing capabilities by interfacing (connecting seamlessly) with mobile devices, financial institutions, and logistics providers. This also requires a cloud ERP platform with open APIs to ensure efficient and accurate customer transactions.
2. Eliminate barriers in working with customers/partners
Acumatica CEO Jon Roskill sees open APIs as a way to eliminate barriers. He says, "Open APIs create unique business value because they can simplify and streamline how a business connects with partners, customers, or other important external parties. They enable multiple business parties to be able to collaborate on processes and transactions easily."
3. Facilitate the adoption of new technologies
Technology is evolving at warp speed.
Take the internet of things (IoT). This is the ability to collect large amounts of data through connected sensors. According to Statista, businesses around the world are utilizing this technology, with approximately 22 billion connected IoT devices in use at the end of 2018 and 50 billion estimated to be in use by 2030. These businesses are using this information to make informed decisions about how to improve their product or services, and it is resulting in business growth.
Businesses can easily adopt IoT and other innovative technologies, like AI and ML, without undergoing overwhelming and financially draining implementations if they're already relying on modern cloud ERP software with seamless integration capabilities.
Become a connected business—your success relies on it
So, are you a connected or disconnected business? If you're the latter, then you now know the importance—and benefits—of implementing a cloud ERP solution based on an open platform, such as the one that is foundational to Acumatica.
Built on the world's best cloud and mobile technology, the Acumatica cloud xRP platform is powerfully versatile. This versatility is so important that we included the right to a flexible, open platform for rapid integrations in our Customer Bill of Rights. Developers can easily personalize it for their unique business management needs.
Additionally, our Financial, Manufacturing, Distribution, Commerce, Field Service, and Construction (and more) modules are tightly connected. They utilize the same database, have the same look and feel, and give users the ability to access info from any module at any time, from anywhere. And extending Acumatica is as easy as scanning the Acumatica Marketplace, choosing the third-party application(s) you need, and implementing them with minimal effort for your immediate use.
Acumatica customer Chris Rothe, CEO of Premier 1 Supplies, says in the company's customer success story that Acumatica's open platform has helped them save money and increase functionality by avoiding costly customizations as well as coding new reports and workflows internally. "With Acumatica's open API framework, I can get data in and out quickly without having to hire outside developers. That is a great benefit."
And Kelly Products used Acumatica's open API, which offers flexibility and interoperability, to connect Acumatica and its inventory system. "Acumatica allows us to integrate our own software into the system so we can now push inventory information through Acumatica," says Corey Wynn, former Information Technology manager, says in the company's customer success story. "We can invoice in real-time see invoice payment data and see inventory levels with accuracy."
Today's digital economy is driving businesses to invest in multiple cloud services to remain competitive. But, as we've just seen, choosing a modern, highly rated cloud ERP solution with open APIs (resulting in seamless integrations) can improve your efficiency; streamline your data; eliminate barriers between you, your customers, and your team; and facilitate the adoption of emerging technologies.
Are you ready to experience these benefits? If so, contact our team today. We'll walk you through the steps to becoming a successful, connected business.