Acumatica's cloud ERP software is not a static product. We're constantly improving our platform based on recommendations from the Acumatica community, as well as incorporating cutting edge innovations in technology. Today, Acumatica Product Marketing Manager Bob Garofallou explains why Acumatica Summit 2019 is the place to learn what we're up to, where we're going, and why we're the fastest growing cloud ERP solution on the market today.
With over 20 years of experience in the ERP industry, I've participated in a number of ERP conferences. I attended my first Acumatica Summit last year after becoming a member of the team. What I discovered is that Acumatica stands out from the competition on several levels, and today, I'll discuss what makes our true cloud ERP system different. I'll also discuss how attending Acumatica Summit 2019 (which you can register for right now) is the best way to learn more about Acumatica's cloud ERP software solution.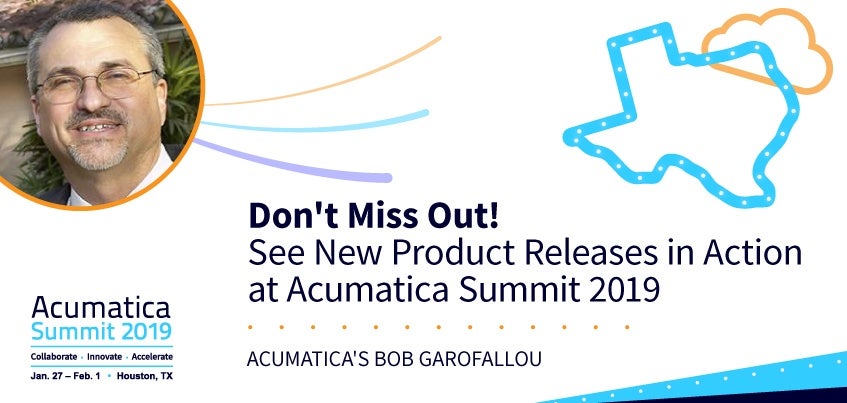 Learn what makes Acumatica cloud ERP different at the Summit
At Acumatica Summit 2019, you'll learn about – and see – the improvements we make to our cloud ERP software solution as we introduce our new product releases with live demonstrations. Those of you who attended last year had the first look at Acumatica 2018 R1; you knew before anyone else about our reconfigured user interface, intuitive dashboards, improved mobility and financials, and more.
In our press release announcing our latest release, a principal analyst at Nucleus Research is quoted as saying, "Acumatica is keeping the pressure on the highly competitive ERP space with new features that boost efficiency, tools that expand usage, and solutions highly tailored to micro-verticals, such as the construction industry. This combination of strong functionality and usability customized for specific markets is delivering value and promises significant ROI to Acumatica customers."
The solutions referenced are our new Construction Edition, available since the end of January 2018, and our Acumatica Distribution Edition, which was available at the beginning of April. Both were showcased at Acumatica Summit 2018.
These improvements and additions combined with our growing number of software vendors who add to our product capability allows us to offer more flexibility and performance than most (if not all) of our competitors. Having worked for a Microsoft Dynamics partner for many years, I have a clear perspective on how Acumatica – a pioneering company in the cloud ERP industry – and its versatile platform compare to others on the market.
For instance, we have multiple deployment options, including SaaS, hosted in a private cloud, and on premises; they can be switched as your needs change. With Acumatica cloud ERP, you're working with a true cloud application built for the web and your data is securely accessible anywhere, anytime, and on any device. You don't have to worry about how many users you have; instead, pricing is based on the computing resources you use.
I recommend attending Acumatica Summit 2019 to learn more about our cloud ERP software. The training sessions offer a deeper dive into the product for our attendees. They include hands-on training tracks, instructor-led certification courses, and specifically-designed breakouts, which provide cloud ERP insights you'll be able to use immediately to increase your business' productivity. The Summit's agenda is being finalized; it will detail out the session topics and provide an overview of each one for you. The sessions are designed to meet the needs of every attendee.
The Summit is the perfect opportunity to set your business up for success in the cloud. It's also the time to meet with Acumatica team members and to offer your feedback on what is (and is not) working with our cloud ERP software. You won't have a hard time finding anyone; virtually the entire company staff will be on hand during this event, including executive team members who will be on the floor with attendees throughout the week.
This is an opportunity to share best practices and product improvement ideas with us and with other customers and partners. It's your experiences and expectations that help us with our continuing improvements.
Don't miss out on Acumatica Summit 2019
Whether you're a customer, partner, or developer, I believe you'll benefit from seeing our newest product releases in action, receiving the most up-to-date cloud ERP information available, and experiencing the training you need to fully utilize Acumatica's cloud ERP solution. In addition, we'll introduce you to our new vertical industry editions along with our enhanced features and increased functionality in our existing editions, such as Manufacturing, Field Service, and Commerce.
Don't miss out; register for Acumatica Summit 2019 right now and get our special early bird pricing. We're heading for Houston, Texas, and it's a city that has plenty of visitor attractions for your free time.
I hope to see you there. Until then, know that you don't have to wait for the Summit to talk to us. Contact us at any time if you have any questions or would like a demonstration of our complete cloud ERP solution.