In just thirty minutes, learn how the enhancements to Acumatica Manufacturing Edition can increase your manufacturing company's efficiency and reduce costs. Sign up for our new—and quick—webinar to see the improvements we've made to Acumatica's cloud manufacturing solution.
Manufacturing ERP systems come in all shapes and sizes. Our manufacturing evaluation checklist can help you compare your options by showcasing the features and benefits of Acumatica Manufacturing Edition against two other leading vendors. And our free webinar, What's New in Acumatica Manufacturing Edition, will dig into its recent enhancements.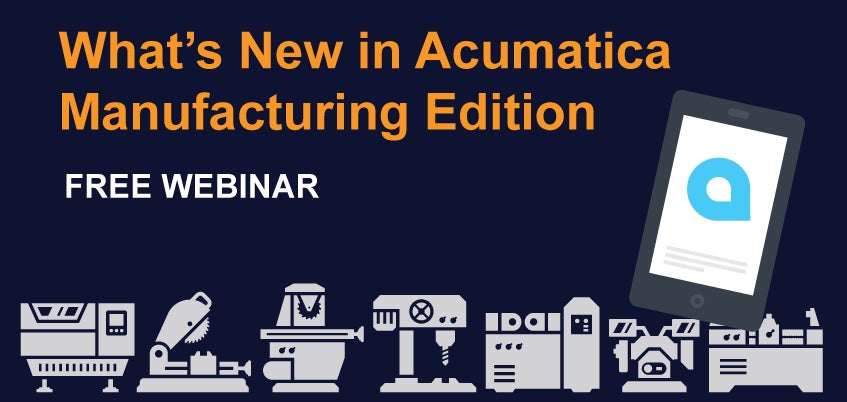 Webinar details:
Date: September 27, 2018
Time: 10:00 AM PT – 10:30 AM PT
Speakers: Greg Martin, Acumatica Product Marketing Manager, and John Schlemmer, Chief Operating Officer of JAAS Systems, Ltd.
Getting to know the new Acumatica Manufacturing Edition
With cloud manufacturing becoming the norm, manufacturers are racing to distinguish between true cloud vs. fake cloud manufacturing ERP software. Thankfully, Acumatica Manufacturing Edition users know that Acumatica is the true cloud ERP: we deliver powerful functionality and real-time insights using emerging technology in one complete solution—all based on a modern cloud-based platform.
One affirmation of our true-cloud status comes in the form of our continuous upgrades delivered to our users quickly and easily—something legacy systems can't do. The What's New in Acumatica Manufacturing Edition webinar will cover our latest enhancements in a thirty-minute discussion, which includes a Q&A period. Greg and John, who has over 30 years of manufacturing ERP software experience, will cover the following enhancements and explain what they mean for you and your business.
Here's what Acumatica customer Scott Starkweather, President of Boulder Creek Stone, says about using Acumatica and Acumatica Manufacturing Edition versus Sage, "What I really like about Acumatica is how much is configurable…whereas in Sage, everything was an expensive customization. Acumatica is bringing functionality to the small/medium business sector that was out of reach budget-wise four years ago."
The family-owned business manufactures stone and thin brick veneer and offers stone installation services along with gas and wood-burning fireplaces and stoves from five manufacturers. If you read Boulder Creek Stones' success story, you'll see how they were able to save thousands of dollars; streamline operations; eliminate manual, double entries; and gain high-level product support by centralizing their operation with Acumatica cloud ERP
Acumatica Manufacturing Edition upgrades deliver competitive benefits
You already know that integrating your production planning and shop floor with your customer management, sales, inventory, accounting, and reporting processes is essential to running your business. But did you know that continual upgrades by your ERP for manufacturing is also essential? They are, and Acumatica promises to keep on providing them. Your manufacturing company will flourish with the insights and tools Acumatica Manufacturing Edition provides.
Register for our complimentary Acumatica Manufacturing Edition webinar to learn how our manufacturing ERP software enhancements can catapult your manufacturing business ahead of the competition.
For any questions or to let us know how we're doing, contact our team of experts. We look forward to hearing from you.