Trying to integrate your diverse—and mission-critical—applications can be frustrating, but the Acumatica ISV community can help you accelerate your migration to Acumatica cloud ERP and become a connected business.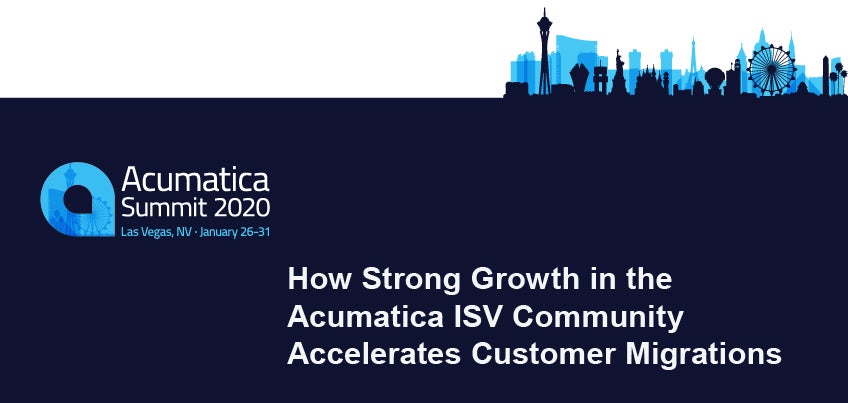 Another record-breaking year is in the books for our Acumatica ISV and Acumatica OEM partner ecosystem. They are among more than 2,000 attendees gathering now at Acumatica Summit 2020 in Las Vegas to celebrate our 2019 achievements and our launch into 2020.
I'm excited that more than half of our ISV and OEM partners are exhibiting in the Acumatica Marketplace, combining to create a robust offering of more than 100 Acumatica integrations. Our increasing focus on Acumatica Industry Editions is creating even more opportunities for Acumatica ISVs, and thus more for  our end users as well. Today, I'll talk about those opportunities and highlight a few of our latest third-party applications being added to our ecosystem.
Connecting business applications for a single solution through Acumatica
The combination of industry leading functionality built on the award-winning Acumatica Cloud xRP Platform is generating strong opportunities for Acumatica resellers and ISVs who are assisting companies worldwide move to a modern cloud ERP solution. To help accelerate integrations between applications, we continue to form strategic partnerships with integration platforms (iPaaS), such as Celigo, Cleo, and Vertify.
Acumatica's growing partnerships and ISV/OEM network provide users with a single, easy-to-use solution. Regardless of industry, they can be assured that they're covered by seamlessly integrated cloud-first industry editions and third-party applications for all their business needs.
The commitment from the ecosystem to deliver quality solutions and to follow the Acumatica roadmap with bi-annual releases is exemplified by more than 50 Acumatica Certified Applications, a number expected to double by the end of this year. They undergo a comprehensive validation process to earn their Acumatica-Certified Applications (ACA) badge, and we encourage every Acumatica ISV to obtain the badge marking them as certified on our latest release, which is currently Acumatica 2019 R2.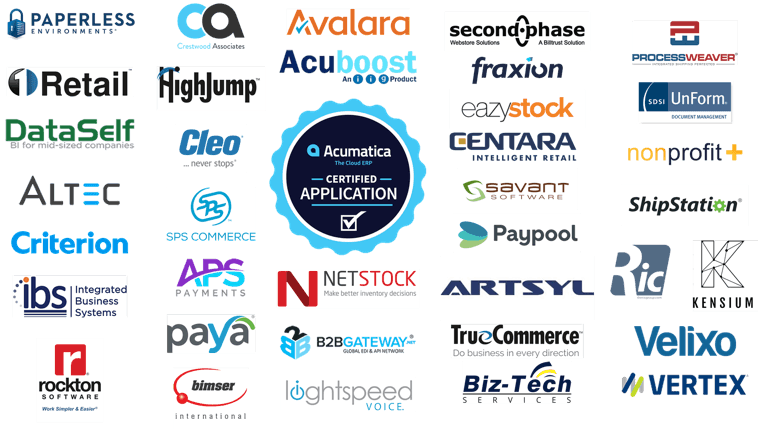 Acumatica Certified 2019 R2 Applications. Visit the Acumatica Marketplace for more details.
'Fulfilled by Acumatica' is a subset of the ISV Marketplace solutions which are offered through the 'Fulfilled by Acumatica' program. This program allows partners to purchase third-party products directly from Acumatica to simplify the purchasing and billing process. These solutions appear on the Acumatica price list and can be bundled and sold with core Acumatica modules and editions. All 'Fulfilled by Acumatica' solution providers have committed to ensure compatibility with major Acumatica versions within 60 days of release.
Look for the 'Fulfilled by Acumatica' medallion when searching the Acumatica Marketplace.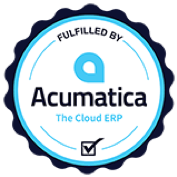 New Acumatica ISV additions
Acumatica continues to invest deeply in our Acumatica ISV and Acumatica OEM community. We also continue to simplify the process for customers to license ISV solutions and experience further business growth.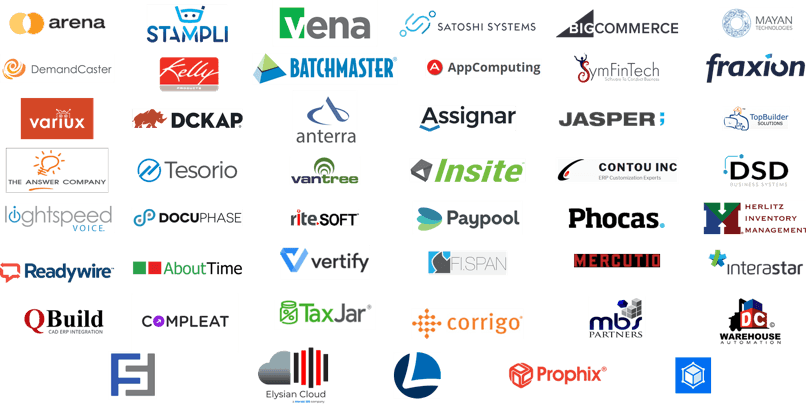 New ISV additions to the Acumatica Ecosystem (within the past 12 months)
One of our most recent additions to our community is Velixo, an Excel-based financial reporting tool. Velixo's founder, Gabriel Michaud, explains why they chose to partner with Acumatica:
"We made the decision early on to focus on Acumatica for our Excel-based financial report writer. The strong Acumatica development platform allows us to offer a tightly integrated solution with unique features that customers love such as Smart Drilldown, Writeback and Unified Security," he says. "Our bet is now paying off with Acumatica's rapid growth, and thanks to the new Fulfilled by Acumatica program, the visibility of our product has increased. It's now easier than ever for Acumatica partners and customers to sign up for Velixo Reports. If you know how to use Excel, you know how to use Velixo Reports for your Acumatica financial and project reports."
Another new partner is xkzero, a company that develops Direct Store Delivery software. They chose to build their solution natively for Acumatica to create new business value for wholesale distributors and manufacturers who use their own fleet of vehicles to deliver or sell products directly to B2B customers.
"ERP systems historically have a big technology gap for companies performing their own delivery," says Paul Ziliak, xkzero co-founder. "xkzero has partnered with Acumatica to create a new reality—native mobile delivery and sales functionality all managed and driven within Acumatica ERP, to power seamless Proof of Delivery, Route Sales, Truck Loading, Route/Delivery Optimization, Mobile Intelligence, and all of the vital processes needed for these customer focused businesses to win versus the competition,"
Arena, a provider of cloud-based product development solutions for high tech, consumer electronics, and medical device industries, partnered with Acumatica to provide their customers with a completely connected approach. "We're excited to be part of Acumatica's ISV partner program," said Mark Hudson, VP of Channel for Arena Solutions. "Acumatica's cloud-based ERP solution is a natural fit for our PLM and QMS customers that want to quickly accelerate from early product development through volume manufacturing."
BigCommerce, the industry's most versatile enterprise ecommerce solution, partnered with Acumatica to offer commerce companies the best of both worlds. "We are excited to be such an integral part of the Acumatica Commerce Edition launch," says Maryann Bekkedahl, SVP Business Development for BigCommerce. "Our collaboration and alignment with Acumatica's VAR ecosystem has resulted in many B2C and B2B merchants selecting the best-of-breed ERP and eCommerce platform."
WorkWave is yet another newcomer to the Acumatica ISV community. "It is a pleasure partnering with Acumatica and the VARs who work with Acumatica Field Service Edition to satisfy the core needs of the customer. Now adding integrated WorkWave Routing Engine to optimize work schedules and technician routing helps raise the overall solution value to the customer," says WorkWave VP Global Alliances Neil Hooper. "We are pleased to be able to deliver a higher ROI to field service customers in combination with Acumatica."
DemandCaster, a division of Plex Systems, joined both Acumatica Manufacturing Edition and Acumatica Distribution Edition as a strategic partner. General Manager Tom Nessen says, "We're proud to join the Acumatica partner program and excited about the opportunity to deliver powerful and intuitive supply chain planning capabilities that empower planners to be more agile and proactive. Our joint customers will be able to confidently forecast demand, optimize inventory, support sales & operations planning and efficiently execute day-to-day operations."
Extending Acumatica to meet the needs of manufacturers and distributors is the goal of new partner eWorkplace Apps. Their first two integrated solutions will be launched this year, Quality Management for Acumatica and Process Manufacturing for Acumatica.
"We look forward to bringing our 30 years of leadership and innovation in manufacturing software from BatchMaster Software to the award-winning Acumatica platform," says CEO Sahib Dudani. "Acumatica has deeply invested in our partnership and success, opening their arms, platform, and ecosystem to us—a testament to their commitment to the ISV community."
He also says, "We have created a 'Center of Excellence for Acumatica'. It will be a team of over 30 Acumatica experts serving the Acumatica ecosystem with integration development, and consulting services. Goes without saying that we are excited to be a part of the growing Acumatica ISV community."
And Acumatica continues to focus on additional industries, including the rental and food industries through NexVue. The company is both a leading Acumatica Gold Partner and an Acumatica ISV development partner.
President Dan Schwartz says, "The Acumatica framework has been a game-changer in our ability to bring vertical and micro-vertical solutions to market. Success in developing industry solutions requires immersion into the market, learning the short comings of legacy solutions, and innovating ways to leverage the Acumatica framework to optimize industry-specific processes. As a result, our industry solutions—Rental360 and Prime Food Service—change how business is traditionally done in their respective industries."
Rental360 is a complete framework that connects all facets of rental business embedded within the Acumatica framework certified by the American Rental Association. Prime Food Service is a modern platform that gives food distributors insights across their organization and access to the data that drives their business.
Partner with Acumatica for a successful 2020
Growth within the Acumatica ISV and Acumatica OEM community is accelerating customer migrations to cloud ERP. The success of both partners and customers is inextricably linked through Acumatica's highly rated cloud ERP software, and we wouldn't have it any other way.
If you're interested in joining Acumatica developers in learning about Acumatica's xRP platform, you'll want to consider becoming a part of the ADN (Acumatica Developer Network). The expert advice, resources (including the Acumatica Open University, which is available for any member of the Acumatica community), and tools you'll access are invaluable as you work to bring your solution to a highly competitive market. Contact our Acumatica Partner team today with any questions.
If you're here at Acumatica Summit 2020, come visit with our Acumatica ISV and Acumatica OEM partners in person at the Acumatica Marketplace. There's truly no better way to learn about the value and functionality of third-party applications than by asking questions and trying the product firsthand.
Finally, for any questions about Acumatica, contact us at any time. Let us partner with you for a great 2020.