For any company struggling with multiple ERP systems, InSync Healthcare (and its sister companies) understands. They rolled with Acumatica cloud ERP and found that a single, versatile system is the way to go.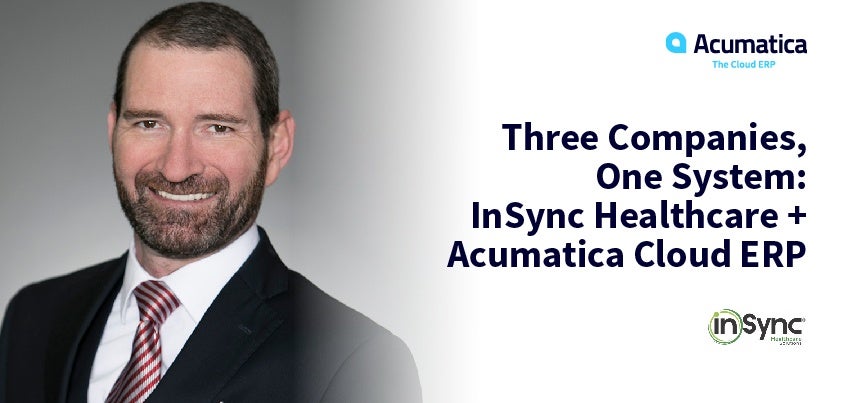 Here's a riddle for you. What's one thing that allows three disparate sister companies with individual needs to grow both organically and through acquisitions? The answer: Acumatica cloud ERP.
Charles Hutchinson, CFO of InSync Healthcare Solutions®, IntraCoastal Environmental (ICE), and Alegra Motorsports, figured out the riddle for himself. "Acumatica is our system of record and we're going to use it to its fullest capabilities."
Acumatica cloud ERP: "the right choice"
InSync Healthcare Solutions provides its customers with MU-2 certified integrated electronic medical record (EMR) and practice management software solutions. ICE is a 24-hour emergency response environmental service. And Alegra Motorsports is a "championship-winning team, competing in race series across North America" for the last 20 years.
As the CFO for these three unique businesses, Charles says he was using about four or five ERPs to manage them. Using multiple systems wasn't the most efficient—nor functional or flexible—way to encourage interoperability and growth. With Acumatica VAR Cloud 9 ERP Solutions, Charles sought a single solution and chose Acumatica's cloud ERP software, specifically project accounting and financial management software, for a number of reasons:
Easy implementation
Flexible access
A more complete out-of-the-box feature set for multi-entity businesses
Unlimited user licensing
Freedom to choose solution deployment and ownership
Compliance assistance for a strict regulatory environment
Charles notes in the ICE customer success story that Acumatica's continued focus on innovation earns high marks in his book. "Two years ago, we told Acumatica that it was missing a professional services automation module—so they rolled out Acumatica Project Accounting. I enjoy the fact that Acumatica is not finished making its impressive product even better."
Under Charles' direction, the three companies integrated Acumatica Customer Management, Acumatica Distribution Edition (with Advanced Financial Management, Order Management, and Inventory Control), Acumatica Intercompany Accounting & Fixed Assets, and Acumatica Project Accounting.
"If you can do the accounting for a race team, an environmental cleanup company, and a software company all in the same solution—everything from contract management to project tracking—it's easy to know that Acumatica is the right choice," Charles says.
Breathing Acumatica cloud ERP in and out
Vineet Bhatnagar, Charles' colleague and InSync's Director of Business Systems, has been an Acumatica user from the start. He heads an in-house software development team that handles Acumatica customizations.
"We do those customizations, giving them buttons on screens, giving them different controls in various places in the UI, giving them validations," he explains in a post encouraging customers to attend Acumatica Summit. "Our focus is to streamline processes, SOPs and workflows so that all the departments—like finance, client services, sales, and other departments—can utilize and exploit the benefits of Acumatica."
During Acumatica Summit 2019, Vineet sat down to talk about the benefits as well as to discuss why attending our annual cloud ERP event is important. In the interview, he says, "[Acumatica Summit 2018] was very informative, lot of knowledge, and we got a chance to speak with people who are behind the scenes. Telling us…what is their vision for the product, they can tell us about the product pipeline, they can tell us what features and modules they're going to be working on.
He also says, "We are breathing Acumatica in and out."
You can hear Vineet's interview in its entirety below.
Ultimately, he feels learning more about Acumatica's cloud ERP software by talking with Acumatica partners (and Acumatica executives) and interacting with the community are all reasons to attend Acumatica Summit 2020, coming January 26-January 31, 2020 in Las Vegas, Nevada.
He also feels that "there's a wide spectrum of services that gives you an insight to drive your business in the right direction and that comes out of Acumatica. Acumatica lets you incorporate your existing business workflows with the help of customization and lets you literally own the platform."
Acumatica cloud ERP works the way you need it to
Both Charles and Vineet see Acumatica as a cloud-based ERP solution that will scale with them as they grow.
"Acumatica positions us for growth and lets us establish our own workflows to keep up with our needs," Charles says in the ICE customer success story, "We have ultimate flexibility to make sure our ERP works the way we need it to, not stuck with what used to work."
If you're feeling stuck with your ERP system (or systems), then we urge you to check out Acumatica. Contact our team with questions and schedule a demonstration today. You can, like InSync, ICE, and Alegra, utilize Acumatica as your single, versatile, and successful cloud ERP solution.