This is the second in a series of blogs on topics that are important to the Modern CFO. The first post covered KPIs and reporting and upcoming topics will include: Financial Data Presentation, Security, Auditability, and Compliance. This blog deals with planning for growth.
More and more, the Modern CFO is being challenged to help grow the company. A 2017 survey conducted by PwC found that Growth Strategy was among the top concerns of CFOs, not only for 2018 but for the following three years as well. Recent advances in financial management software, with built-in data analytics, process automation, and artificial intelligence, offer new tools in the CFO's arsenal that can help drive the change necessary to affect top-line and bottom-line growth.
But introducing modern technology into your organization can be a two-edged sword: Not every business is prepared for the changes that new technology demands. Choosing the best financial management software for your company will result in failure if the company is unwilling to also change the antiquated processes that are holding it back.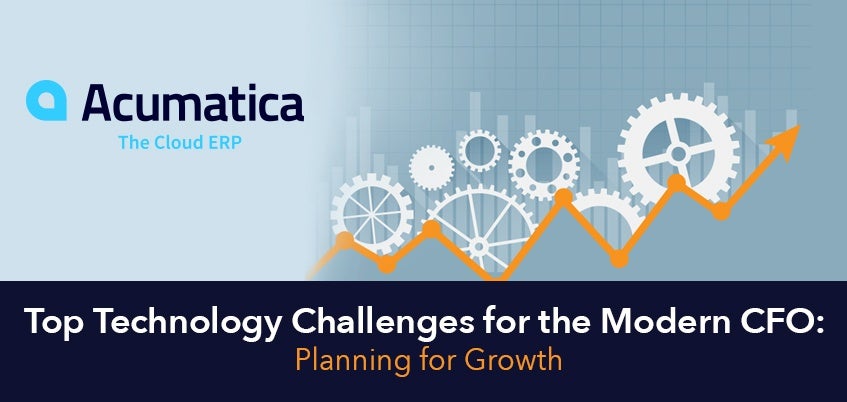 The Modern CFO uses technology for growth
Depending on the organization, "growth" might include one or more high level goals that land squarely on the shoulders of the CFO. Driving increased sales. Exploring new markets. Expanding product lines. Better defining and controlling internal processes to support growth. And the list goes on.
As a CFO, finding the right solution that grows and evolves as your organization changes is imperative to helping you grow your business. Technology can help, and new advances in financial reporting and products can help uncover information that not only identify past successes and losses but also identify proactive steps to improve the company's performance.
In addition, technology can accelerate the time it takes to gather and process information, giving you and your staff more time to provide higher value work interpreting and advising on the data.For the modern CFO, that starts with a financial management system that can provide the data required to look deep into the company's operations and identify not only the more profitable products and markets, but also find the deficiencies and areas where costs can be reduced.
But it doesn't end there. Change is constant, and CFOs need to continue to evaluate the business and ensure processes are improved to continue to be efficient and effective.
Prepare for and embrace change
Don't be fooled: New technology is not the brass ring and will not, on its own, guarantee you or your company greater success. Bringing in new technology but keeping the same inefficient processes will likely lead to failure.
There are two certainties regarding change in business. Change will happen. And change is hard. CFOs need to be ready for it. Whether internal or external, you need to understand the impact those changes will have on your industry, your company, and your financial staff.
When introducing a new technology into an organization that dramatically changes how the company functions, such as the introduction of a modern ERP system, everyone from the top down needs to not only embrace the technology but also the changes the organization will likely go through with the introduction of that technology for the investment to be effective. Companies that do so will be in an exponentially better position to leverage the opportunities the technology offers than the companies that don't.
Determine your path
Growth can take many forms in today's modern organization, all of which directly impact the CFO and his or her team. With a clear organizational focus, the CFO can help lead the company in implementing specific growth strategies that support the identified goal. Clear goals help the CFO in prioritizing budgets, making investments in assets and people, and eliminating unnecessary expenditures that don't contribute to the desired results.
If you are looking to grow your financial results, you need financial management software with modern financial reporting capabilities that allow you to capture the kind of data that leads to insights and puts you in a position to make better decisions faster. But, perhaps more importantly, you need to ensure your organization is ready for change. Only then can you support your organization as it stretches and grows in every direction.
Get an overview of Acumatica Financial Management and our Reporting, Dashboards, and Data Analysis Toolkit.  Contact our team with any questions about Acumatica's cloud ERP software or to request a demonstration.