Does the ROI of ERP adoption encourage businesses to invest in a modern, cloud ERP? A new Forrester study says it does.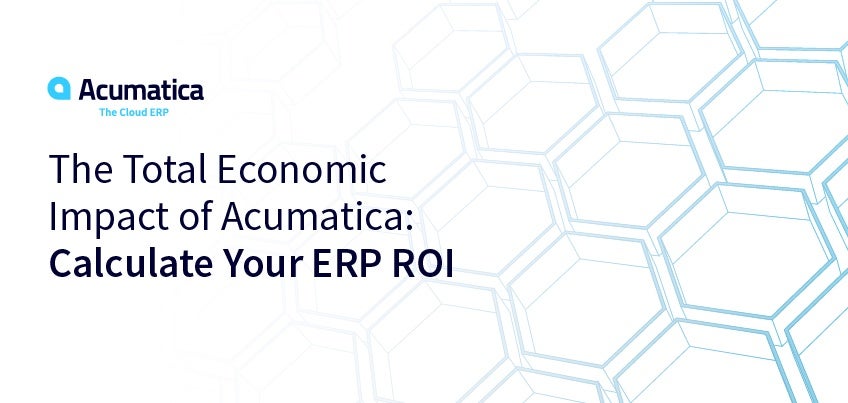 As a business owner, you know the phrase "you have to spend money to make money" is true. It is also true that you have to spend money to save money. Essentially, making and saving money boils down to investing wisely. And one of the wisest—and biggest—investments businesses can make in this digital economy is in a cloud ERP solution, like Acumatica. Those that have made the investment have already experienced an incredible ERP ROI.
Forrester study touts cloud ERP adoption benefits
A recent Total Economic Impact™ (TEI) of Acumatica study by Forrester, an independent and objective research-based consulting firm, cites the many ERP adoption benefits experienced by four Acumatica customers.
The benefits include:
15% improvement in gross margins
15% increase in sales volume
45% increase in employee productivity
While impressive, the Acumatica-commissioned study doesn't stop there. It found that a "composite organization based on these interviewed organizations would experience benefits of $3.5 million over three years versus costs of $2.1 million, adding up to a net present value (NPV) of $1.4 million and an ROI of 66%." The study also noted that the payback period for investing in Acumatica's cloud-based ERP solution is 16 months.
Prior to investing in Acumatica, the four companies faced challenges that hindered their growth. The challenges were not always the same. For example, the companies were operating with legacy solutions, fragmented solutions, or no ERP solution at all, but the bottom line was that their solutions—or lack thereof—were causing them to be disconnected, inefficient, outdated companies.
Migrating to a modern, cloud-based ERP solution became critical. Their criteria? A centralized ERP solution with minimal customizations; a fast, seamless, and cost-effective implementation; an affordable licensing model; and a solution based in the cloud. "We were looking for an ERP solution that understood the needs of small to medium businesses," says the Operations Manager at a wholesale distribution company.
Acumatica met and exceeded the businesses' requirements.
Mind-blowing ERP ROI felt by many Acumatica customers
The commissioned study, conducted by Forrester Consulting on behalf of Acumatica, which is a free download, provides you with a thorough, risk-adjusted analysis of the benefits the composite organization realized, based on the gathered from the four interviewed customers. These benefits (i.e. an increase in gross profit, legacy ERP maintenance savings, increase in sales, affordable licensing, and more) have been experienced by many Acumatica customers, such as Saddleback Leather.
Saddleback Leather sells quality leather products. The company used Oracle NetSuite for six frustrating years, spending millions trying to make it work. Founder and CEO Dave Munson says they chose Acumatica as a replacement "because of its pricing, aggressive development, and how user friendly it was."
With Acumatica, the company has boosted sales and saved millions, experiencing benefits similar to those noted in the Forrester TEI study, including:
Technology costs down by 33%
Ten times the functionality
Organic traffic up 45%
Accurate inventory
One version of their financial truth in real time
Faster decision making
Employees are using Acumatica instead of workarounds
Lower operating costs
Seamless connection to third-party applications
Effective marketing
"I had a million ideas, but all of them were impossible with Oracle NetSuite," Dave says in the company's customer success story. "Now, I sleep, dream, and hope [with Acumatica]—three things I was not able to do with NetSuite."
Like Saddleback Leather, Acumatica customer Power Storage Solutions, a company that offers DC-power backup systems for Data Centers, Telecommunications, Utilities, and Petrochemical companies, also experienced a major return on their Acumatica investment.
According to the company's customer success story, they billed $1.7 million directly out of Acumatica in the first month they launched, closing the month in 45 days. They were able to reduce their closing time down to 5 days within three months of implementing Acumatica. Derrick Elledge, one of the owners, believes the company has saved between $40,000 to $50,000 a month by eliminating wasted time getting information out of disconnected systems.
"In 60 days, we went from nothing in Acumatica to launching a $24 million company with 20,000 parts, 5,000 customers and having sales orders, projects, inventory, payables, receivables, and going live Dec. 1," he says. "It's astronomical when you look at what we did and how Acumatica's cloud ERP system supports us."
Every business can benefit from cloud ERP
Businesses that choose to invest in a cloud ERP solution like Acumatica can experience amazing ERP adoption benefits: boosted profits, reduced costs, increased productivity, and continued growth. Review the numbers again in this Forrester TEI Infographic.
If you're ready to experience these benefits, fill out the Forrester TEI Tool (commissioned by Acumatica) for a high-level estimate of the economic impact your organization would experience after investing in Acumatica's cloud ERP software. You can also contact our experts with any questions or to schedule a demonstration today.
Why wait to reap the rewards of your smart investing?