Acumatica receives top billing from the Tulsa Performing Arts Center as their ERP for nonprofits. Their CFO explains why today.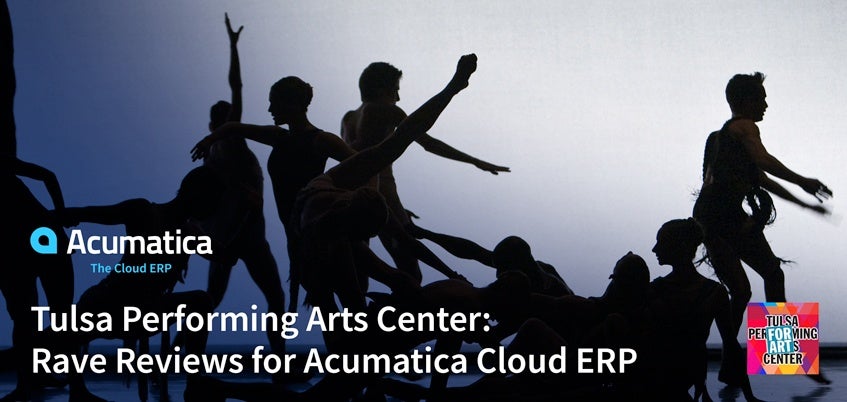 Hamilton fans, what's your favorite quote/song lyric? How about, "Raise a glass to freedom, something they can never take away?" or "If you stand for nothing, what'll you fall for"? Really, there are too many to choose from, and the Tulsa Performing Arts Center, which welcomed the award-winning and critically acclaimed Broadway musical to their stage in August 2019, was grateful they could share every quote and song lyric with their audience. They were also grateful they were able to implement Acumatica cloud ERP as their ERP for nonprofits in 30 days before the musical opened.
Why did they choose Acumatica's cloud-based ERP solution and why did they only have 30 days to implement it? It's a great story.
The back story of Tulsa PAC and Acumatica cloud ERP
On March 19, 1977, the Tulsa PAC, which spans half a city block in Tulsa, Oklahoma held its first performance featuring The Tulsa Philharmonic…and Ella Fitzgerald. With such an auspicious beginning, the Tulsa PAC's Vision Statement, "To be the pre-eminent performing arts destination for the region," makes complete sense.
In 2019, the City of Tulsa put the day-to-day operations into the hands of the Tulsa Performing Arts Center Trust (TPACT). A non-profit organization, the TPACT presents productions not part of Tulsa PAC's regular schedule, such as children's theater, folk/jazz music, Broadway touring productions, and more.
TPACT CFO Jennifer Alden was hired by the Trust only the month before the Tulsa PAC was scheduled to present Hamilton. This wouldn't necessarily be a concern for an incoming CFO, but it is when the CFO, who took up her duties on July 1st, is tasked with finding and setting up a fully integrated financial operations solution by (or before) August 21st—opening night.
"Previously, the accounting was all done by the city and the performing arts center had limited knowledge of financials. The former director built an Access database," Jennifer says in the company's customer success story. "It was not in any way, shape, or form an accounting system but more like a spreadsheet that stored a list of data. There was a lot of papers passing back and forth."
Jennifer says it was absolutely necessary that they find an events system and back-office solution that would seamlessly integrate. The events system they were considering was VenueOps by EventBooking, and because Jennifer as CFO and the only accountant, needed an efficient, easy-to-use, and easy-to-learn solution, Event Booking suggested Acumatica.
After a demonstration by Acumatica partner mbsPartners, she knew it was the right choice. And with a deadline looming, it was a necessary one.
"This has been the first implementation that I've been a part of that actually got done on time." Jennifer says.
Tulsa PAC's Acumatica cloud ERP benefits
Since implementing Acumatica's Financial Management and Project Accounting editions, they enjoy:
Automatic event settlement statements with the VenueOps integration: "At the end of the event, [customer] expenses are automatically pushed to Acumatica's AR module, and if those are the only expenses, we just send the bill out. We just push a button, and it sends the data over, saving us tons of time—more than you know."
Automatic customer data set up in VenueOps: "All the information is pushed automatically to Acumatica. We don't have to go back and figure out which event it is; it's just automatically done."
Real-time event settlement: "Now I don't have to go back and do anything like we would before. I have the cash balances and the proper accounting instantly instead of three weeks later trying to figure out the accounting. It's a great tool and it works smoothly."
Intuitive, user-friendly software: "Our clerk had no previous accounting experience and now she's doing all the AP work. I just hired an accountant, and I didn't have to teach her at all; she just got on the system and easily uses it."
Jennifer says that in the last few weeks, they have been able to have one person on staff do the journal entries and then have a second person approve it, all in the system. They are also creating custom reporting, which one employee—a CPA—was able to figure out in a day by watching an Acumatica tutorial.
"I can't tell you how much it's been able to help us to just print a report, and I can take it directly to the board, having it formatted the way we want it," Jennifer says. "That's been so helpful because I was doing it before manually in Excel."
COVID-19 is no match for Acumatica cloud ERP
The COVID-19 crisis hit the Tulsa PAC in a "big way."
They shut down their regular performances in March, but they have been able to plan a few special presentations, including an outdoor series; a December holiday concert that incorporates two popular plays, the Nutcracker and the Christmas Carol, both of which the Tulsa PAC has shown every year for the last 40 years (they will be cutting the audience by a third for social distancing with proceeds going to two local organizations); and online, educational materials to replace their free classes they normally offer to the community in person.
Though it's been a tough year for the center, they were able to retain their staff through June. Unfortunately, they had to furlough 75% of their staff after June, but Jennifer was able to maintain business continuity while working from home through August.
"Because we were set up with Acumatica, and it was so easy to use, I didn't need extra staff to support the software. I can do really everything by myself if I need to. That was helpful in being able to pivot and save money for the organization," she says.
In addition, their annual audit, which was scheduled for August and September, was quick and easy for the former auditor. "Because of Acumatica, we were able to do a lot of that online, over emails back and forth."
Acumatica will be with you "each step of the way"
The Tulsa PAC is hoping to be back up and running in March or April of 2021 with a Broadway film series taking place prior in January and February.
This is good news not only for those who enjoy watching and supporting the arts but for a number of the city's other performing arts organizations that use the Tulsa PAC as their performance venue. These organizations include the Tulsa Opera, Tulsa Ballet, Tulsa Symphony, Theatre Tulsa, the American Theatre Company, Theatre North, Tulsa Town Hall, Chamber Music Tulsa, Choregus Productions, Theatre Pops, Tulsa Project Theatre and Celebrity Attractions.
As for Jennifer, she plans to continue fundraising for their building expansion project (which was stalled due to the pandemic) in January and evaluating ticketing systems that will integrate with Acumatica. And she's grateful that Acumatica will be there "each step along the way."
Contact our team if you are seeking an ERP for nonprofits that can do the same for you. You can also contact us if you have any general questions about Acumatica's cloud ERP software and about becoming an Acumatica customer.