As a construction professional, you may have a mobile solution to help you and your team communicate from the field. But does it allow you to connect your data seamlessly with your back-office system? If not, you may want to participate in Acumatica's upcoming webinar on building efficiently with mobile construction accounting software.
In a recent construction blog series, we covered how cloud construction accounting software enables you to overtake your competitors and transform your organization. This comprehensive series complements an upcoming construction webinar Acumatica has scheduled for Wednesday, March 27, 2019 from 10:00 AM PT – 10:30 AM PT. To register for the webinar, please click here.
During the free webinar, you'll learn how you can build better with an integrated mobile solution, such as with Acumatica Construction Edition.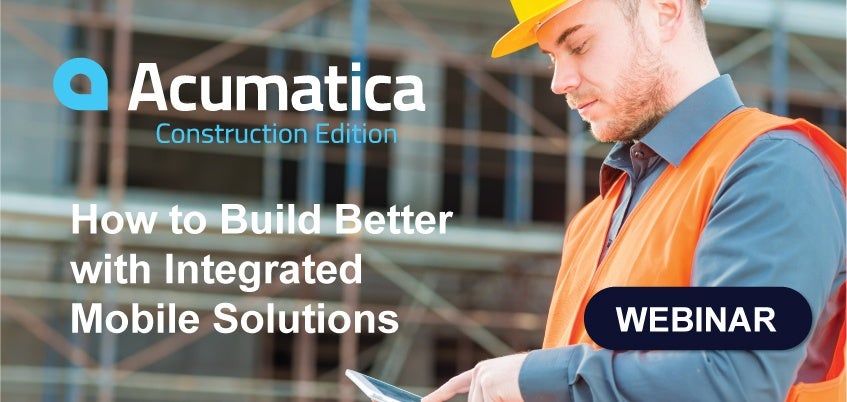 Why integrated mobile technology is essential in construction
More and more, construction businesses are equipping their teams with mobile technology so employees working on site can efficiently capture important project information such as time, expenses, and change orders. However, even though the gathering of information is now automated, it doesn't ensure that those in the field are able to transmit the project information directly into your back-office system.
To use the information collected in the field, construction companies must choose true (not fake) cloud construction accounting software. True cloud construction software integrates your field data with your company systems. Without this seamless integration, mobile technology loses its luster.
If you sign up for the webinar, you'll hear Mike Gillum, a leading construction industry expert, discuss why integrated mobile technology through the right construction accounting software is essential. He'll also discuss how:
You can access business-critical applications whenever you want from wherever you are
Integrated mobile software allows users to enter data in the field, eliminating the need to do it again in the office
You'll save time and money using smartphones to capture expenses, sending them for immediate supervisor review and approval
And more
Mike is an Acumatica Construction Edition Product Specialist. He has over 23 years of construction software experience combined with a passion for helping contractors succeed using technology (not to mention his many roles within the industry, including product management, development, and more), ensuring that webinar participants will have a solid 30 minutes of quality insights into the benefits of an end-to-end construction management solution.
Additionally, webinar participants will have time to ask Mike any questions they may have about construction ERP.
Learn firsthand about Acumatica Construction Edition
This is an excellent opportunity for those in the construction industry to learn more about Acumatica Construction Edition, our flexible and full-featured construction accounting software solution used by customers around the world since its debut last year. With job cost accounting, field management, and CRM capabilities built in, General Contractors, Home Builders, Subcontractors, and Land Developers can manage multiple projects with real-time visibility using a "single source of truth." They can also seamlessly integrate third-party applications, such as Procore, ProEst, DocuSign and Office 365, and much more.
Join us for the How to Build Better with Integrated Mobile Solutions webinar on Wednesday, March 27, 2019 from 10:00 AM PT – 10:30 AM PT. Learn how you can reduce delays and collaborate in real time as well as increase accountability, data accuracy, and visibility with mobile cloud construction software. You'll be setting yourself up to build better and smarter.
If you have any questions or comments, please contact our team.