If you've been considering implementing a cloud-based ERP, then our recent webinar, which is available on demand for free, may be the perfect place to start. We break down why Acumatica is the only true cloud ERP on the market, what benefits you can expect from such a solution, and how it will help you get started on the journey leading to increased efficiency and functionality for your organization.
Acumatica recently teamed up with Mint Jutras, an independent research and advisory firm that analyzes enterprise applications, to offer a free, on-demand webinar: Discover the Benefits of a True Cloud ERP. Jon Roskill, CEO of Acumatica, and Cindy Jutras, President of Mint Jutras, discussed how the combination of Acumatica's open platform, flexible deployment options, easy access, and unique licensing differentiates us from our competitors (Cindy discusses this in-depth in the recent report, What Makes Acumatica Different?) and how a true cloud ERP can be the tool you need to transform your business.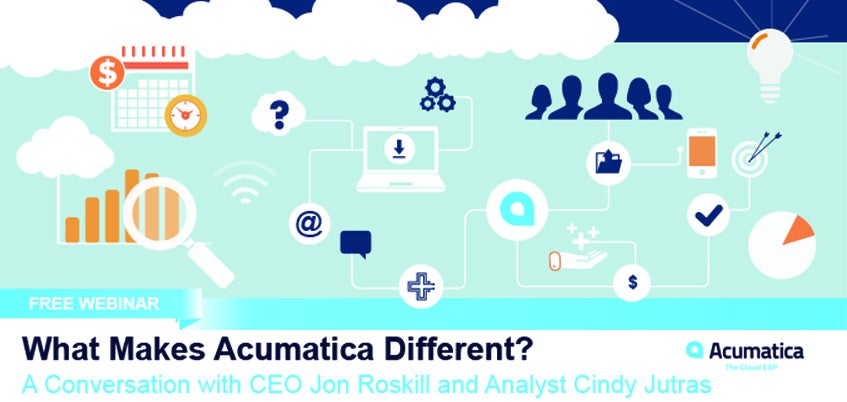 Discover the benefits of a true cloud ERP
We know that evaluating and choosing the right cloud ERP system for your company can be an extended journey. To assist you on the journey, we're offering this free webinar on how Acumatica, as a true cloud ERP, can empower your business through a fully integrated solution.
During the webinar, we explore specific benefits of our true cloud ERP platform, such as increased flexibility, accessibility, and scalability. These benefits, however, are just the beginning. In the half-hour webinar, you'll learn about even more benefits, including how to:
Modernize your back-end functionality
Achieve a complete real-time view of your organization
Gain a competitive edge when you utilize a true cloud ERP solution that knows your business
Improve operating efficiency with secure access from anywhere, anytime, and on any device
You'll also learn why we consider ourselves to be a disruptive force in the ERP world. This means we're not content to sit back and let others lead in the evolution of technology; we're determined to be at the forefront of these changes – something that has been evident from the very beginning.
Our journey started with the creation of the only true cloud ERP platform, one that was designed from the ground up to easily navigate the multicloud world within which we live. We have continued this leadership trend by championing the adoption of Open API standards in the industry, releasing enhanced versions (Acumatica 2018 R1 being the latest), and embracing innovations such as blockchain, machine learning, the Internet of Things (IoT), and more.
Another Mint Jutras report, "Acumatica Hits a Trifecta", points out the benefits of Acumatica's continuous innovation. It also focuses on how SaaS (software as a service) ERP is different and why that difference is a good thing. The report offers expert recommendations for companies, such as yours, that are looking for a true cloud ERP that supports growth.
Download free copies of Mint Jutras' reports before you listen to the webinar. Together, the reports and the webinar offer strategic insight into how you can move your business forward with a modern ERP platform.
The next step in your true cloud ERP journey
You're in charge of your ERP journey. Check out our on-demand webinar to see how Acumatica, the one true cloud ERP, may be the best tool for navigating the success of your organization.
We also want to mention that our other on-demand webinars cover a variety of topics; they're available for you to check out at your convenience. The webinars – along with contacting our team of experts with any questions at any time – are easy ways to learn even more about the benefits of our true cloud ERP.