Publicly traded companies that are searching for a cloud ERP must select one that is capable of complying with, and navigating through, a myriad of regulations and guidelines. Join the CEO and founder of NexVue – an Acumatica partner and reseller – as he discusses why Acumatica is a perfect ERP solution from its built-in functionality to its affordability while scaling with each business's need to grow.
For over 25 years, my team at NexVue Information Systems and I have focused on fostering success for clients as a single source solution in implementation services, business intelligence and reporting, custom development, and infrastructure support. In 2010, we recognized the market shift from legacy ERP solutions to cloud-based ERP systems. After several years of diligently researching and evaluating all of the available ERP applications, we selected the Acumatica platform and have accelerated success for our clients ever since.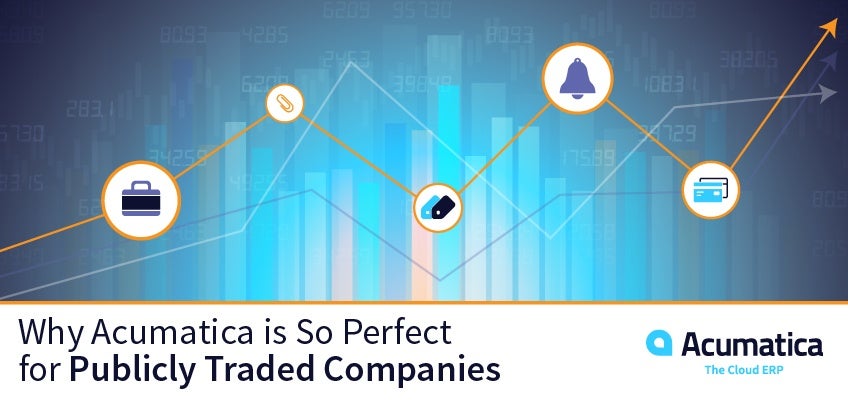 Because our clients' success is vital to us, we stress that the decision to upgrade to a modern cloud solution from a legacy system is imperative if a business wants to grow. A Cloud solution provides anywhere, anytime access to a central database, providing consistent data to all users and enabling collaboration. Our job is to assist you and your company once you go live after your ERP implementation. It's a complicated procedure that – even when end users are fully educated on their data and understand how it's going to be processed and specifically tailored in the Acumatica platform – may result in a few hiccups. We are there to help you take a deep breath and keep the process moving forward. Ultimately, you will have a complete cloud ERP that integrates all of your systems providing an impressive ROI and facilitating rapid growth.
While these are great incentives in embracing the idea of ERP implementation, does this apply in all the same ways if you are a publicly traded company?
It does and I know that specific needs of publicly traded companies can, and will, be met with a complete cloud-based ERP system such as Acumatica that is scalable, adaptable, user-friendly, and affordable.
Acumatica and publicly traded companies: Ideal companions
As I see it, when publicly traded companies search for a SaaS tool, the most important factor is finding one that can fully handle their compliance needs of passing internal and external audits, built within the system. Acumatica – which runs specific divisions of publicly traded companies such as Expedia, ClearChannel, Samsung, and Mitsubishi – is a perfect solution for any publicly traded company that needs to observe auditing regulations and guidelines while also growing and profiting as a business.
Acumatica SaaS is hosted on Amazon Web Services (AWS). The AWS infrastructure and solutions comply with regulations, standards and best practices. If you have further questions about these specific needs, please go to their Acumatica SaaS FAQ page to find out more.
Small to mid-size publicly traded companies (SMBs) currently running on legacy systems should be (if they aren't already!) researching ERP implementations and ERP applications that will work best for their specific needs and set them up for success in the future. I'd recommend they consider the resources and controls available choosing a cloud-based ERP system with AWS. Previously, if SMBs needed this functionality, they would have to spend millions of dollars with companies like Oracle or SAP. But it's different now.  Acumatica's affordable functionality is one of the many reasons we chose it as our ERP solution for our clients.
Our clients experience the following benefits from using Acumatica:
They have the ability to find out what information was changed anywhere in the system, who changed it, when it was changed, and what the before-and-after values were. This audit trail provides an extensive overview of what is happening in the system at any time.
They are able to expose information to people outside of the accounting department and lock it down to the data level so they can only see their slice of the company and nothing but their slice of the company.
Users get 100% access to all financial information from any web browser through any device.
All employees have access to the central database so that everyone sees updated information simultaneously.
Acumatica's powerful reporting engine is SOC-compliant and has all of the features and functionality needed for consolidation.
Acumatica is one of the first mid-market ERPs to bring this level of security and access control to all businesses.
Cloud ERP supports both models used by publicly traded companies: "hub and spoke" and "spoke and hub"
As NexVue works with publicly traded companies searching for software, we see them falling into one of two categories: "hub and spoke" or "spoke and hub."
In the first model, "hub and spoke," the hub is a large, multi-national company using a Tier 1 product such as Oracle or SAP. They have relatively smaller divisions around the world that operate independently and don't necessarily need to tie in to the same system as corporate headquarters. These subdivisions are the spokes in the model; as such, they don't need the large system that brings corporate overhead and usage charges and can be frustratingly complex for the front-line employees. Instead, they need to utilize a cloud ERP that is appropriate for their size operation that still complies with the regulations governing publicly traded companies.
In the second model, "spoke and hub," the hub is a large company that manages multiple subdivisions around the world but their basic function is financials – general ledger, accounts payable, and accounts receivable. The spokes in this model are the ones that run on a more extensive ERP system. As the financial "coordinator" of the spokes, the hub doesn't need to spend millions of dollars on a Tier 1 ERP system for these functions (general ledger, accounts payable, and accounts receivable) to get the same functionality from an ERP application that is affordable and scalable (such as with Acumatica). In some cases, we have used Acumatica as the consolidation engine that gathered all of the information out of the subsidiaries' larger mainframe system and handled the corporate-wide reporting.
For either model, Acumatica's cloud-based ERP system fits the requirements. Multi-billion dollar companies that need complex ERP systems or that only need an ERP system to carry out their more basic integrations find Acumatica to be the perfect solution at the best price-point available. Acumatica's Financial Management Suite integrates out-of-the-box with their other suites – Customer Management, Distribution Management, Manufacturing Management, Field Services Management, and Project Accounting – and supports either model of publicly traded companies, each of which is  looking to provide streamlined operations, a single version of the truth, and the ability to manage multiple entities.
Now I'd like to specifically point out Deferred Revenue Accounting, which lives within the Financial Management Suite. This feature is built directly within the software, allowing companies to comply with accounting regulations from the get go; you can read more about all of its features here, ranging from deferred revenue administration to component-based revenue recognition to advanced recognition scheduling and more.
It is important to note that the question then becomes if you, as the company implementing the software, will apply it to its greatest potential or not.
Is Acumatica the perfect solution for you?
We think Acumatica is the answer for most SMBs' cloud ERP needs. Ergoresearch Ltd.'s experience with Acumatica may help with your decision-making. They realized 389% ROI in nine months.
Ergoresearch Ltd., headquartered in Quebec, Canada, is the premier manufacturer of intelligent custom-fit foot orthotics, other biomechanical devices, and software in the orthopedic industry; they were recently ranked as Canada's 129th-fastest growing company. With a large network of orthotics clinics, the company needed a web-based, centralized ERP that could fit their unique requirements of integrating existing systems, consolidating operations, and complying with International Financial Reporting Standards (IFRS).
"Our IT team really liked the structure. They are so happy about how the infrastructure is built, how easy it is to adapt to, and that it is the best of breed programming language," says Sylvain Boucher, Ergoresearch CEO, President and Director, says. "We needed a highly flexible infrastructure that wouldn't be a chokepoint in our system. We want to be very agile, and that is the case with Acumatica."
Read more about how Ergoresearch's implementation of Acumatica's cloud-based ERP system helped the company report their quarterly financial figures more efficiently, compare financials between divisions, construct different access rights, and gain customer insight from a central database here.
Boucher says, "Acumatica is a great technology enabler that is going to give any company that chooses it a tremendous edge over their competition."
As a reseller of Acumatica, my team at NexVue chose its ERP platform over the competition for the powerful  functionality it provides which most businesses require when consolidating multiple databases, accounting systems, and operating systems.
ERP implementations are complex and detailed, even more so when your company must meet rigorous regulations while still focusing on profit and growth. We're here to walk you through the entire process and hope you'll consider Acumatica your cloud ERP of choice. Contact us to discuss your business's next step in accelerating your success.