As technology and customer expectations advance in the Wholesale Distribution industry, so should organizations' distribution software. We at Aktion Associates have partnered with Acumatica to provide the best wholesale distribution software available.
Distributors of all sizes face a multitude of similar challenges, including fast changing customer demands, complicated product inventories, and changes in the supply chain. Overcoming these challenges and thriving in a multicloud-based world requires an ERP system Distributors can count on. Acumatica is quickly ascending to the top of the list of wholesale distribution software solutions Distributors are choosing to run their operations.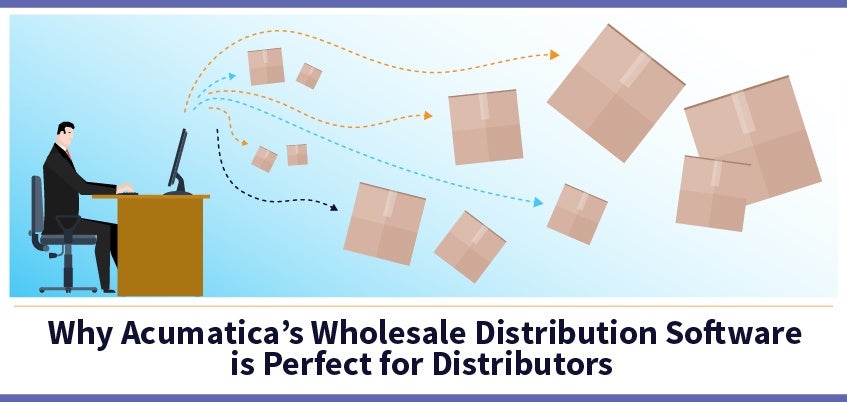 Why the Wholesale Distribution industry chooses Acumatica
Why are Distributors selecting Acumatica as their distribution management system? Wholesale Distributors recognize the benefits of Acumatica's all-inclusive functionality and robust business intelligence, eCommerce, mobility, pricing, and shipping features.
Business Intelligence
Every modern Distributor wants and needs business intelligence (BI.) Why? Because Distributors want to quickly collect critical data in one central location. Being able to import data via Excel or CSV formats and cloud-based applications across multiple databases makes data collection a streamlined process with BI. The BI automatically analyzes the collected data creating custom visual representations with real-time data allowing Distributors to effectively spot trends.
eCommerce
Wholesale Distributor's customers specifically want 24/7 access to a customer portal where they can view past documents, balances, due dates, received payments, and order online. Acumatica provides all of those features and more. One of the most notable features Acumatica provides through the customer portal is document sharing. The document-sharing feature creates a safe haven to share crucial information with customers, including marketing and technical documents without the need for an outside webpage.
Mobility
Business leaders and decision-makers rely on mobile devices to conduct business, not just communicate. Finding an ERP solution that offers a fully integratable mobile functionality is a priority. Acumatica makes it easy to enter expense receipts, claims, and events, make approvals and more, creating an ERP ecosystem that thrives by allowing users the ability to be flexible, informed, and most importantly, mobile. With Acumatica, employees have access to accurate, business-critical information on any device, anywhere, anytime.
Pricing          
Wholesale Distributors offer multiple prices for the same item based on the quantity of units, completion timeframe, and other discounts. Finding distribution software that gives Distributors the pricing freedom they need is a critical component in their decision- making process. Acumatica is specifically designed with a powerful pricing algorithm; customer specific pricing is simple enough for small business and broad enough for intricate multi-national corporations. Acumatica offers Distributors the pricing flexibility they need.
Shipping      
When shipments are not properly organized, Wholesale Distributors know the resulting consequences can be catastrophic, which is why Wholesale Distributors make accuracy one of their utmost priorities. By cross-referencing with multiple item identifications by individual suppliers and your system, Acumatica is able improve overall shipping accuracy.
Aktion understands the importance of shipment accuracy in the Wholesale Distribution industry and found desirable functionality in Acumatica. Wholesale Distributers will find that with Acumatica's distribution software, shipping becomes a simplified and streamlined process.
Acumatica offers key features the Wholesale Distribution industry wants
With features like business intelligence, eCommerce, mobility, pricing, and shipping, Acumatica is the right wholesale distribution software choice for Distributors. Combine unparalleled functionality with the expertise of an IT advisor and Acumatica business partner, it's the foundation Distributors need to grow their business.
We always want to hear from you. Contact us if you have any questions about the best distribution management system for you and your business – we have the answer!