Getting online is a necessity for distribution and manufacturing businesses looking to grow. However, navigating the B2B eCommerce space requires the right eCommerce platform. Acumatica's new Infographic on what to do—and not do—as you move forward can help get you started.  
B2B eCommerce, or business-to-business online selling, opens a whole new world for distributors and manufacturers. Accessing customers across the globe, reducing order-processing costs, providing customers with an easy order process, tracking past orders, and so much more creates a competitive edge that can't be replicated by brick-and-mortar-only businesses.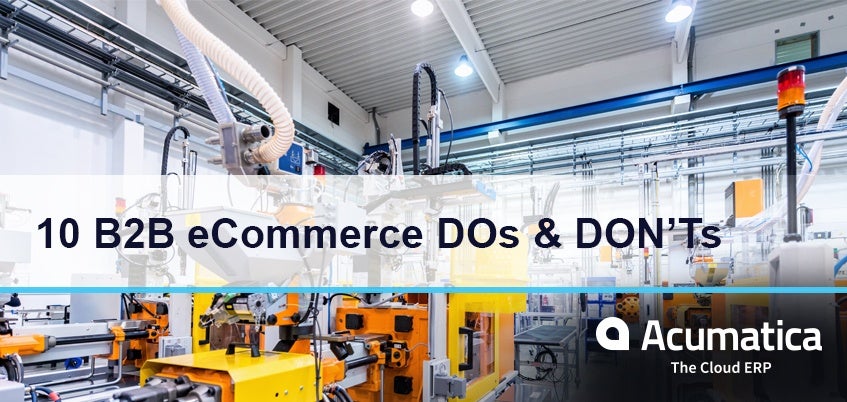 One company that can verify the benefits of B2B eCommerce software is Ray Allen Manufacturing. They chose Acumatica Commerce Edition (which includes Kensium Solutions – Magento/Acumatica Connector) and Acumatica Manufacturing Edition, which has allowed them to streamline their K-9 gear and equipment manufacturing operations (as well as their consumer-based product line needs), gain insight into their business for better decision making, improve customer service, and establish a strategic platform for growth.
"We chose Acumatica primarily because of its flexibility and its ability to integrate with an eCommerce platform," says VP of Operations John Oakley. "We rolled with Magento at the same time we went with Acumatica, and we were able to integrate all of our websites directly into our ERP. It just really streamlined the whole process for us. We use it for purchasing, customer service—our inbound customer service agents are using it. It's been a really solid back end [solution]. It essentially runs all aspects of our company."
Ray Allen Manufacturing's customer success story further explores the features and benefits they've enjoyed since implementing Acumatica's flexible and easy-to-use manufacturing ERP and utilizing B2B eCommerce software. Their story along with Acumatica's new Infographic will help you get started on the right track.

It's critical you choose the right eCommerce platform and manufacturing ERP software before setting up your B2B eCommerce website. This includes thoroughly investigating your platform options. The platform you choose must be designed for B2B commerce, be a true cloud manufacturing ERP, and be able to accommodate (and seamlessly integrate) your website and back-office requirements.
Combining the right platform with the B2B eCommerce website DOs and DON'Ts will set your business up for long-term growth and success, and we invite you to consider Acumatica cloud ERP and Acumatica Manufacturing for your business by contacting our team of experts to schedule a demonstration. You're also welcome to download our free Key Performance Indicators for Manufacturing Whitepaper and Acumatica's Whitepaper on finding a flexible manufacturing ERP as additional resources for your ERP evaluation journey.
John from Ray Allen Manufacturing is glad they did, "We find [Acumatica] to be one of the most configurable, easiest ERPs to work with that we've found. We've just been really happy with this platform, and the support from Acumatica is just top notch."