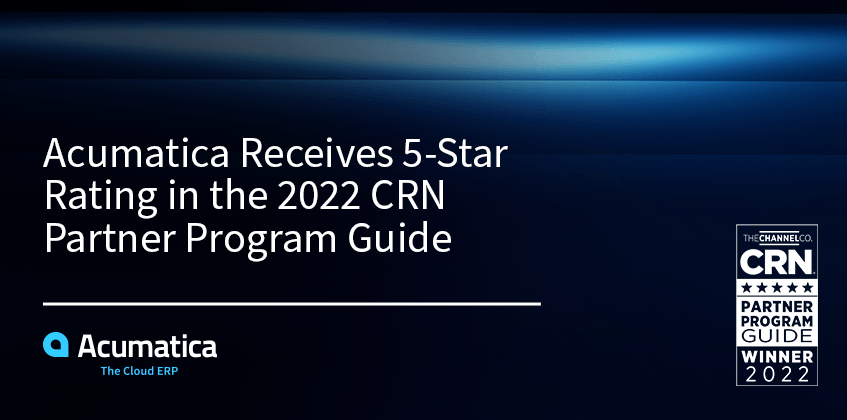 Every year, CRN®, a brand of The Channel Company, releases their list of the top partner programs from industry-leading technology vendors, and for the last 5 years, the Acumatica Partner Program has been on it. Today, we're excited to announce that we've received the prestigious 5-star rating in the 2022 CRN Partner Program Guide once again.
"CRN's Partner Program Guide delves into the strengths of each organization's partner program in order to honor those that consistently support and promote good change within the IT channel," said Blaine Raddon, CEO of The Channel Company. "As innovation fuels the speed and complexity of technology today, solution providers want partners that can keep up with and assist their growing business."
5-Star Rating: What It Means and Why It Matters
The 5-star rating by CRN is bestowed upon select vendors who have cultivated superlative partner programs. To be considered, vendors must have a growth mindset and have invested in program offerings, partner profitability, partner training, education/support, marketing program/resources, sales support, and communication.
From its inception, Acumatica has relied on the partner channel to promote and implement our award-winning cloud ERP solution, as well as offer ongoing support to our mutual customers. Because our global network of Acumatica VARs (Value Added Resellers) is our exclusive route to market, it was incumbent on us to create a program that offered them excellent training and continuous support—not to mention generous terms.
Acumatica continues to hold the title of fastest-growing cloud ERP company in the world. We celebrated this fact during Acumatica Summit 2022, where we thanked our partners (and customers and developers) for their amazing work by revealing the Acumatica Cloud ERP 2022 Award winners. In a post celebrating the winners, Sean Chatterjee, VP Americas, wrote:
"Acumatica partners grow, retain, and support their customer base. Acumatica customers leverage their expertise and extol the benefits of our award-winning cloud ERP solution. Acumatica developers lay the foundation for everything we do. Together, they form an ideal community that works toward the success of every member."
Acumatica Partner Program: Looking Ahead
Thanks to the efforts of our amazing team members, such as Partners Programs Manager Jessica Pidgeon, we're celebrating our 5-star rating in the 2022 CRN Partner Program Guide. Jessica, one of CRN's 2021 Women of the Channel List winners, has done a number of things to make the Acumatica Partner Program a success.
For example, she led the team that redesigned the program for 2021, which netted a comprehensive program guide and a virtual event announcing these changes to the Acumatica partners. She also formed Acumatica's platform strategy committee, oversaw the launch of a single-sign-on process for customers and partners, and implemented protocols to help partners handle customer challenges brought on by the pandemic.
With the efforts of team members like Jessica, the Acumatica Partner Program will continue to aid partners in achieving unqualified success for years to come. For any questions about our partner program, about becoming an Acumatica VAR, and/or our cloud ERP software, please contact our team today.