A new ERP system can help reduce operating costs by automating manual processes, increasing productivity, and providing standard features that previously had to be purchased separately. The ROI of a new ERP attempts to calculate both the savings as well as the increased earning potential the new ERP system will provide the organization.
Most companies only look at the cost of a new ERP by calculating the cost to purchase, implement, and maintain the software. But the Return on Investment (ROI) calculation is also important. That is why we developed ERP ROI calculator.
Calculating how much a modern ERP system is going to benefit your company must include the return on investment (ROI) to get the estimate. Acumatica's ERP ROI calculator can assist organizations in estimating this amount. It can also provide foresight into whether the company is on the path of becoming a Leader or a Follower in their industry.
Before committing time and budget to a large expenditure – such as an ERP system – most companies will complete an expense justification. This justification process will include an ERP Total Cost of Ownership (TCO) to estimate the total cost to license, implement, train and maintain a system over a 5-10 year period.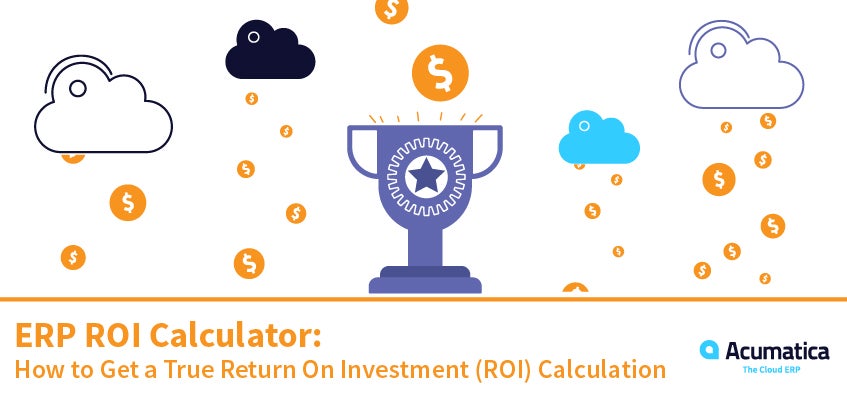 The other side of the justification process requires quantifying the benefits of the new system by estimating the possible return on investment (ROI) or ERP ROI. During this ROI analysis, the expected cost of the system is compared to the benefits expected by implementing the system over a 5-to-10 year period; it must include both indirect and direct savings and benefits. Companies should base their decision to invest in a new modern ERP system on the ROI.
Every company's situation is different which means their needs and solutions differ. Therefore, the ROI for one company will not necessarily be applicable to another.
This is the first of three blogs on th subject of the True Cost of an ERP System. In this blog, we'll discuss how to estimate the ERP ROI. We deal with how to truly develop the total cost of ownership (TCO) using an ERP TCO calculator in in the second blog of this series.
The ERP return on investment of time and money
Quantifying the benefits you receive on your new system includes reduction in cost, improved opportunities, and even improved employee and customer satisfaction.
The cost reduction savings are easy to measure such as:
Reducing overall operating expenses
Increasing inventory turns or billable hours
Accelerating response time for returns or recalls
Minimizing Accounts Receivable days outstanding
Some other ERP ROI benefits that are not so easily calculated can include:
Improving staff retention through ease-of-use and productivity
Effectively fixing errors in a timely and economical manner
Centralizing documentation online for constant availability of a single source of truth
Making faster decisions due to increased visibility
Uncover business benefits and cost savings enabled by Acumatica Cloud ERP
Calculating ERP ROI in the past
ROI studies in the past were very detailed. Organizations would take each line item for cost of goods and operating costs and assign a percentage of improvement to each. Those calculating the ERP ROI would then determine the percentage savings and sum of each line to get the grand total of what was theoretically possible. This required a great amount of data gathering, resulting in a lot of time spent determining the current values as well as deciding what the appropriate value would be for the percentage of improvement.
The results of this large data grab and the time it took depended on many conditions. But all that work only provided the guesstimate of a possible return. For their individual situation there was
no guarantee that the company would see that return, and
no proof that the vendor's solution would provide a different return from that of another vendor's solution.
However, common sense dictates that there should – and must – be a monetary return calculated before a project is funded.
Another approach
At Acumatica, we decided to take a different approach by using current data done on research across a wide variety of companies. One of the most respected industry experts is an analyst firm called the Aberdeen Group. We recently highlighted one of their Whitepapers, The Cost of Doing Nothing: Why You Can't Afford to Sit on an ERP Software Decision. It explores the possible negative results businesses experience when they choose not to implement a modern ERP system.
Over the past few years, the Aberdeen Group has also been performing a number of surveys and interviews of ERP users in a variety of industries and has published a set of research reports based on their findings.
In their reports, they refer to Leaders and Followers. The Leaders are considered the top 30% of the firms interviewed for that report based on their performance. The Followers were the remaining 70%. Over time, both groups see improvements in the business processes. But there's a significant difference between the rate of improvement between Leaders and Followers.
We looked at approximately 20 processes that documented the results of the Leaders versus the results of the Followers. Aberdeen wrote that the Leaders had invested in modern ERP systems. We therefore concluded that if a company was to properly implement an ERP system – such as Acumatica – it was very likely they would fall into the Leaders' group and thus attain those kinds of improvement percentages.
Find your possible ERP return on investment
Because we want companies to determine their possible ERP ROI before they invest in an ERP system, we prepared a simple table with four of the 20 processes: increased profitability, reduced operating cost, reduced administration cost, and reduced inventory levels. Discover and start using our new ERP ROI Calculator to  explore your possible ERP ROI through these relevant criteria. You will be surprised at the return available by only improving four of the 20 processes.
Also  look for our next blog on  exploring your Total Cost of Ownership (TCO). As always, we hope you'll contact us with any questions as you start calculating the benefits of a modern ERP system.
Uncover business benefits and cost savings enabled by Acumatica Cloud ERP