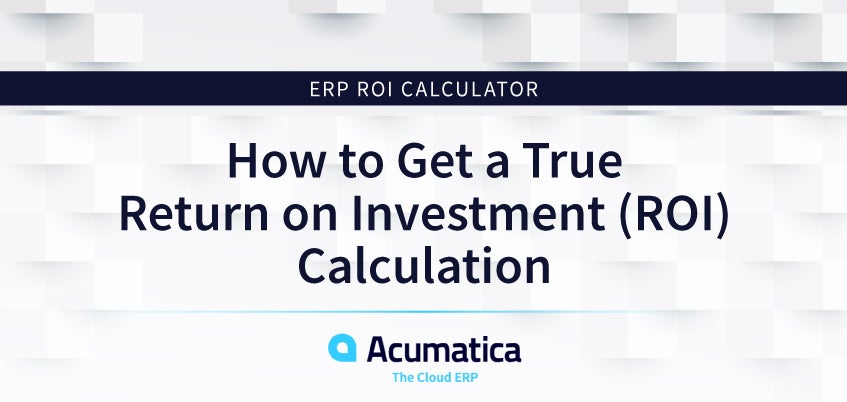 According to the Statista Technology Market Outlook, "Enterprise software has the largest share of the overall software market, with worldwide revenues amounting to over 200 billion U.S. dollars in 2020." Companies are recognizing the need for a comprehensive enterprise resource planning (ERP) system, but cost is always a concern. When considering a new ERP solution, most businesses only calculate the cost to purchase, implement, and maintain the software, but determining the projected return on investment (ROI) is also critical.
That's why we developed the Acumatica ERP ROI calculator.
The Importance of Calculating ROI
Some ERP benefits are not easily quantified, such as:
Improving staff retention through ease-of-use and productivity.
Fixing errors in a timely and economical way.
Centralizing documentation online.
Providing constant data availability in a single source of truth.
Making faster decisions due to increased visibility.
Though these benefits are difficult to calculate, they can be felt. American Meadows (AMI)—an online retailer of flower bulbs, perennial plants, and wildflower and vegetable seeds—has experienced them firsthand. It has been growing and thriving since implementing Acumatica Cloud ERP.
Ethan Platt, co-owner and president of AMI, says: "We now have the data visibility and accessibility to identify our core customers, understand their challenges, and support them with tailor-made gardening solutions. We can do all of this at scale now by leveraging cutting edge technology thanks to Acumatica."
Customer stories highlighting qualitative success, as in AMI's case, are tantalizing. But, to make a fully informed decision, you must also get a concrete, quantitative idea of how a modern cloud ERP system can benefit your business.
Because implementing an ERP solution is a big investment, you should first justify the expense—projecting how the system will benefit your company by estimating the ROI. To do this, compare the cost of the system to the direct and indirect benefits you expect to reap from it over a five- to ten-year period.
These savings are easy to measure.
Reduced overall operating expenses
Increased inventory turnover or billable hours
Accelerated response time for returns or recalls
Minimized accounts receivable days outstanding
Keep in mind, though, that every company's situation is different, which means their needs, and the solutions that will fill those needs, also differ. The ROI for one business will not necessarily apply to another.
Acumatica's ERP ROI calculator can help you navigate these uncertainties and calculate an ROI that is specifically yours.
Calculating ERP ROI
Because calculating ERP ROI is a necessity, Acumatica decided to make the process simpler. We started by commissioning a study from Forrester, an independent, objective-research-based consulting firm. This Total Economic Impact™ (TEI) of Acumatica study found that four companies, which had adopted Acumatica Cloud ERP, experienced significant benefits, including a 15% improvement in gross margins, a 15% increase in sales volume, and a 45% increase in employee productivity.
The Forrester study also determined that a "composite organization based on these interviewed organizations would experience benefits of $3.5 million over three years versus costs of $2.1 million, adding up to a net present value (NPV) of $1.4 million and an ROI of 66%." According to Forrester, the payback period for investing in Acumatica's cloud-based ERP solution is 16 months.
To summarize, the key benefits of investing in Acumatica, as identified and quantified by Forrester, include:
Reduced cost of goods sold.
Reallocated IT resources.
Increased sales volume.
Improved operational efficiency.
Based on these findings, we created the Acumatica Cloud ERP Estimator for companies looking to calculate their ROI before making an ERP investment. This interactive tool poses questions about your specific business environment. Once you've answered them, you will receive a high-level estimate of your ROI, including ERP implementation costs and the economic impact of investing in Acumatica Cloud ERP.
Find Your Projected ERP ROI
Companies need to determine their possible ROI before actually investing in an ERP system. The Acumatica Cloud ERP Estimator is a simple, effective way to do so. Our cloud-based ERP solution is also a simple, effective tool for successfully managing business operations at all levels.
For example, Ethan Platt says that Acumatica has helped AMI, not only operate on a large scale, but also reach "the level of gritty detail that matters to us and to the customer. … You need to have a tool like Acumatica that's integrated with all the other tools you have in place to meet…consumer expectations."
Please contact us if you have any questions or would like to set up a demonstration.