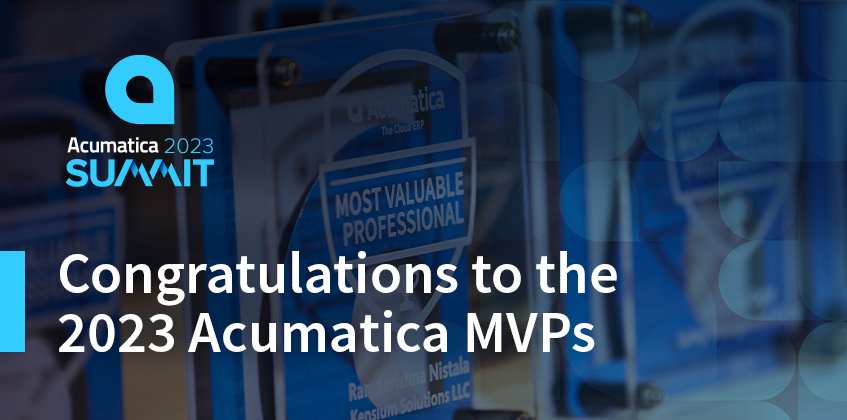 It's a time-honored tradition at Acumatica to recognize and reward our most valuable professionals (MVPs). Acumatica MVPs are community members who have a passion for expanding their cloud ERP knowledge, sharing their expertise with others, and being at the forefront of ERP innovation. They're the first to offer peer support and the first to provide insights on how we can continually improve our award-winning cloud ERP product and platform.
As a community filled with amazing professionals, we've never lacked nominees for our Acumatica MVP Program, and this year is no different. We received hundreds of peer-and-self nominations, and after reviewing each one, we selected the partners, customers, and developers whose contributions and exuberant community spirit earned them a 2023 Acumatica MVP Award or an Acumatica Developer MVP Award.
Today, we have the joy of revealing this year's Acumatica MVPs.
Customer MVPs
Jo Young, Additive X Limited
Chi Dao, AIM
Doug McBride, Alaska Indoor Sports Distributing Ltd.
Cassandra Moore, Alpha Insulation and Waterproofing, Inc
Hazen Metro, American Meadows
Calvin Law, Anex Imports
Chris Moreland, Ballast Tools
Abe Majors, BoilerMasters
Matt Shamp, Carlson-LaVine Construction
Louise Smale, Cave Direct
David Salmon, ComCenter
Roxanne Churchill, Cornell Cooperative Extension
Peter Bonoff, Curran
Devin Samayamanthri, Design Studio Manufacturing
Graham Leonard, Dukathole Group
Keith Ford, Eagle Fence Distributing
Joel Weinstein, Fabuwood
Thomas Finney, Get Sojo
Jason Briesemeister, Green Bay Packaging
Sean Reuben, Incubeta
Francisco Callegari, Industrial Specialty Services USA
Caleb Harris, Ink Enterprises
Sue Severns, Inspirus / Sodexo BRS, USA
Nakuma Scott, Jeffree Star Cosmetics, Inc.
Ka Man Chan, Key Code Media
Andrew Schutt, Kill Cliff
Taylor Dunlop, Killer Merch
Brett Hill, LiveView Technologies
Christine Ting Sing Ling, LTI Engineering SDN BHD
Rui Niu, Maiya Foods
Anura Warnakulasooriya, Midaya Ceramic Company Pvt. Ltd.
Kurt Keating, MiiR
James Day, Mous
Marcia Walker, Novatech Ltd
Aasha Cunningham, Phoenix Renovation and Restoration, Inc.
Kimberly McElroy, Portacool
Julia Pinto-Cisneros, Quality Material Handling
James Harris, Redmond, Inc.
Dave Munson, Saddleback Leather Co.
Rebecca Ogle, Safety Management Group
Tim Patton, SAM
Todd Youngblood, SleepMe Inc.
Chris Drake, Smartnumbers
Francis Nwabudike, SpaceManager Closets
Sean Barnett, Spohn Associates
Yisroel Hartman, Sunshine Lighting Co
Jay Feinman, Tester Construction Group
Ron Fairchild, Texas Scenic Company, Inc.
Lester Yuen, Timebomb Trading
Neil Cantral, Wilmar LLC
Partner MVPs
Ivan Zaliscky, Artsyl Document Imaging
Tim Rodman, AUGForums.com
Gary Mardirossian, Biz-Tech Services, Inc.
Dennis Godsill, Blytheco
Stephen Hennelly, Blytheco
Dale Simmerly, Collins Computing
Markus Ray, Clients First
Gregg Mercede, Cloud 9 ERP Solutions
Justine Crowley, Cloud 9 ERP Solutions
Colleen Schils, Crestwood Associates
Emad Shahid, Crestwood Associates
Nicole Ronchetti, DSD Business Solutions
Greg Flint, Four 13 Group
Joe Schmucker, Innovative Cloud Solutions
Harsha Sarjapur, InfoSourcing Inc
Kurt Bauer, i-Tech Support
Chandra Mani, Kensium Solutions
Jini Nickelson, Kensium Solutions
Manikanta Dhulipudi, Kensium Solutions
Rahul Gedupudi, Kensium Solutions
Rohit Bhandurge, Kensium Solutions
Laura Barber, Klear Systems
Bill Filipiak, Net at Work
Django Dunn, NextLevel Information Solutions
Laura Jaffe, Parallel Solutions
Jeremy Dobish, PC Bennett Solutions
Patricia Bennett, PC Bennett Solutions
Yuri Karpenko, PC Bennett Solutions
Jeremy Potoka, Presales Leader
Sean Reeves, Presales Leader
Carolee Shaheen, Somerset Technology Solutions
Joel Gress, SWK Technologies, Inc.
Kandy Beatty , SWK Technologies, Inc.
Mary Abdian, SWK Technologies, Inc.
Seth Kuhn, SWK Technologies, Inc.
Steve Gignac, SWK Technologies, Inc.
Larry Tussing, Synergy Resources
Samit Vajpayee, Tayana Solutions
Sangeetha Kumaraswamy, Tayana Solutions
Vijay Ural, Tayana Solutions
Gary Jensen, WAC Solution Partners
Developer MVPs
Joshua van Hoesen, Accounting System Integrators
Yuriy Zaletskyy, AcuPower Ltd.
Tony Lanzer, Aktion Associates
Stéphane Bélanger, Asgard Alliance Software
Dioris Aguiar, Asgard Alliance Software
Gerhard van der Heever, FBA Software
Raj Gopinathan, CCS Technology Group
Joseph J. Caruana, Computime Software
Jean-Claude Abela, Computime Software
Kyle Vanderstoep, Contou Inc
Joe Jacob, Crestwood Associates
Troy Vars, CS3 Technology
Keith Richardson, Haun Welding Supply
Samvel Petrosov, Information Integration Group, Inc.
Marco Villasenor, Interastar
Sai Chettiar, Kensium Solutions
Naveen Boga, Kensium Solutions
Vinay Koppula, Kensium Solutions
Robert Waite, Net at Work
Chris Hardgrove, NextTec Group
Shawn Burt, Paya, Inc.
Diane Cawley, Savant Software, Inc.
Brian Stevens, SETECH Supply Chain Solutions
Fernando Amadoz, Skyknack
Patrick Chen, SPS Commerce
Kulvir Kaila, The Answer Company
Leonardo Justiniano, The Answer Company
Gabriel Michaud, Velixo
Appreciating and Acknowledging our Acumatica MVPs
We thank all of our Acumatica MVPs for their enthusiastic efforts to make our cloud ERP software the best it can be while also contributing extensively to the growth of the Acumatica community.
MVPs have gone above and beyond our expectations. Examples of this may include but are not limited to the following during the calendar year:
Demonstrated significant additional product or brand value & leadership.
Drove market or industry recognition.
Drove superior customer/partner satisfaction.
Demonstrated superior support/assistance within the Acumatica Community or stackoverflow
Closed several significant/strategic Acumatica business deals.
Was a top contributor in the Acumatica Discussion Forums (including replying, authoring, or contributing to helpful topics, and providing answers).
Accumulated a high number of ''likes'' and ''helpfuls'' in the discussion forums.
Was among the top 10 contributors in our discussion forums for at least three months during the calendar year.
Had other attributable contributions that led to an increase in customer satisfaction, customer loyalty, customer ASP, etc.
Acumatica MVPs do all of this and more willingly and without expectation of acknowledgement—which is precisely why we love to acknowledge them as well as to provide a few tokens of our appreciation. The tokens include an Acumatica MVP or Acumatica Developer Badge that can be proudly displayed on profile pages, social media, resumes, and third-party forums and an Acumatica MVP plaque, which they receive during a recognition ceremony at Summit.
In addition to these items, Developer MVPs write Acumatica Developer-Focus guest blogs, attend quarterly synchronization meetings, and present at our developer events such as the annual Acumatica DevCon, which Acumatica developers within our Developer Community enjoy attending.
Celebrating Acumatica MVPs at Acumatica Summit 2023
Acumatica Summit 2023—taking place at the beautiful Wynn Las Vegas—is nearly here, and we're looking forward to seeing and celebrating the 2023 Acumatica MVPs. We encourage every member of the community to join us as it's the ideal opportunity to chat with the MVPs and to experience the networking, education, and fun provided by our annual cloud ERP event.
Questions about Summit? Ask support@acumaticaevents.com. And for questions regarding the MPV awards/nominations, about our modern cloud software, or about scheduling a demonstration, contact our team today.