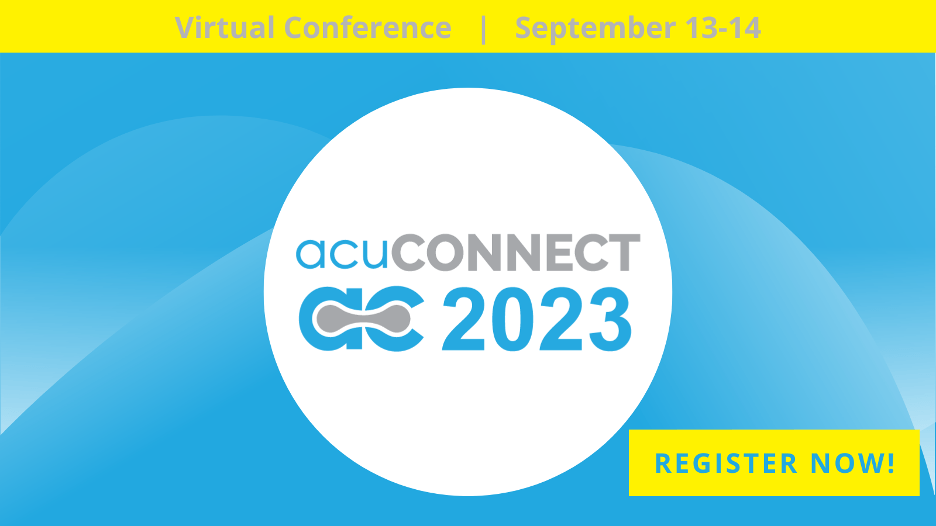 The core of Acumatica is our vibrant Community—where we collaborate, innovate, imagine, and build the future of business, together. One of the best ways to experience this Community in action is to attend the 4th Annual acuCONNECT virtual conference: acuCONNECT 2023. The event is coming up soon, and you don't want to miss this year's lineup of subject matter experts presenting sessions on all things Acumatica.
AcuCONNECT 2023 will be hosted by acu-connect, an independent, non-profit organization that provides resources for Acumatica users and partners and holds smaller virtual events throughout the year.
AcuCONNECT 2023 will take place September 13–14 from 11:00 AM to 5:30 PM EDT. And it's completely free for all Acumatica partners, users, prospects, and employees.
Attendees will hear from experts on various critical issues, trends, and business topics, including customer loyalty, tax compliance, payroll, e-commerce, automation, and much more. There will be nearly 40 engaging sessions, in addition to the compelling opening and closing keynote presentations. Check out the full agenda to see what acuCONNECT 2023 has in store!
Why attend acuCONNECT?
AcuCONNECT is an entirely virtual conference that takes place each September. While there's no substitute for experiencing Acumatica Summit in person, acuCONNECT provides a nice touchpoint for learning and networking while we wait for the big event in January. And if you have team members who aren't able to make it to Las Vegas, this is the perfect opportunity to offer them the next best thing.
It was notable to me how engaged the crowd was at acuCONNECT 2022. I got lots of interesting questions and even a callback the next day on my presentation. It felt like people really wanted to talk shop. – Arline Welty, Galeforce Consulting Partners
AcuCONNECT is so much more than a collection of Zoom meetings. It's a virtual community experience hosted on an interactive platform and includes:
Dozens of engaging sessions presented by subject matter experts.
A keynote presentation by Acumatica CEO John Case.
Social events and virtual "speed networking" to help you expand your network and interact with other Community members.
A virtual Expo Hall where you can learn about add-on solutions to enhance your Acumatica experience.
Prizes and giveaways.
About acu-connect
Beyond this annual conference, discover how you can grow your business faster and more easily when you get involved with the acu-connect Community of Acumatica users and partners year-round. Acu-connect gives you the opportunity to help shape the future of the channel by sharing your knowledge and resources and collaborating with other key players in the ecosystem.
It's easy to join, and, in addition to acu-connect year-round virtual events, members of the Community can build their networks and increase their expertise about Acumatica ISV solutions with on-demand access to targeted webinars and the acu-connect resources library.
Don't miss this incredible opportunity to learn more about Acumatica Cloud ERP for free this year while enjoying the excitement of prize giveaways, happy hours, fun networking events, and expert-led educational sessions you won't hear anywhere else. Register today!