In the last post of our Acumatica 2020 R1 series, we're looking at Acumatica's native mobile app and how it affects manufacturing management efficiency.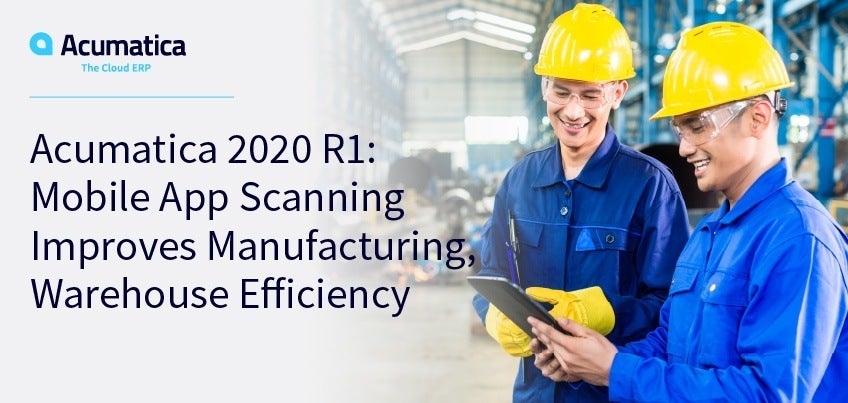 As a manufacturer, you strive for manufacturing management efficiency. You know efficient manufacturing processes are necessary to provide quality, affordable products for your customers. Now, with the release of Acumatica 2020 R1, you can boost your efficiency through Acumatica's mobile app scanning.
Improving manufacturing, warehouse efficiency with Acumatica 2020 R1
Acumatica 2020 R1 is the first of two significant product releases for 2020. Every industry edition has been touched, and this includes Acumatica Manufacturing Edition.
Acumatica Manufacturing Edition is feature-rich, adaptable, and cloud-based manufacturing software that seamlessly integrates with our Distribution, CRM, Financial Management, and Project Accounting suites. It adapts with your make-to-stock, make-to-order, engineer-to-order, project centric, job shop, batch, or repetitive manufacturing needs and allows for real-time coordination from one central location.
One manufacturing improvement provided by Acumatica 2020 R1 is seen in Acumatica's easy-to-use mobile app. Using an iPhone/iOS or Android phone or tablet with an internet connection, you can easily download the app to perform a variety of shop floor and warehouse tasks:
Automate material issues by scanning material to WIP
Automate production reporting by scanning from operation to operation or by scanning from production order into inventory
Capture actual labor with clock on/off production orders and supervisor approval prior to posting
The ability to collect data using RF systems, something that's been around for decades, is now possible from anywhere at any time from your mobile device. It's convenient, and it's easy to do. Open the Acumatica app, select your transaction, select scan, point at the barcode, scan, and enter the transaction.
The data is immediately—and securely—available on screens, reports, dashboards, and KPIs in real time, direct to Acumatica.
Having real-time access to data may not possible through traditional RF data collection systems that use special hardware. They scan an item and the data goes into a server that connects to the ERP system. It's an intermediary way of doing it. Depending on the polling frequency, the transactions may go in every minute or every hour.
Though Acumatica cloud ERP supports these traditional data collection systems, Acumatica's native mobile app, with its real-time access to data from one device, increases manufacturing management efficiencies exponentially. Check out a high-level demonstration of Acumatica's native shop floor data collection found in the Acumatica 2020 R1 Overview (under the "Turbocharge growth with best in class functionality" subsection).
Take your manufacturing business to a new level of efficiency
Acumatica's mobile app scanning capability brings convenience not only to those working on shop floor and in the warehouse but also to those working in the field. Consider the ease with which your field technician can access information about a piece of equipment you manufactured. They can scan the bar code and instantly access information they need (maintenance records, availability of parts, etc.) right then and there.
Efficient service at its very best.
Phone and tablet accessories such as cases and handles are available to keep your phone safe from possible field-work hazards.
With the recent announcement (during the Day One Acumatica Summit 2020 keynote) that Acumatica has acquired JAAS Systems, our commitment to provide you with a solution that meets your ever-changing needs is clear. If you need to infuse your manufacturing company with some much-needed efficiency, contact our team, and we'll  be happy to answer any questions you have about Acumatica Manufacturing Edition, recently enhanced by Acumatica 2020 R1. We can also schedule a manufacturing ERP software demonstration today.
Acumatica's cloud ERP software and mobile app scanning capabilities can help take your manufacturing and warehousing processes to a new level of efficiency.