Acumatica 2020 R1, Acumatica's newest release, is now generally available. Acumatica's Director of Product Marketing reveals the features she's most excited about.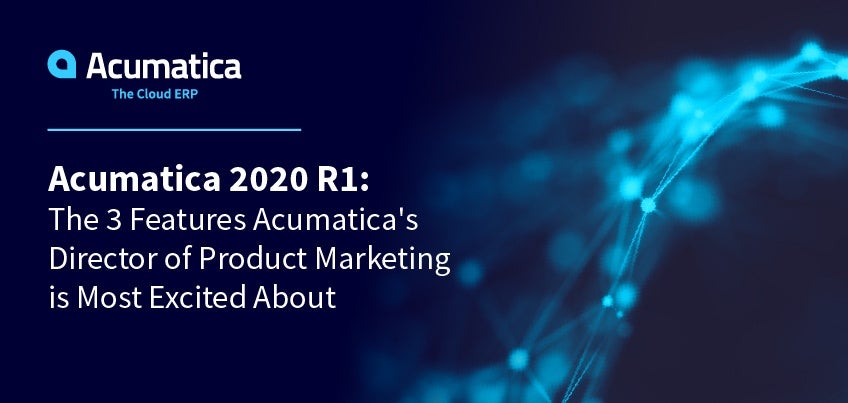 Every new Acumatica cloud ERP release is filled with impressive enhancements, improvements, and updates, many of which are based on user feedback. Acumatica 2020 R1 is no exception. Quoting Acumatica CEO Jon Roskill in a recent press release, "2020 R1 is a significant new product release. Acumatica customers and partners keep clamoring for more and they get it, twice a year, with real quality."
He's right, and I'm excited for you to experience firsthand the valuable, practical benefits Acumatica 2020 R1 will bring to you and your business. They include taking back time with superior ERP usability, eliminating business silos with powerful new native modules, turbocharging growth with best in class functionality, accelerating your business with cross-connected workflows, and allowing you to tailor Acumatica to your business without writing code.
Because there are so many new, customer-centric features and so little time, I narrowed them down to my three favorites.
My top 3 Acumatica 2020 R1 features you'll love
I think you'll love these three Acumatica 2020 R1 features as much as I do, so let's jump right in.
1. Create expense receipts with your mobile camera
When we're not in the middle of a pandemic, do you and/or your employees travel for work? If so, then you know the pain of keeping track of your expense receipts and submitting them for approval, processing, and reimbursement.
You're busy attending trade shows, meeting clients, writing reports, and catching flights. Unfortunately, adding the chore of tracking expenses—without losing or damaging paper receipts—is a time-consuming necessity. Back in the day with a former employer, the antiquated process required that I take photocopies of my receipts and then fax them in.
Sound familiar?
Here's the good (great!) news: With Acumatica, you can simply use your mobile camera to create expense receipts, enabling your employees to quickly and efficiently submit travel expenses.
This is how it works. Capture your expense receipts using the camera from your mobile device and upload them into Acumatica. Through the power of artificial intelligence (AI) and machine learning (ML), your receipts are analyzed, and the pertinent information is automatically added to an expense report for you. No more data entry woes for you.
Ajoy Krishnamoorthy, Vice President, Platform Strategy at Acumatica, goes into detail about Acumatica's new cloud-based expense reporting solution in a recent CPA article.
"With time being one of the most valuable resources for businesses and their employees, our team wanted to take it one step further to ensure the system could automate as much as possible and cut down on the time employees spend entering information manually."
"This solution also minimizes the amount of time accounting teams spend validating expense receipts and fixing errors. The enhancement to our mobile expense reporting module uses a machine learning component that can read the receipts, recognize the fields in the receipt, and map the item to the appropriate expense code—something that even traditional expense reporting isn't able to do," he explains.
Reducing receipt entry time by 50% and increasing accuracy makes your life, and your employees' lives, so much easier.
Check out the video demonstration below.
2. Acumatica Payroll
Acumatica is big on eliminating business silos, enabling you to run your business on one, integrated system. Combine that with our users' cry for an integrated payroll module, and we knew Acumatica Payroll, introduced in Acumatica 2020 R1, would be a huge benefit to growing mid-sized businesses (SMBs).
As high-growth businesses expand, they often add disparate applications in functional areas. They use separate solutions for accounting, inventory, reporting, etc. Same with payroll. Outsourcing payroll may come with some potentially severe pain points, such as:
Duplicate data entry
Disconnected systems
Complex timekeeping
Specialized reporting needs
Detailed tracking and coding
With Acumatica Payroll, you control your very valuable company and employee information. You're able to pay employees by check or direct deposit; automatically pull time entry data entered into Acumatica Employee Portal into the payroll system; manage tax filings; and stay in compliance with government regulations. Moreover, you can process payroll from anywhere, at any time.
Acumatica Payroll is a secure, modern, and complete payroll management solution that takes away the ouch factor of disconnected legacy systems.
3. Robust Integration with BigCommerce
On Day Two of Acumatica Summit 2020, a new and dangerous partnership was announced with BigCommerce, a leading, cloud-based eCommerce solution for midmarket companies.
Wait, dangerous?
What I mean is that the powerful integration and partnership between Acumatica's highly rated cloud ERP software and BigCommerce is dangerous for the competition. They are now up against a unified solution, where eCommerce is seamlessly integrated with financials, inventory, operations, and reporting—providing you with a powerful and comprehensive real-time platform that grows with your company.
It is easy to run into expensive problems when it comes to integrating your eCommerce store with your ERP. The right ERP solution enables you to control all of your eCommerce store's functionality from a single dashboard. Even leaving out one crucial function, such as order fulfillment or sales tax collection, is time and cost-prohibitive for your business.
For midmarket retailers, distributors, and manufacturers that struggle with disparate, siloed systems for eCommerce, financials, warehouse management, and reporting, Acumatica's Commerce Edition is an end-to-end business management solution integrated seamlessly with BigCommerce and can be accessed in the cloud using a standard web browser.
Additionally, you'll experience:
Enhanced visibility into your order fulfillment and product availability
Real-time status checks on orders, cancellations, and refunds
Streamlined business processes and connected product and customer information between Acumatica and BigCommerce without development or IT support
Automated flow of shipping, payment, order fulfillment and inventory data
And more
Ultimately, this is a true omnichannel solution that grows with you and offers the flexibility to run your business your way, streamlining and automating every facet of your business to help you create customers for life.
Bob Garofallou, Acumatica Product Marketing Manager, dives even further into this partnership in an upcoming post.
Learn more about Acumatica 2020 R1
Can you see why I'm so excited about these three Acumatica 2020 R1 features? There are even more I didn't touch on today. They can be found in the Acumatica 2020 R1 Overview and in a few posts coming soon.
For any questions about Acumatica 2020 R1 and Acumatica's cloud-based ERP solution, contact us at any time. We're excited to help you transform and accelerate your business.