From improved AIA processes and a new Pro Forma correction workflow to a significantly enhanced integration with Procore and new Acumatica Payroll features, Acumatica 2020 R2 sets construction firms up for success.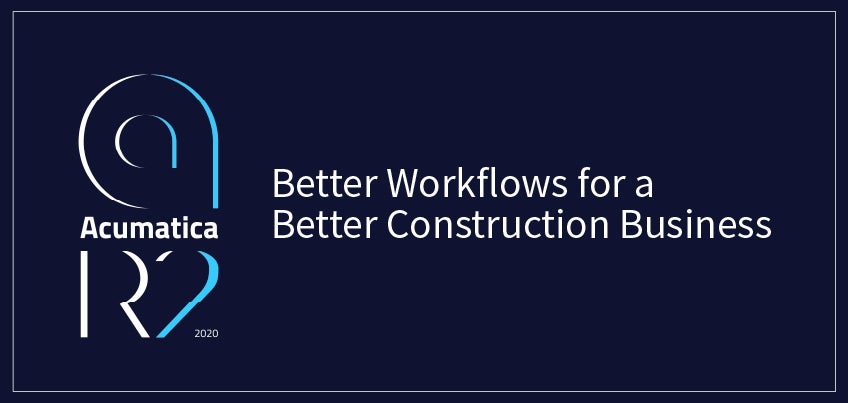 Now available, Acumatica 2020 R2, Acumatica's second release of the year, provides contractors, home builders, and land developers with numerous updates for a superior, streamlined user experience. The fresh, modern design with improved functionality will also empower Acumatica Construction Edition 2020 R2 users to work smarter, not harder.
These new enhancements are a testament to Acumatica's ongoing commitment to advancing our cloud construction and accounting software based on customer feedback and advice. This is carried through in delivering a release with optimal value that saves time, streamlines workflows, and helps the entire construction cycle run more smoothly.
Acumatica Construction Edition enhancements
Here's a look at the specific cloud construction software enhancements.
New Pro Forma Correction Workflow
Increase billing cycle efficiency without deleting subsequent pro forma or AR invoices and without manually reversing prior billings. Correct pro forma and receivable invoices using the method most suitable for the situation. Options include:
Correct overbilling by entering a credit on the next invoice
Correct previous billings without deleting the AR Invoice
Adjust retainage (positive or negative) using credit memos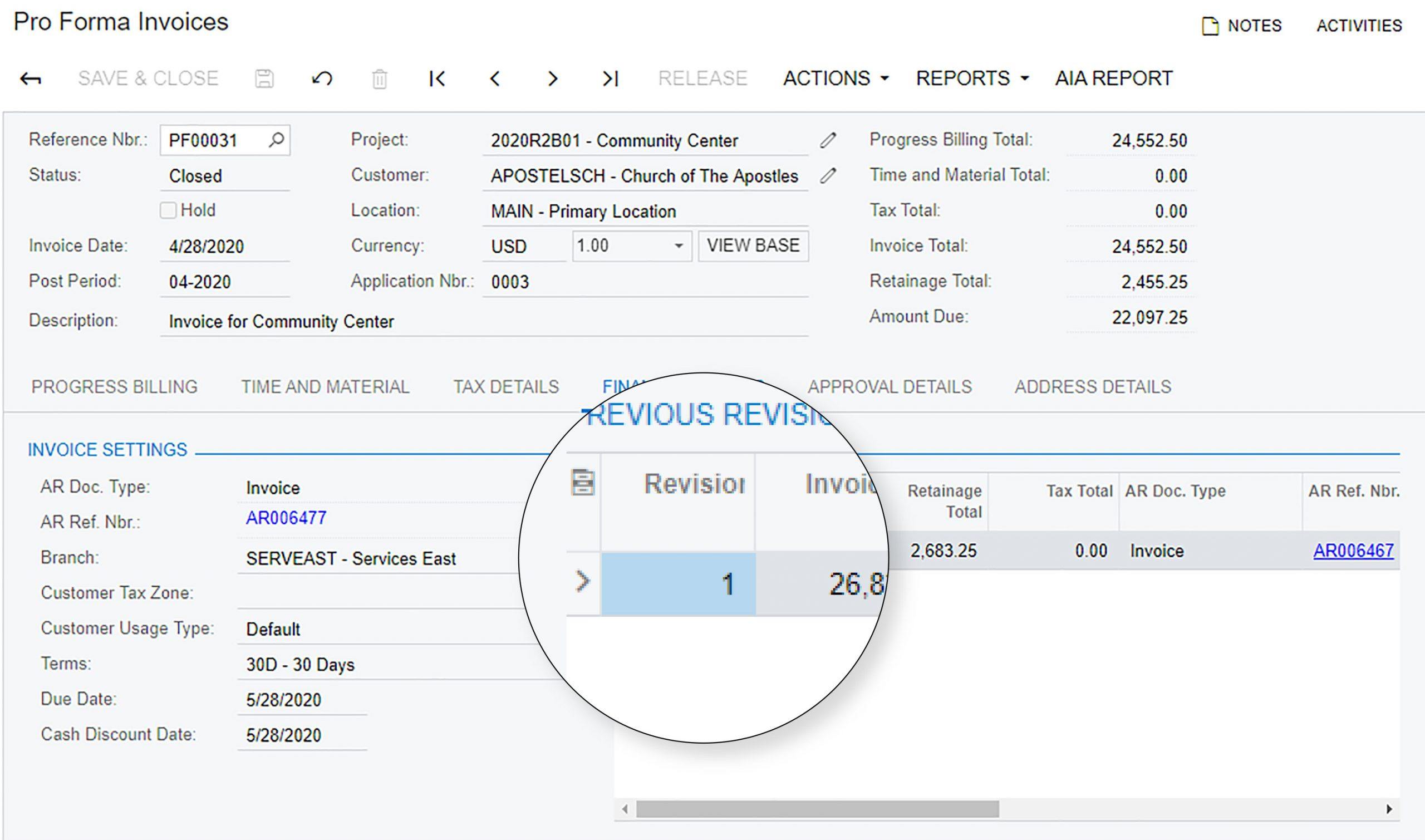 Improved AIA Processes
AIA printing is a staple of construction. Prior versions may have incorporated customizations or user defined fields to accommodate different scenarios. This could lead to extra processes and delayed billing cycles.
These enhancements will improve cash flow with automated processes and workflows:
Retainage pro forma for AIA printing (+ Zero pro forma with retainage billings)
AIA application number
Historical change order and billing values
Procore Integration Time Saving Updates
Construction Office Personnel and Project Managers now have even more flexibility in the management of projects between Acumatica and Procore. With the enriched integration preferences, they can efficiently delete or inactivate records and establish one-directional or two-directional imports, exports, and synchronization updates on most entities.
Project Preferences take it to the next level by allowing Project Managers to decide which project related entities (e.g., project tasks, cost codes, cost and budget) should be synced. After the initial configuration is complete, they can automate schedules to keep stakeholders up to date by synchronizing projects throughout the day and other entities such as vendors/customers once per day. These time saving enhancements streamline workflows and ensures the entire construction cycle runs more smoothly.
Key features include:
Procore monthly sandbox connectivity for testing
Bi-directional data flow options
Synchronization logs
Linking and unlinking of records
Manual and automated synchronization
Below is a breakdown of the data flows between Procore and Acumatica Construction Edition: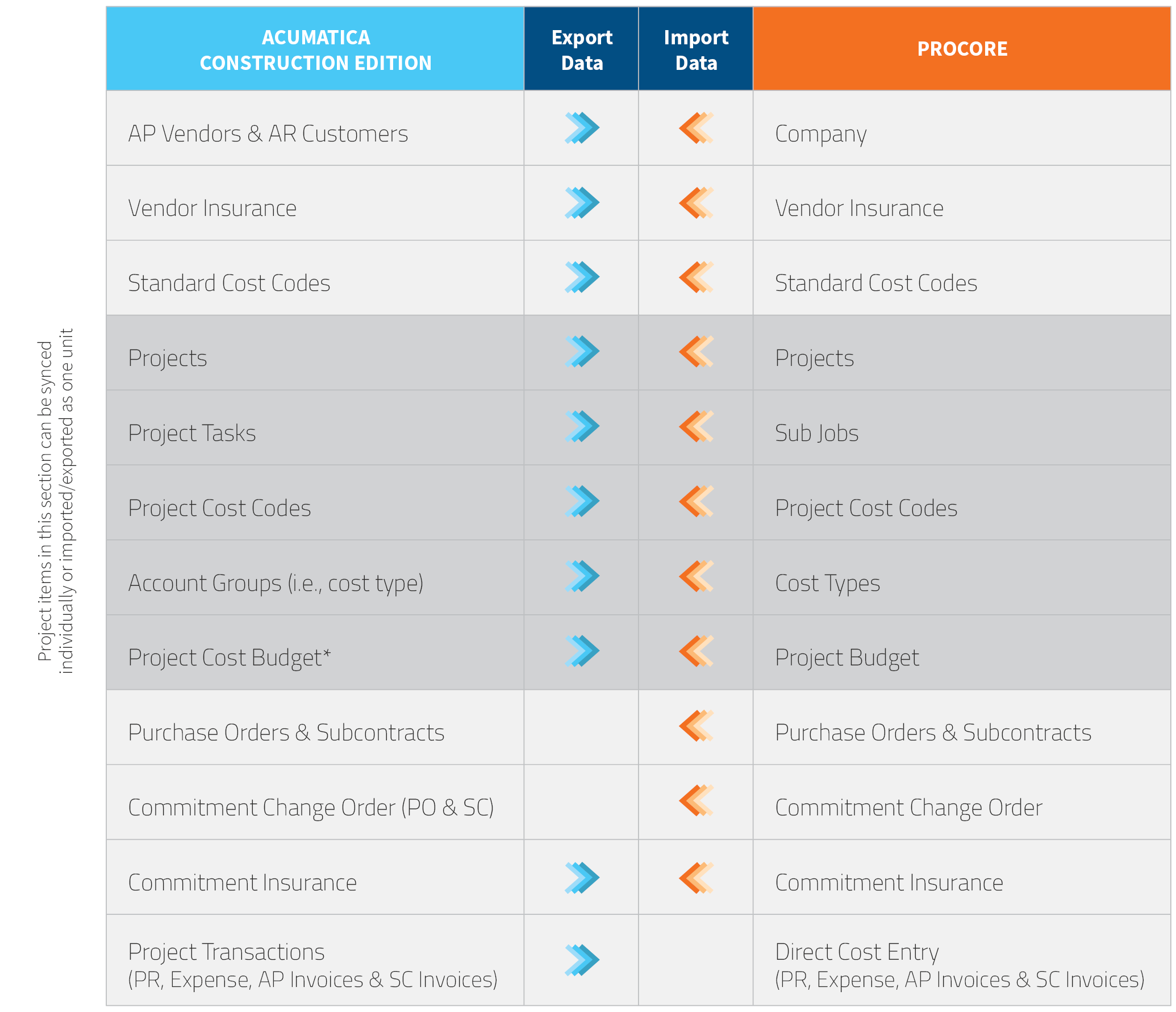 *In 2019R2 and earlier versions the cost budget must be entered in Acumatica prior to import
Bob Scott, Controller, Carma Group, says the Acumatica and Procore Integration allows them to "seamlessly share accounting and project data between the office and field to make the strategic decisions to move projects and the business forward."
Acumatica Payroll Enhancement Highlights
Weekly Crew Time Entry
Construction and services companies have crews which work similar hours. Entering work hours by team will reduce order entry time and errors. To help with crew or team time management, we have introduced the use of Workgroups to group employees by crew. This concept gives you the ability to report activity time, then review or approve for an entire crew at a time.

After you set up your crew, you can access the Weekly Crew Time Entry form to create a time entry that spans a particular week. You can click Add Row to enter time for a specific member of the crew or click Enter Bulk Time to create multiple identical time activities for members of the crew.
Certified Reporting Enhancements
The ability to track your employees for certified or prevailing wage projects increases your ability to bid for government projects. Acumatica Payroll already provides certified reporting, and with this release, enhancements have been added to help ensure accurate reporting.
Deduction and Benefit Enhancements
Making sure that your employees are receiving benefits properly is one of the highest priorities of any payroll program. Being able to accurately report on the true cost of your payroll is also important. Multiple enhancements have been made to the Deduction and Benefit Codes screen to increase flexibility and reporting capabilities.
Tax Management Enhancements
Tax management has been significantly improved to aid in the assignment and supervision of taxes and tax rates. This allows Payroll Administrators to spend less time figuring which taxes have changed and which taxes the employee needs on their paycheck all while making sure the company tax forms and filings are correct.
Success with Acumatica Construction Edition at any time
With better workflows, enhanced integrations, and time-saving features, Acumatica's updated cloud construction and accounting software helps businesses continue to work remotely during the COVID-19 pandemic.
"I am really glad we made the decision to go to Acumatica's cloud-based construction and accounting software because our teams are doing purchase orders, change orders, and everything remotely," says Acumatica customer and Pin Oak Corpus Christi Controller Dawn Meijer. "Project Managers can get into the system to see what is going on with their projects and cloud software is the way to go because it is so easy. You just log in and its nothing different than if you were just sitting in your office."
The number of firms implementing our comprehensive ERP system for construction companies has grown unabated. Acumatica CEO Jon Roskill says in the Acumatica 2020 R2 Construction Edition press release, "Introduced about two years ago, Acumatica Construction Edition has seen significant growth rates of well over 200 percent per year. The construction sector has seen an inflow of a younger workforce and the next level of success means utilizing integrated, automated, and innovative cloud and mobile technology."
Acumatica Construction Edition covers every base, and our twice-yearly releases bring phenomenal enhancements and better workflows that increase usability. Those who have already implemented our modern, award-winning cloud ERP software and those looking for an ERP for construction industry can rest assured that we'll continue to garner improvement requests for our future releases.
If you have any requests, a question about our cloud ERP solution, or would like to request a demonstration, please contact our team today.