Acumatica continues to enhance and improve its industry-specific cloud ERP solution. Our newest release, Acumatica 2020 R2, offers our customers the best-in-class functionality they need to grow their businesses.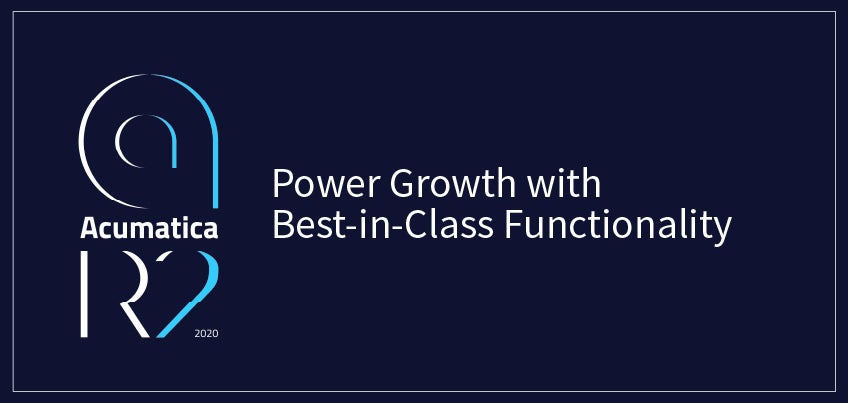 Why are thousands of businesses in every industry choosing Acumatica's modern, cloud ERP software to handle their unique business management needs? Flexible licensing and deployment, company-wide access to a single source of truth, and fully mobile applications are just a few reasons. There are plenty more, including that Acumatica provides two major releases per year, with Acumatica 2020 R2 launching just this month (download the official on-demand launch event).
Today, we'll look at how ERP functionality improvements in Acumatica 2020 R2 will help power growth for current and future Acumatica customers.
Specific product enhancements with Acumatica 2020 R2
Acumatica 2020 R2 brings hundreds of next-level enhancements and features, many of which are based on our end users' valuable feedback. Their input, united with our innovative team's efforts, creates cloud ERP software that helps all businesses work smarter, not harder, such as our new Acumatica Advanced Expense Management and Electronic Bank Feeds applications.
In the press release announcing the new applications, Ali Jani, Chief Product Officer, Acumatica, says, "One of the most exciting features within Acumatica Advanced Expense Management is its ability to detect corporate card use activities and remind the user to capture images of physical receipts for auditing and compliance purposes. Combined with its Intelligent Machine Learning enabled receipt recognition, expenses are intelligently categorized to streamline the approval and back-office reconciliation processes."
Acumatica is also introducing Acumatica POS, which gives retailers the ability to manage their online, in-person, and phone sales without a third-party integration.
"Retailers need a complete solution with single-stream fulfillment, so their customers have a superior experience buying online and picking up from a store, placing special orders over-the-counter for delivery, or returning online purchases at a retail location," says Acumatica's Doug Johnson, VP of Product Management, in the Acumatica POS press release.
As for our award-winning product editions, they have all received our attention in Acumatica 2020 R2. Here are the highlights:
Increase cross-company sales by enabling related companies to buy and sell from each other
Manage customer visibility with centralized account management
Streamline monthly tasks with intuitive bank reconciliation improvements
Boost B2C commerce with a powerful Shopify integration
Simplify the buyer experience with improved shipment tracking, refund processing and buyer notifications
Manufacturing Edition and Distribution Edition
Track production outputs and move products to market faster with an embedded third-party quality module
Reduce bad debt and simplify collections with streamlined payment and credit card processing
Prevent overpayment by validating bills against purchase orders
Enable appointments to span days and record travel and break time with multi-day appointments
Maximize billing accuracy with pro forma workflow enhancements
Ensure the accuracy of contract caps with retainage allocation enhancements
*See the Construction Edition enhancement post for more details.
Acumatica 2020 R2 maximizes functionality of Acumatica's industry-specific solution
In addition to improving our cloud-based ERP solution through our users' feedback, Acumatica leverages modern technology, such as artificial intelligence (AI) and machine learning (ML), within each iteration. We're intent on better meeting your business needs with our industry-specific ERP solution. It's tailored to meet your needs based on industry expertise, can solve your pain points, and aids your efforts to keep abreast of industry standards and regulations.
To learn more about powering business growth with a cloud ERP solution that is made for you, check out the Acumatica 2020 R2 on-demand launch event. You can also contact our team with any questions and/or to schedule a demonstration.