Acumatica's latest update, Acumatica 2021 R1, is about to be available. It provides ERP functionality improvements that can help you and your business compete in a market that has been overhauled by digital transformations and the COVID-19 pandemic.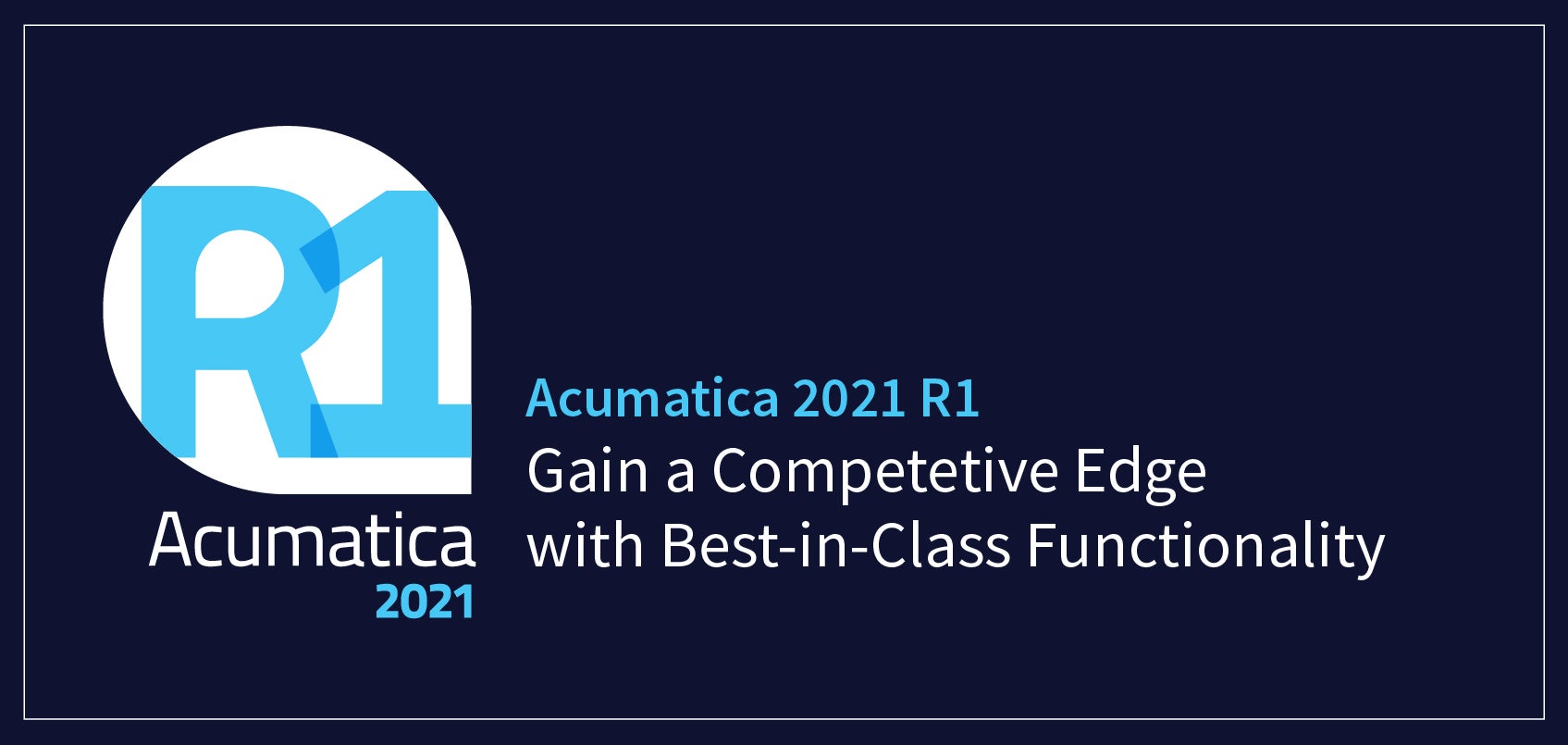 Here at Acumatica, we believe implementing a modern, cloud ERP solution like ours offers you superior usability and best-in-class functionality (as well as a flexible cloud platform), which work together to give you a competitive edge. However, maintaining that edge requires constant innovation, which we provide via our twice-yearly releases, including our most recent, Acumatica 2021 R1.
Though you may have already gotten a peek at it during our Virtual Launch Event in February, we'll take another look today to see how you can beat the competition with Acumatica's continually enhanced cloud ERP software.
Competing with Acumatica cloud ERP by your side
When your company competes for market share, you likely employ tried-and-true tactics. For example, you may be vigilant about customer service and/or have a flexible business model that allows you to pivot when the market dictates. Or perhaps you're all about acquiring your competitors. These are solid strategies, but if the right technology does not support them, your efforts to gain a competitive edge are more energy -sapping than successful.
With the changes brought by the digital economy and those wrought by the COVID-19 pandemic, businesses have to reassess their game plans. Acumatica CEO Jon Roskill, in an Acumatica 2020 R2 press release, says that their reassessment should include digital transformation.
"With so many businesses operating from remote locations and home offices now, it's more important than ever to have a single source of business truth that is accessible to anyone, anytime, from anywhere, which can also integrate easily with mission-critical applications such as Shopify or new requirements such as videoconferencing or group chat."
Integrating with these applications is only possible if you already have a cloud-based ERP solution with industry-specific products that can integrate with third-party solutions, such as those available to Acumatica VARs in the Acumatica Marketplace. Acumatica customers can extend their ERP functionality provided by our technology partners while benefitting from the regular and competition-enhancing improvements made to our industry editions.
So, what are the Acumatica 2021 R1 improvements?
Financials and CRM:
Simplify operations with centralized vendor management
Enhance the quality of your CRM data with Acumatica's intelligent deduplication technology
Maximize potential sales and simplify support by tracking contacts on sales orders
Distribution and Commerce:
Streamline cross-company sales with stock items and automatically create corresponding purchase orders and sales orders
Maximize product offerings to your target market through enhanced dropship workflows
Reduce collections by gathering commerce order risk data
Increase control through granular sync options with custom commerce fields
Manufacturing and Field Service:
Access product lifecycle management capabilities through Arena integration
Make accurate delivery commitments to customers through APS capable-to-promise capabilities
Simplify cost tracking by linking AP bills to field service appointments
Boost customer responsiveness by simplifying field service invoice correction
Increase usability with Procore integration enhancements
Benchmark against peers and see how your company is performing with CFMA benchmark
Expect a better year with Acumatica cloud ERP
With 2020 behind us, everyone is gearing up for a better year. As an Acumatica customer, you're already relying on an award-winning, industry-specific solution to meet your business needs. Still, the ERP functionality updates and enhancements found in Acumatica 2021 R1 (set to be released mid-March 2021) will be exactly what you need to go head-to-head with your competitors.
Acumatica customer FSC Lighting, an energy-efficient LED lighting manufacturer for commercial, industrial, and institutional customers, was operating on a manual, inefficient ERP in a very automated and competitive market. VP of Operations Chad Treadwell says, "We needed something very flexible, in the cloud, and overall, something that was a good value for us. We found that in Acumatica."
And Fidelux Lighting, a company that provides top-tier LED lighting solutions to private and public sector clients through sales reps and distributors, was using QuickBooks—financial software that couldn't handle their commissions, inventory, and accounting needs. Director of Operations Shivani Raval says, "We selected Acumatica due to the ease of use. Cost was another factor. Licensing with Acumatica is all about the resources and usage rather than how many users you have. Acumatica gives us the confidence that we can handle the increase in transactions and growth with ease for many years."
These lighting companies are confident that Acumatica can help them pave the way to a bright future and look forward to benefitting from the functionality improvements found in Acumatica 2021 R1.
Contact our team with any questions and/or to schedule a demonstration. And stay tuned for my next post on how to grow your business with our powerful, flexible cloud platform, which has received its fair share of enhancements in Acumatica 2021 R1.