Implementing a cloud ERP solution with superior ERP usability is becoming even more critical in today's uncertain times, which is why Acumatica's award-winning usability is being taken up a notch with our latest release, Acumatica 2021 R1.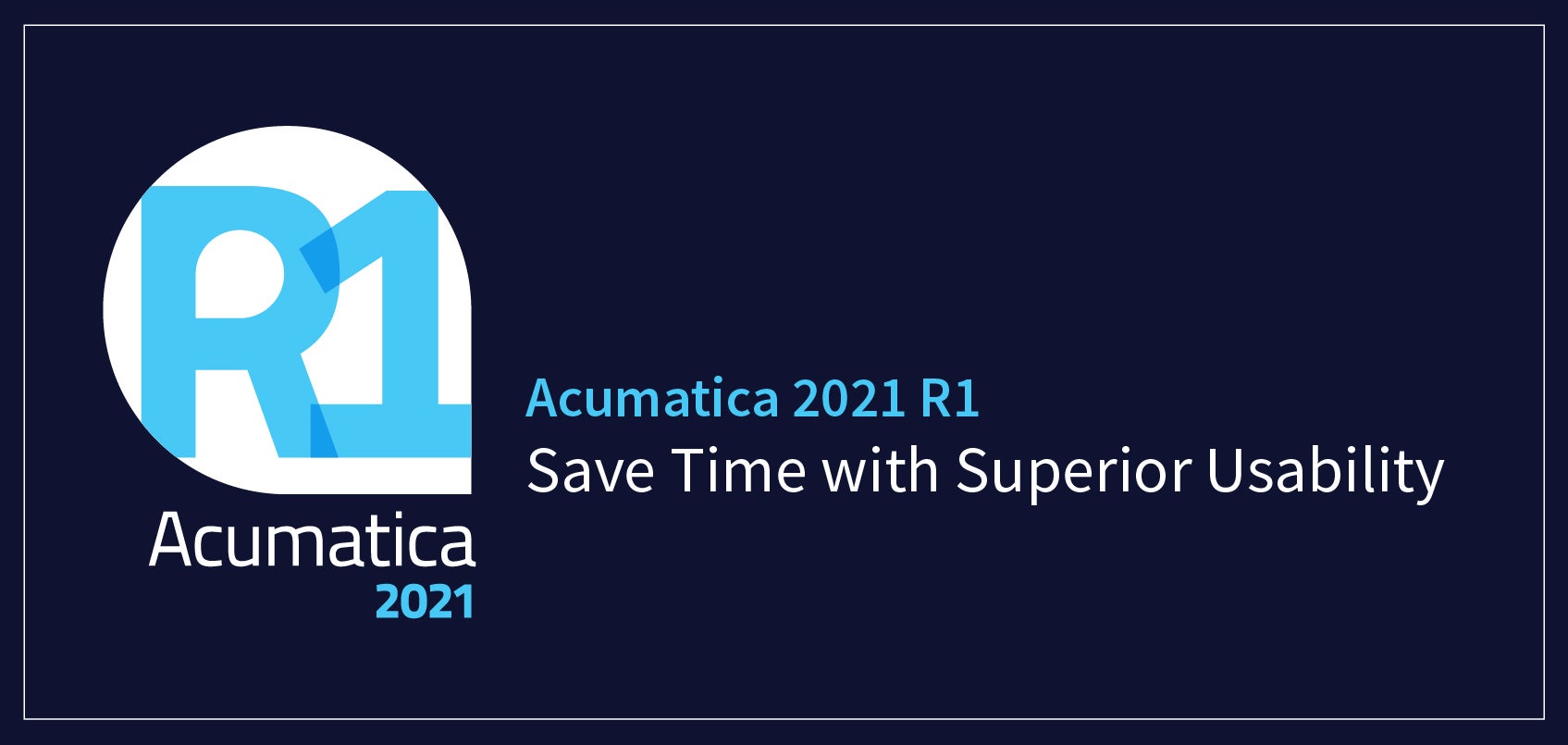 What happens when Acumatica, an ERP leader, combines its ceaseless efforts to provide a superlative cloud ERP solution with feedback from actual users? Acumatica's twice-yearly releases, including our latest, Acumatica 2021 R1. Slated to release in mid-March (and already introduced during February's Virtual Launch Event), the upcoming product updates give Acumatica customers the ability to save time, hone a competitive edge, and increase their business growth.
Today, we'll look at the specific ERP usability enhancements found in Acumatica 2021 R1.
Save time with superior ERP usability
ERP usability is a top priority for us here at Acumatica. Our cloud-based ERP solution is user-friendly, intuitive, customizable, and mobile. With a modern UI and flexible workflows, it's the business management solution every business in every industry needs if they want to succeed in today's digital, and, let's face it, pandemic-altered marketplace. This is nowhere more evident than in the story of Acumatica customer Tulsa Performing Arts Center (TPAC).
TPAC, operated by the Tulsa Performing Arts Center Trust (TPACT), needed to find and implement a fully integrated financial operations solution in under two months. TPACT CFO Jennifer Alden searched for an efficient, easy-to-use, and easy-to-learn solution that would seamlessly integrate with their events system, VenueOps by EventBooking.
EventBooking recommended Acumatica's cloud ERP software, and after a demonstration by Acumatica partner mbsPartners, they chose Acumatica. They embarked on a successful ERP implementation. Jennifer, who gives Acumatica cloud ERP rave reviews, says, "This has been the first implementation that I've been a part of that actually got done on time."
She found that implementing Acumatica's user-friendly cloud ERP software before the COVID19 crisis hit was instrumental in TPACT's ability to maintain business continuity. "Because we were set up with Acumatica, and it was so easy to use, I didn't need extra staff to support the software. I can do really everything by myself if I need to. That was helpful in being able to pivot and save money for the organization."
Though she and her team at TPACT already benefit from Acumatica's superior usability, they will be happy to see the improvements Acumatica 2021 R1 is bringing to the table, which will allow them—and all Acumatica customers—to:
Create CRM contacts automatically from business cards via mobile image recognition
Enhance side panels with ordering and visibility
Navigate seamlessly to external URLs from Generic Inquiry (GI) results
Easily send targeted customer communication through filtered GI results
Specify UDF default values
They will also enjoy improvements to AP Document creation and the ability to copy and paste dashboard widgets. Every update has been created to help businesses save much-needed time.
A cloud ERP leader with the best usability
The customer-focused usability improvements and enhancements brought by Acumatica 2021 R1 explain why top ERP analysts, including Nucleus Research and G2, consider Acumatica an ERP leader.
In Nucleus Research's ERP Technology Value Matrix 2020, Acumatica was placed in the Leader quadrant above significant competitors and was named the ERP offering with the Highest Usability. "Customers note that the solution's usability is a differentiator during initial evaluation and implementation, but the software can then scale to handle complex and high-volume data processing as well."
And G2 named Acumatica a Leader in their Mid-Market Grid® Report for ERP Systems report (Summer 2020). They also just ranked Acumatica #1 in eight Momentum, Usability, and Relationship reports for Winter 2021. Acumatica earned five new badges including Easiest to Use and Best Usability in the Project-Based ERP category.
Our twice-yearly releases enable our users to work smarter, not harder. To learn more, contact our team. We would be happy to answer any questions you may have and to schedule a demonstration.