How does Acumatica 2021 R2, Acumatica's new release, help boost growth and success for businesses? Easily.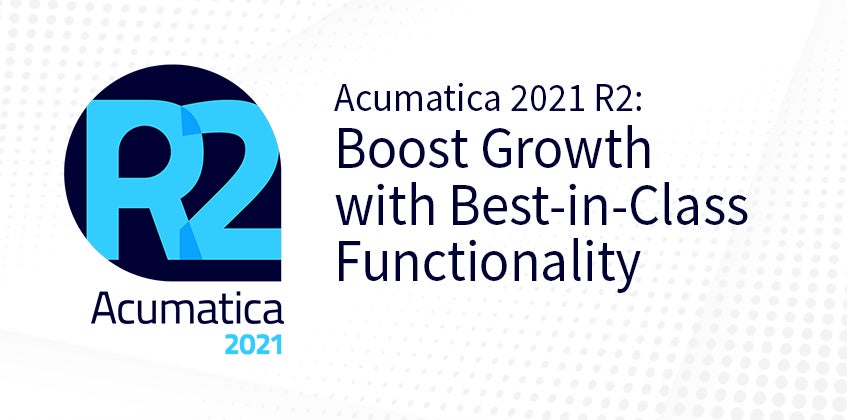 For the second article in our Acumatica 2021 R2 series, I want to look at how our latest release can enhance business growth through improved functionality. If you missed my first article in the series, Acumatica 2021 R2: Seamless Personalization, I urge you to go back and check it out.
When you do, you'll see that I reviewed the meaning of personalization. Personalization is tailoring cloud ERP software through 'no code, low code' capabilities. Excitingly, Acumatica 2021 R2, which is available now, aids Acumatica customers in making their cloud ERP solution work exactly as they need it to without needing developers and without adjusting the way they do business.
The functionality improvements brought by our latest release are just as exciting.
Best-in-class functionality benefits from Acumatica 2021 R2
Merriam-Webster defines functionality as the "quality or state of being functional." They follow it up with "especially: the set of functions or capabilities associated with computer software or hardware or an electronic device."
Businesses seeking a cloud-based ERP solution to help them manage their financial, CRM, sales, and specific industry processes require best-of-class ERP functionality. Acumatica's Financial Management software is designed for companies with complex requirements yet easy to use in smaller organizations and provides a robust accounting suite, seamlessly integrated with the product suites. In addition, Acumatica's embedded CRM provides system-wide visibility, ensuring that customer information is always up to date and accurate. Both have received enhancements in 2021 R2.
Financials and CRM
Improve email tracking, deliverability, and scalability via Acumatica's integration to SendGrid
Boost efficiency when managing AR refunds with open balances​
Simplify reconciliation by matching bank transactions to multiple receipts and disbursements
Improve accuracy and financial visibility by enhancing AP/AR balance reporting
Enhanced visibility to make business decisions and inform employees with the new Operational and Employee Payroll dashboards
Acumatica Cloud ERP: Technology for today and tomorrow
On Day Two of Acumatica Summit 2021, Acumatica's Ajoy Krishnamoorthy, Vice President, Platform Strategy, discussed how every Acumatica release is defined by the input we get from our customers and partners. He also noted that Acumatica technology is technology that is here for you today and tomorrow. Watch the Day One and Day Two keynotes and the recent Acumatica 2021 R2 Launch Event  for the Acumatica 2021 R2 demonstrations detailing the functional changes to the already amazing out-of-the-box features.
One organization that has benefited from Acumatica's ERP functionality is Digital Planet, a B2B2C company that manages smart-device fulfillment operations for financial institutions. They moved from manual processes and disconnected systems to Acumatica's flexible, affordable, customizable, and—most importantly—functional cloud-based ERP solution. The result has been increased efficiency and growth.
Chief Strategy and Digital Officer Zane Zietsman says, "Automation [through Acumatica Cloud ERP] is going to be the thing that allows us to grow, but what it really is going to do is give us greater efficiency and allow us to focus on important work versus manual work, turning our workforce into knowledge workers as opposed to task workers."
Their ability to function as an empowered, efficient, and aligned company is the perfect example of benefitting from Acumatica's functionality. And Acumatica 2021 R2 is set to take that functionality to the next level.
"We innovate our business and industry functionality at remarkable speeds, enabling us to deliver a future-proof platform that elevates our customers to be successful in the modern landscape," says Acumatica CEO Jon Roskill in the Acumatica Summit 2021 Day 2 press release.
To learn how Acumatica's cloud ERP software can help your business grow (and to learn why Acumatica is named an ERP leader by customers and analysts alike), contact our experts today.