Acumatica 2021 R2, Acumatica's latest release, offers seamless personalization and boosts growth through best-in-class-functionality. It also drives innovation with help from our robust ecosystem.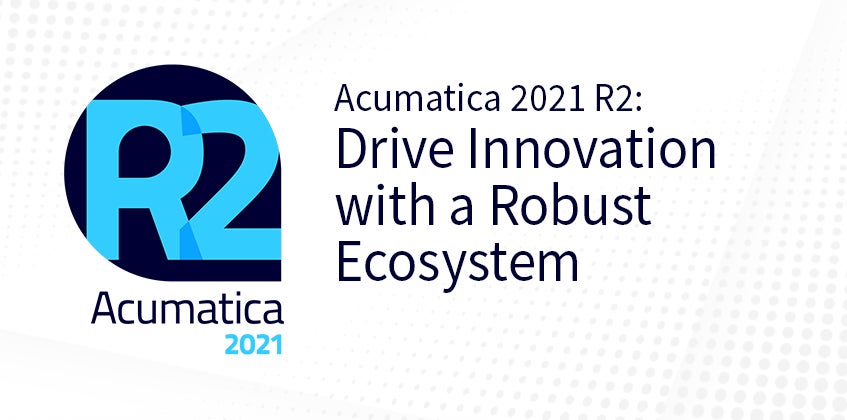 Innovation (the introduction of new methods, ideas, or products) or the lack thereof can differentiate one cloud ERP vendor from another. ERP vendors who choose to maintain the status quo by championing their legacy solutions set themselves—and their customers—up for failure in the digital economy. Acumatica Cloud ERP doesn't fall into this category. We provide two upgrades per year with our latest release, Acumatica 2021 R2, now available.
I've already reviewed the seamless personalization (modifying cloud ERP software to fit your business' specific needs, making it relevant through 'no code, low code' capabilities) and the ability to boost growth with best-in-class functionality provided by Acumatica 2021 R2. Today, I'll address how our latest release is driving innovation and the part our ecosystem plays in it.
Driving innovation within a "special" community
I can't talk about innovation and our ecosystem without mentioning our annual Acumatica Summit. It's been described as a "family reunion" where our customers, partners, and developers look forward to connecting with old friends and making new ones. Acumatica CEO Jon Roskill describes it further in his recent post on Acumatica Summit 2021.
"The Acumatica community is special. I know because I've spent time with similar communities, and the reunion-like atmosphere at Acumatica's yearly technology conference is not replicated anywhere else," he writes. "I know this connection has been heavily influenced by our customer-and-innovation-first mentality, which puts precedence on people and outcomes, not on processes."
The need to push the cloud ERP envelope by constantly improving our products and embracing emerging technologies with the support of and feedback from the entire Acumatica ecosystem is required for the success of our ecosystem. Our ecosystem includes our valuable Acumatica ISVs and OEMs. They filled the Acumatica Summit 2021 Marketplace, exhibiting their innovative third-party applications.
Ben Bratland, Leader of Business Development at SPS Commerce, says this about exhibiting at Acumatica Summit 2021. "There is no better way to immerse yourself in the Acumatica ecosystem than by visiting the Acumatica Marketplace at the Summit. The Networking, Knowledge Sharing, and overall expertise that are on display at the Marketplace is worth the trip alone. Special thank you to Acumatica for the level of support they provide the VAR and ISV Community to help drive innovation and collaboration that ultimately leads to successful customers."
This innovation and collaboration within the Acumatica ecosystem is a driving force behind each release, and Acumatica 2021 R2 is no exception.
Acumatica 2021 R2 Delivers Feature Benefits for Acumatica's Industry Editions
In Acumatica 2021 R2, Acumatica's Distribution, Retail-Commerce, Construction, and Manufacturing editions have all received enhancements.
Distribution and Commerce
Boost sales and increase revenue with new up-sell and cross-sell capabilities
Improve fill rates and on-time order fulfillment with item substitutions
Increase warehouse efficiency with paperless, directed picking
Optimize stocking levels and locations using deadstock reports
Delight your online customers and build brand loyalty with support for special instructions and gift-wrapping
Construction and Field Service
Save time and simplify your project workflow via project drop shipments
Synchronize your AP bills and sub invoices seamlessly with Procore to enhance visibility and eliminate redundant work
Streamline billing and improve flexibility by configuring service contract billing for the start of each period
Reduce clicks to improve efficiency while adding inventory and tracking time on your mobile device
Correct data entry errors using the new project reclassification feature
Manufacturing
Visualize production schedules in a timeline view to easily identify over and under-utilized resources, customer commitments, and material constraints
Enable traceability of raw materials and components to pre-assigned lot or serialized finished goods for improved quality control and traceability
In addition, Acumatica 2021 R2 provide feature benefits in "managed availability" mode, including enabling global market expansion by sharing data, providing real-time reporting, and allowing transactions between companies with different base currencies. As well, work faster without context-switching with our Acumatica for Microsoft Teams integration.
Innovation + Robust Ecosystem = Success with Acumatica 2021 R2
To learn more about Acumatica 2021 R2 and how it helps increase ERP functionality and, ultimately, success, I invite you to contact our team. They're available to answer any questions or to schedule a demonstration.
You can also check out the Acumatica Summit 2021 keynotes, which are now available online. Watch the Acumatica executive team discuss why Acumatica is an ERP leader and how the Acumatica ecosystem contributes to and can rely on our cloud-based ERP solution. Acumatica offers resiliency and success even in challenging times.