Acumatica's latest release, Acumatica 2021 R2, is here. What can you expect? Acumatica Director of Product Marketing Divya Ganesh looks at seamless personalization today.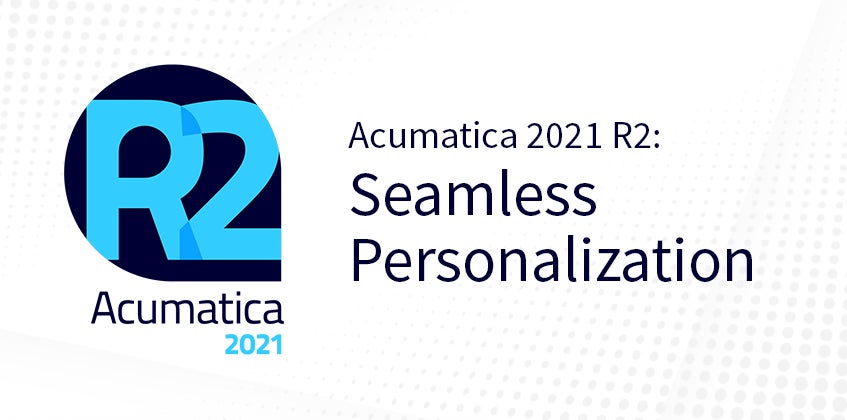 Anyone remember the quote from "You've Got Mail" where Tom Hank's character tells Meg Ryan's character that his chain bookstore putting her boutique children's bookstore out of business wasn't personal, it was business? Her response is classic: "Whatever else anything is, it ought to begin by being personal." Here at Acumatica Cloud ERP, we agree, and Acumatica 2021 R2, our latest release, has been influenced by personal feedback from our customers and partners.
This personal touch is particularly relevant today. As the first of three articles on Acumatica 2021 R2, I'll highlight the feature benefits for seamless personalization.
How Acumatica 2021 R2 provides seamless personalization
Seamless personalization only makes sense if you first understand what it is.
In Personalization in Cloud ERP: What It Means & Why It Matters, I explain that the evolution of cloud ERP personalization began with 'configuration'. Simply stated, configuration is adjusting your ERP system's components so that they function appropriately within your environment, such as time zones, languages, currencies, time zone, etc.
After configuration comes 'customization'. Customization extends functionality even further to support specific business processes. This is also where third-party applications come into play.
Personalization is the next step. It's tailoring the cloud ERP software to each company's specific and unique requirements. With Acumatica, these personalization efforts are accomplished through a 'low code, no code' principle. This means an organization doesn't need a programmer or developer to do such things as modify tab order and visibility, define field valid values, import data faster and easier, and more. The reports, KPIs, and charts that are relevant to you and your team can be defined and made accessible the way you want them.
Flo-Tec, a company that provides non-woven media for the air and liquid filtration markets, chose Acumatica because of their ability to personalize the cloud ERP software to their individualized needs. Says Director of Marketing Wesley Yarnell, "I feel like I'm at a point now where I'm almost like an in-house Acumatica developer, and I know that's crazy because I don't know how to code or anything. The ability that any of my employees can come to me and say, 'Hey, I want to see this on a daily basis; I want this email to me or to a certain customer', I now can literally make that happen in minutes for them."
With Acumatica 2021 R2, Flo-Tec and their fellow customers will experience further benefits for personalization, including:
Reduce time spent finding actions and reports through a consolidated toolbar
Accelerate the ability to act on data by providing a sorting option for dashboard tables
Automate complex business processes without programming and react to data changes by creating tasks from business events
Increase efficiency by triggering business events from the workflow engine
They will also save time and boost productivity by predefining and automating administrative tasks and triggering notifications when key activities occur.
A personal touch with Acumatica 2021 R2
The second of two biannual releases, Acumatica 2021 R2, takes ERP usability, innovation, and customer service to a whole new level. Many of the improvements were previewed during the Acumatica 2021 R2 Launch Event and during the Acumatica Summit 2021 Keynotes (available online) and through informative demonstrations.
As Acumatica CEO Jon Roskill notes in the Acumatica Summit 2021 Day 2 press release, "We innovate our business and industry functionality at remarkable speeds, enabling us to deliver a future-proof platform that elevates our customers to be successful in the modern landscape. Moreover, we have a foundation of unparalleled ethical business practices that put the needs and interests of our customers first."
Designated an ERP leader by ERP analysts, Acumatica designed our cloud-based ERP solution to further the success of your business. The updates and enhancements found in every release, including Acumatica 2021 R2, are 100% geared towards this outcome.
Contact our team today to learn more about Acumatica, the recent winner of the 2021 SIIA CODiE Awards for Best ERP Solution and Acumatica 2021 R2. Your success is personal to us.
Stay tuned for the next article on boosting growth with best-in-class functionality.