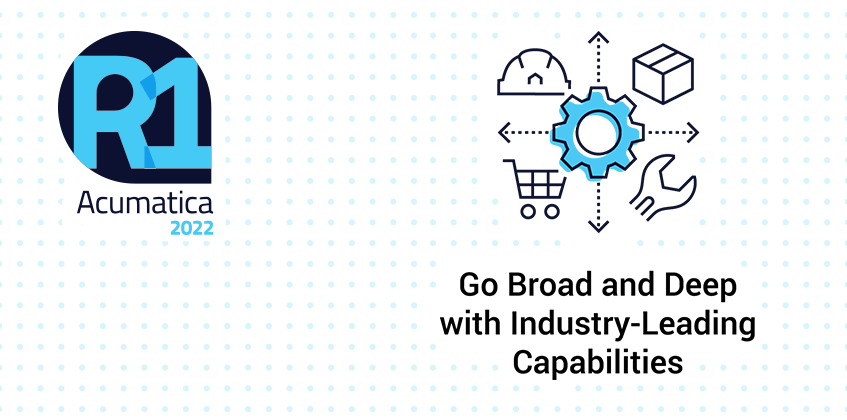 In our final article of our three-part series on Acumatica 2022 R1, we'll look at the improvements we've made to our industry editions. During the Acumatica Summit 2022 Day 2 Keynote, Acumatica's EVP, Product Management and CSO Ajoy Krishnamoorthy revealed that 85% of Acumatica customers run one of the editions. "We take that very seriously, so we're putting investments in each one of them to add breadth and depth."
Acumatica 2022 R1 Goes Broad and Deep
Acumatica's industry-focused editions provide distributors, retailers, commerce merchants, manufacturers, contractors, and service organizations with the specific features and capabilities they need to manage their unique business processes. Additionally, our platform, with its low-code/no-code capabilities, allows businesses to tailor Acumatica even further without the assistance of an IT department or the expense of a programmer.
With Acumatica 2022 R1, we continue to supply our customers with a wide range of features that will meet them where they are today and scale with them in the future. Following are the benefits broken down by industry.
Distribution and Retail
In Acumatica Distribution Edition, we've simplified long-term customer sales agreements with blanket sales orders. For Retail customers, Acumatica's new native eCommerce connector for Amazon in managed availability mode enables customers to establish a strong presence on the Amazon.com marketplace and boost their online sales.
Manufacturing
Manufacturing customers will enjoy a number of feature benefits:
Production control points streamline data entry for milestone operations
Manufacturing finish, move, and queue times improve scheduling precision
Role-based dashboards for manufacturing operations, production management, and engineering provide actionable, real-time insights
MRP Order Policy with consolidated demand planning streamlines procurement processes
Construction and Service Management
For our construction customers, we've simplified and improved various management tasks. For example, we reduced project owner risk by customizing progress billing by quantity (e.g., linear footage, square footage, etc.). We also simplified tax calculations for a project by creating project cost and revenue tax zones; improved business workflows by connecting drop-ship workflows to change orders (allowing users to manage change orders easily); simplified service contract renewals; and improved usability and added flexibility with user-defined fields on service contract and equipment forms.
Investing in Release After Release
The industry edition enhancements found in Acumatica 2022 R1 enable users to have anytime, anywhere access to their data, helping them increase productivity and profitability. During the Day 2 Keynote (now available on-demand), Ajoy reflected on Acumatica's ERP usability and said, "We take this commitment very seriously and continue to invest in release after release."
This commitment is appreciated by Acumatica customers, such as Global Beauty Care (GBC). The wholesale beauty product distributor replaced its disconnected legacy system with Acumatica's modern cloud ERP solution. GBC team members now enjoy a real-time view of their data, personalized dashboards, and automated entries for financial processing. The company's Acumatica Customer Success Story also notes that the team appreciates Acumatica's growing partner ecosystem and the fact that "Acumatica routinely updates its software."
GBC is putting their best face forward with Acumatica, utilizing the twice-yearly releases that enhance our product and their experience. Says Director of Operations & IT Eric Mizrahi, "I'm spending less time fielding IT questions and handling issues and more time on sales. I am spending a lot less time helping people with data entry because the business is now automated, and that's a huge component of our growth."
To learn more about our latest release's broad and deep updates, review the first two articles, "Acumatica 2022 R1: Work Smart on the Go" and "Acumatica 2022 R1: Unlock Global Markets"). Any questions regarding our award-winning cloud ERP software can be answered by our team of experts.
Dubbed an ERP leader by ERP analysts and our users, Acumatica is ready to help businesses in every industry succeed in today's global and digital economy.