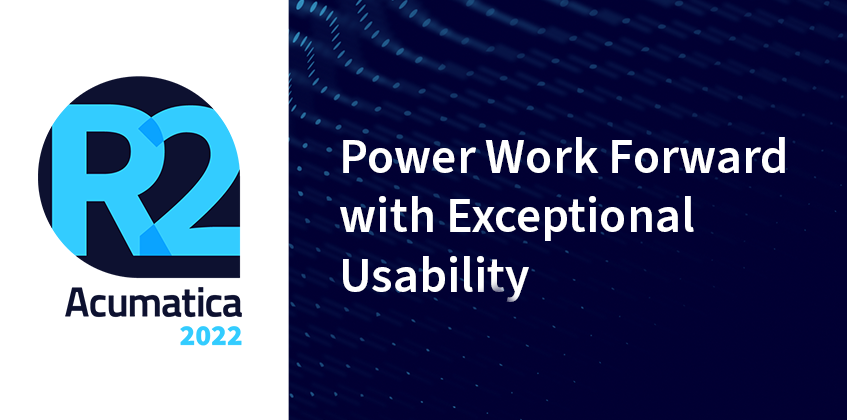 Acumatica 2022 R2—our second release of the year—debuted during our recent Virtual Launch Event, garnering the collective approval of event attendees. If you missed this exciting online introduction, a recording of the event is available on-demand. Starting today, we'll also be revealing our latest product enhancements in a three-part blog series. In this first installment, we'll focus on the exceptional ERP usability provided by Acumatica's comprehensive cloud ERP solution.

ERP Usability: What It Is and How Acumatica Exemplifies It
ERP usability is a measure of how easily users—whether new or experienced—can access, navigate, and configure an ERP solution. Many providers claim their ERP software systems are user friendly, but few live up to the hype—if G2's Summer 2022 Mid-Market Usability Index Report is anything to go by.
Out of 34 mid-market ERP systems reviewed by real users, only ten received a Usability Score above 80%, and only Acumatica received the top score of 88% (as well as G2's Best Usability Badge). Acumatica also received the Best Relationship Badge in G2's Summer 2022 Mid-Market Relationship Index Report—once again scoring the highest out of 39 mid-market ERP systems.
Acumatica's award-winning ERP usability comes from its user-friendly, tailor-made interface and adaptable workflows. Learning how to use the solution is a quick and intuitive process, eliminating prolonged training and accelerating businesses' time to value. Personalized dashboards with powerful business intelligence allow users to share accurate, real-time information among team members, who can access that data in the office, at home, or in the field through Acumatica's mobile application. This easy, anywhere, anytime collaboration spurs better, faster decisions that stimulate business success.
Acumatica 2022 R2 further enhances our inherent ERP usability, as seen in the key features of our latest release.
Feature Benefits for Usability
Gain streamlined, accelerated workflows through automated mobile signature capture; Acumatica automatically attaches electronic signatures to the appropriate sales orders and invoices.
Benefit from an enhanced mobile experience that mirrors users' Acumatica workspaces on their mobile devices; they can tailor those workspaces to their needs by hiding widgets, configuring screens, rearranging items, etc.
Get instantaneous access to wiki help files by hovering over fields with intelligent tooltips—no need to open the help menu in a separate window/tab.
ERP Usability: Powering Work Forward
Acknowledged as an ERP leader by users and ERP analysts alike, Acumatica takes its cues directly from its customers, making their needs priority #1 and focusing innovation efforts on their valuable feedback. Knowing what they need—and want—allows us to improve our product continually and power their work forward. According to Acumatica customer Devin Samayamanthri, Chief of Staff at Design Studio, we're succeeding.
Says Samayamanthri: "Unlike the other ERP applications out there, Acumatica is super intuitive and user-centric, meaning you don't need a mammoth team of ERP experts in-house to get the job done."
To learn more about Acumatica's exceptional ERP usability, check out the on-demand version of the Acumatica 2022 R2 Virtual Launch Event and contact our experts to ask any questions or to schedule a demonstration. Also, stay tuned for our second post in this series, "Acumatica 2022 R2: Transcend Geographic Boundaries," coming soon.