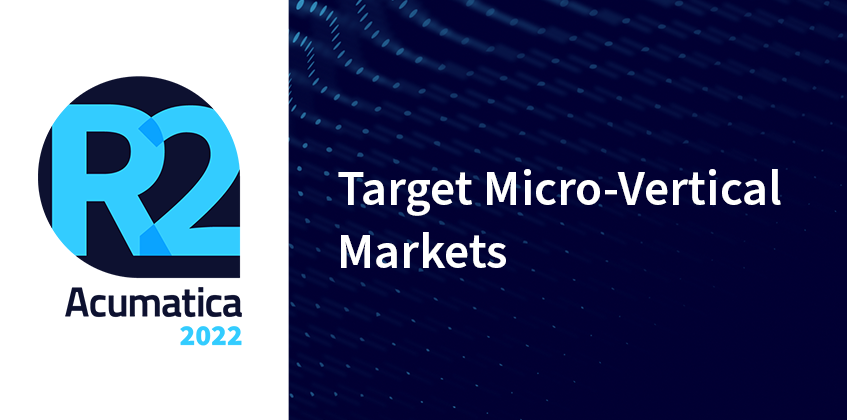 A host of negative economic factors including inflation, supply chain challenges, labor shortages and a looming recession are forcing small and mid-sized businesses (SMBs) to reconsider their strategies for remaining viable and competitive in today's marketplace. Acumatica's latest release—Acumatica 2022 R2—provides the capabilities SMBs need to breathe new life into their business processes and overcome current—and future—challenges.
We've discussed some of these new features in two recent articles: "Acumatica 2022 R2: Power Work Forward with Exceptional Usability" and "Acumatica 2022 R2: Transcend Geographic Boundaries." As the titles indicate, these R2 enhancements improve our already award-winning ERP usability and are designed to help SMBs successfully expand beyond their local geographic boundaries.

Today, we take the conversation a step further—looking at the feature benefits that address SMBs' needs in specific, micro-vertical markets.
Micro-Vertical Markets and Acumatica 2022 R2
In every business strategy session, perennial questions are consistently bandied about. "How do we grow? How do we ensure profitability?" With the feature benefits provided by Acumatica 2022 R2, SMBs don't have to figure out the "how" by themselves.
Feature Benefits for Distributors, Retailers, and Commerce Merchants
If your business can be classified in these micro-verticals, then "efficiency" is the name of your game. Acumatica 2022 R2 will help you:
Enhance inventory management and warehouse operations by converting non-stock items to stock items and vice versa.
Stay on top of your business with role-based dashboards for Sales Managers, Warehouse Managers, Purchasing Managers, Shipping Clerks, and Receiving Clerks.
Enable one-stop parcel shipping decisions and input box dimensions on the fly; improve customer service and reduce costs with our embedded integrations—providing instant access to third-party shipping carriers.
Push any offline orders to Shopify, so you can track and manage all omnichannel sales orders within Shopify, streamlining repeat sales and activity reporting.
Feature Benefits for Manufacturers
If you are a manufacturer, then you're likely looking for ways to streamline order planning and maintain accurate data entry. Acumatica 2022 R2 is designed to help you:
Shorten engineering cycles by creating or modifying multi-level bills of materials with drag-and-drop and copy-and-paste features from the interactive Engineering Workbench.
Improve shop floor data collection and job cost accuracy with multi-job clock-in and clock-out activities.
Save time with manufacturing side panels, giving users direct access to production, bills of materials, items, inventory, projects, customers, engineering, and order details—all without leaving data entry screens.
Balance supply and demand with MRP for planned inbound and outbound transfer orders across warehouse locations.
Feature Benefits for Contractors and Service Organizations
Contractors and service organizations must keep track of budgets and manage intricate project schedules. Acumatica 2022 R2 boasts new features to help you:
Streamline change orders for multiple construction projects with unit rate changes, custom retainage, and cost-only change requests.
Increase efficiency and lower costs by scheduling service technicians according to employee skills and the skills required for each service task.
Simplify service expense entry with scanned receipt image recognition in the Acumatica mobile app.
Improve the accuracy of profitability estimates by using Acumatica's advanced computational logic to perform profit margin and percentage calculations.
Businesses Thrive with Acumatica Cloud ERP
Thousands of SMBs have digitally transformed by implementing Acumatica's cloud ERP software, turning their struggling businesses into strong, thriving organizations. Take, for instance, Auto Action Technologies.
The New Jersey-based company provides aftermarket accessory installations for local and national new/used car dealerships. The company was using "archaic" technology until it upgraded to Millennium Power Base in 2006. Unfortunately, this Linux system could not handle the growth Auto Action Technologies was experiencing, so Jared Cohen, CEO and Co-Owner, sought out a cloud-based ERP system.
With the help of Patricia Bennett and PC Bennett Solutions, Auto Action Technologies chose Acumatica, implementing our Advanced Financials, Service Management, Warehouse Management, Expense Management, and CRM solutions, as well as the third-party application Biz-Tech Services Kit Processing. Now, Auto Action Technologies enjoys unlimited user licensing, automated dashboards, maps and appointment boards, automated expense processes, a user-friendly interface, and the flexible Acumatica mobile application.
Acumatica is smoothing the road to national growth for Auto Action Technologies. Says Cohen, "We are very pleased with Acumatica's functionality. It is very user-friendly, and we really like its ability to integrate with other systems and applications as we grow."
Acumatica is passionate about tailoring solutions to meet the needs of companies in specific micro-verticals by providing an innovative, customer-centric cloud ERP solution that will help businesses succeed in good—and not-so-good—economic times. To learn more about Acumatica's distribution, retail and eCommerce, and manufacturing management software and to dive deeper into the details of our latest release, check out the Acumatica 2022 R2 Virtual Launch Event and contact our experts to set up an ERP demonstration.