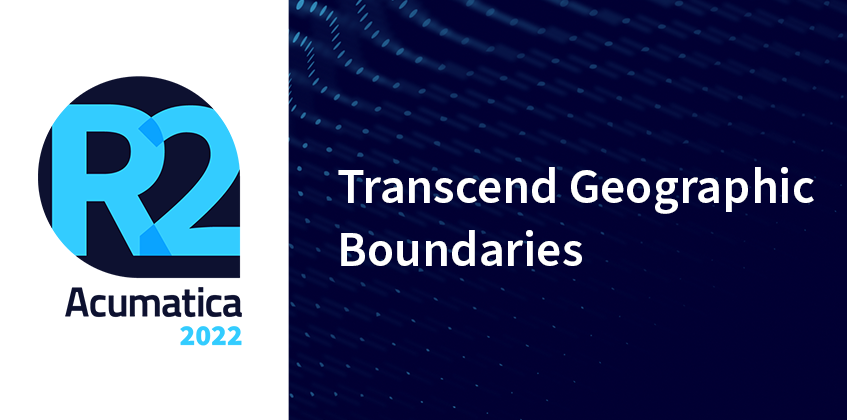 Today's small and mid-sized businesses (SMBs) work hard to differentiate themselves from their competitors, many of whom are larger and have deeper pockets. Creating distinctive business models, providing superb customer service, and cultivating reputations as experts may help them compete. But their efforts don't stop there. SMBs are also seeking business opportunities in new markets by stepping outside their local geographic boundaries—and Acumatica 2022 R2, our newest software release, can help them do it.

Transcending Boundaries with Acumatica 2022 R2
Acumatica 2022 R2 provides the features SMBs need to make their boundary-pushing a powerful reality. Let's take a closer look at these features and how they can help SMBs compete in a dynamic marketplace.
Feature Benefits for Localization and Integration
As SMBs venture into different territories and regions, their business processes must be refined to accommodate new requirements. For instance, taxes vary from place to place, but Acumatica's latest release provides a painless tax calculation experience. It takes stored country, state, and zip code data and automatically assigns tax zones to new sales orders and invoices. By removing manual processes, this feature reduces human error and minimizes the time and effort needed to calculate and apply taxes.
In addition to automating tax calculations, Acumatica 2022 R2 offers streamlined payment processing as a customization option. Customers can pay anytime, anywhere through Point of Sale (POS) terminals or through the Acumatica Self-Service Portal on mobile devices and PCs.
Feature Benefits for Financials
No matter where SMBs do business, the fundamentals of financial management remain constant. But even this constancy can become difficult to manage as SMBs geographically expand—adding new currencies, falling under different governmental regulations, etc.
With Acumatica 2022 R2, users can now support their financial teams even better by:
Automating the GL approval process using the flexible approval engine to create rules for approving entries and assigning approvers.
Expediting and enhancing the collection process by sending customers personalized dunning letters with all related attachments and fees; letters can be sent individually or in groups as needed.
Streamlining bank feed transfers and processing by allowing Acumatica to import bank feeds automatically, eliminating manual downloads and human error.
Feature Benefits for CRM
Like financial management, customer service is a perpetual requirement, but it also varies geographically. Customers in one place may not have the same needs or expectations as customers in another place, and businesses must learn and balance those differences. To accomplish this, many SMBs implement a customer relationship management (CRM) solution to help them provide a superlative customer experience. In a recent article, Acumatica's Lynne Jackson (Product Marketing Manager, General Business) explains how a CRM solution works.
A CRM solution collects data from each customer's touchpoints with a business—such as the company website, social networks, and live chats—and stores that data in a centralized repository. Team members then have a 360° view of all customers' journeys, from first contact to ongoing support. This places customer contact, buying, and historical information at the fingertips of authorized employees, allowing them to provide informed and personal customer service—something today's customers expect.
Users of our CRM solution will enjoy the following updates in Acumatica 2022 R2.
Simplified data entry through powerful extensions to our existing copy/paste functionality and the option to modify opportunities and quotes in business accounts.
Streamlined sales and fulfillment processes and increased transparency by having Acumatica automatically link sales orders and quotes to opportunities—no manual intervention required.
Time savings and transparency gains with predefined side panels that automatically display customer data for the corresponding business account, opportunity, case, or contact.
As Lynne writes, "Customers' interests and needs change, as do their expectations. What worked once may not work again. So, businesses must be able to learn from previous customer interactions while flexing to meet tomorrow's trends. The best way to provide a near-perfect customer experience in fluctuating circumstances is to implement a complete system, like Acumatica."
Grow Your Business with Acumatica Cloud ERP
Acumatica users have the power to grow their businesses with a reliable, flexible, and affordable cloud ERP solution—accessible whenever they need it, from wherever they are, on any internet-enabled device. The new features in Acumatica 2022 R2 will support those expansion efforts even further.
To learn more about Acumatica's cloud ERP software and the updates found in Acumatica 2022 R2, contact our experts today. Also, if you missed the first article in this series, "Acumatica 2022 R2: Power Work Forward with Exceptional Usability," it's worth a read. The third installment, "Acumatica 2022 R2: Target Micro-Vertical Markets," will be coming soon.