Acumatica's latest release, Acumatica 2018 R1, has provided customers with increased cloud ERP functionality in such areas as financials, CRM, and project accounting. Our new Construction and Distribution Editions streamline business processes cost-effectively. And now we get to introduce the Acumatica Business Intelligence with Reporting, Dashboards and Data Analysis. These self-service BI tools are easily accessible and provide insight into every aspect of your business.
This is the last post in our latest three-part series on Acumatica 2018 R1. Our first post addressed the improved features and functionality of our newest cloud ERP release and our second post detailed out our new Distribution Edition. You can also learn more in our press release, Acumatica Momentum Continues with Release of 2018 R1, Construction Edition, Distribution Edition, and Acumatica Business Intelligence. Today, we'll introduce you to Acumatica Business Intelligence with Reporting, Dashboards and Data Analysis. These self-service resources are easy to access and easy to use, supplying you with the critical business data and insight you need to effectively run your company.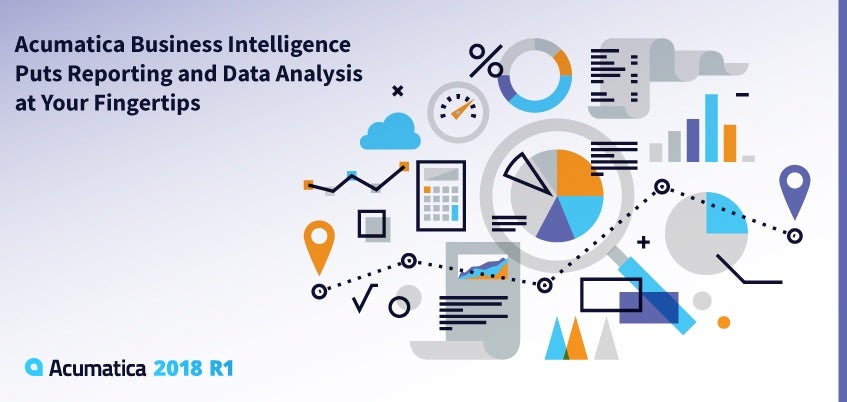 Introducing self-service reporting and analytics in Acumatica
Business leaders in growing companies all have three goals in common: Growing the business, watching expenses, and making good decisions. To accomplish these tasks, they need visibility across all areas of their responsibility with up-to-date data along with the ability to drill down into the detail.
Acumatica makes achieving these goals easier. Our true cloud ERP solution provides business intelligence and reporting capabilities that cross almost all areas of the operations and lets you access all your data from a single source while ensuring that access to information is controlled by Acumatica's role-based security. You can be assured that every user must have proper clearance to view the data.
To sufficiently analyze your business and to make successful decisions, Acumatica offers a complete set of reporting and data analysis resources, including:
Together, these resources provide users with flexible ERP reporting, CRM reporting, business intelligence, and data analysis capabilities. They let you easily create custom reports using Acumatica's Business Reports Designer, templates, and generic inquiries; you can even customize reports with your own branding and images.
You receive up-to-date analysis of your company's health and drill down to see specific areas of interest and concern. Utilize multiple reporting formats by exporting data in the format that works best for you, including HTML, PDF, Excel, and Word, or automate report delivery via email. Finally, use subaccounts with segmented keys to view items by price, color, size, store location, or any other dimension you select.
Acumatica Business Intelligence with Reporting, Dashboards, and Data Analysis helps you make informed decisions
Everyone looks at their business differently and has different questions to ask about the information they need. Acumatica offers business decision makers multiple ways to obtain the information needed to grow revenue, cut expenses, and make good decisions.
Our modern cloud ERP system provides end-to-end and real-time intel into your company's operations. Flexible ERP dashboards puts every team member on the same page while ensuring secure data through role-based security features. The reporting and analytics in Acumatica provides essential data right at your fingertips in one convenient location and allows you to analyze essential data for insightful decision-making.
If the idea of having self-service resources to gain insight into what is – and is not – working for your business sounds good, then contact us today. Our team is ready and waiting to help you get the most out of your ERP investment.