In the decades Ink has been in business, the custom printer has provided customers with quality screen-printed t-shirts and superlative service. They upped their already impressive game with the implementation of Acumatica cloud ERP.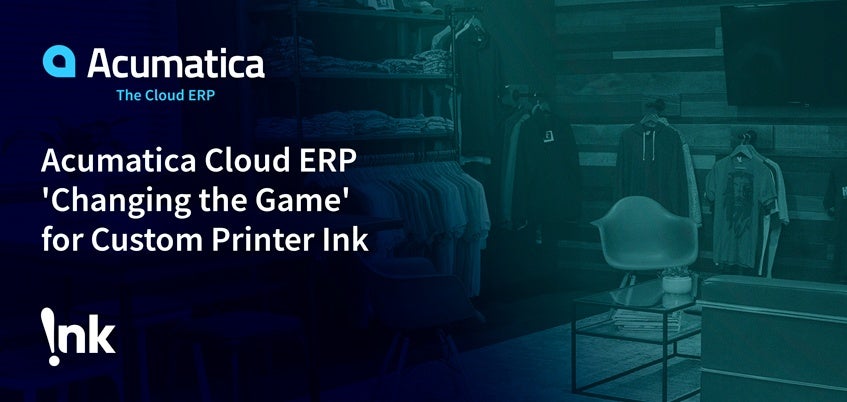 Here at Acumatica, we believe our cloud ERP solution is a "game changer." It's a comprehensive, integrated business management solution for businesses in any industry, and customers and innovation are our top priorities. The same can be said for Acumatica customer and custom printer Ink, a company that has been helping brands, groups, and events launch successful merchandise campaigns since 1988.
The company produces "top drawer" printed t-shirts with amazing style, fit, texture, and eye-catching art that clearly communicates a message. Ink's focus on culture and quality has made them a leader in the industry. They use the best equipment and materials, and they believe that the most important element of any t-shirt is "the person wearing it."
Besides these difference making actions, Caleb Harris, Ink Senior Vice President, Business Development, says there's one more thing that sets the company apart. "Great shirts are made by great people."
A bit about Ink's family and their journey to Acumatica cloud ERP
At Ink, employees are more than team members. They're family. If you go to their About Us page, the photos of their small but mighty team show professional head shots that, when highlighted, provide their names, positions, and a fun glimpse into their personalities.
To fully understand Ink's culture, their dedication to providing quality products, and how their process works, check out the Ink Custom Tees Virtual Tour. From the initial customer interaction all the way to the end product, they guarantee that customers will create a custom design that they like (or they won't have to pay for it!); that every order will be done on time; and that customers can be confident that their order will be right, or they will make it right.
As the virtual tour shows, they use high quality equipment that automates and streamlines their screen-printing process. What it doesn't show is the challenges they experienced with their manually intensive business management software.
Ink's journey to find the software that could handle their unique needs was a bumpy one. They first looked for industry-specific software. When they couldn't find it, they had a custom screen-printing program developed and built. Unfortunately, it was limited in its capabilities, so they implemented Everest, and found themselves once again at square one when Everest support no longer existed and when they were told that their custom programming wouldn't survive the move to new servers.
The next step?
"We then toiled for over a year and half and took a leap of faith with Cyrious Control, which we thought was industry specific," Caleb says in Ink's customer success story. "We quickly learned that while it was convenient, it couldn't scale."
And they were scaling. From 1,000 shirts a day on several presses to 10,000 shirts a day on 13 presses was too much for the system. Their siloed applications, manual data entry, lack of budgeting, and inadequate inventory controls led the Ink executives to look for a connected system with print industry functionality.
Finding and instantly benefitting from Acumatica cloud ERP
After reviewing and rejecting Oracle NetSuite and print industry-specific solutions, such as Printavo and InkSoft, Ink found a solution created by InfoSourcing: PrintShop for Acumatica.
"It was a good fit; we could tell immediately," says Caleb.
The company also knew that PrintShop's seamless integration with Acumatica's cloud-based ERP solution was the answer the team had been looking for. With the help of InfoSourcing owner Harsha Sarjapur, Ink implemented PrintShop for Acumatica. Ink also implemented Acumatica Distribution Edition, Acumatica Customer Management, Acumatica Financial Management and third-party applications eCommerce shipping solution: ShipStation; EBizCharge Credit Card Processing Integration: Century Business Solutions: and Acumatica Native Shopify Integration: Acumatica U.S.A.
And they did all of this in four months.
"We went from totally custom software that was not industry specific to industry-specific software that could not be customized at all," Caleb says. "Then we learned about Acumatica, the cloud-based ERP leader that gives developers the ability to build applications on top of it. At last, we now have an industry-specific application built on a platform that can scale with us as we grow."
They can now:
Access financial dashboards with a click of a button for one version of financial truth
Make data-driven decisions based on real-time business insights
Streamline their print operations and project scheduling
Eliminate manual double entries
Capture detailed information (e.g., pressure, mesh count, and precise ink combinations)
Add new users without fear of penalty due to Acumatica's resource-based pricing
There are even further benefits detailed in their customer success story, such as their plans to add a customer portal. Caleb says, "I love that our customers will have one place where they can view information on their orders and the status of that order (production date, print date, invoice). It's technology like this that puts us one step ahead of our competition rather than being a step behind."
Combining quality, culture, and cloud ERP for game-changing success
Ink's focus on quality and culture combined with Acumatica's award-winning cloud ERP software has resulted in unqualified success.
CEO Holt Condren says, "Acumatica has been a game-changer. We're finally on the one solution that is right for our business and able to do things in our business that we have been wanting to do for years."
For businesses seeking freedom from operating with siloed systems, Acumatica is a cloud ERP and eCommerce ERP solution offering integrated inventory management software, order management software, distribution management software, eCommerce software solutions, and more. Contact our team today with any questions and/or to set up a demonstration.