Our ongoing blog series on Acumatica customers highlights how Superprem, Specified Technologies Inc., Ray Allen Manufacturing, Berthold Technologies, Shoebacca and Tayse Rugs have amplified their success with Acumatica cloud ERP. MiiR, a company founded with the mission of giving back, is our next inspiring customer.
Bryan Papé, founder and CEO of MiiR, almost died. This near-death experience clarified a few important things for him. One, he needed to marry his girlfriend (they are happily married with two beautiful children), and two, he wanted to do something that positively impacted people in his community. So, three years after his accident, he started his purpose-driven company, and its incredible success eventually led him to Acumatica cloud ERP.
Read on for MiiR's inspiring story. You can also hear from Bryan, in his own words, on what it's been like implementing Acumatica.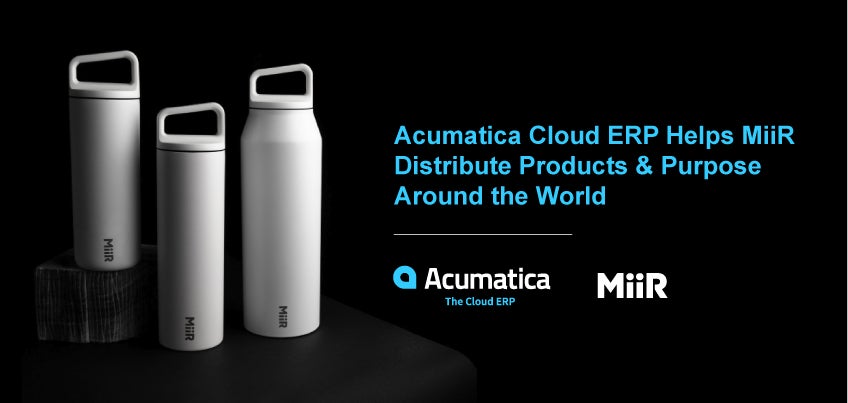 MiiR: giving generously day in and day out
Before Bryan started his own company, he was flying in helicopters and making ski films, living the dream. One day of skiing ended in a terrible accident when Bryan hit a tree and broke his femur.
"When you break your femur, you have the chance to hit your femoral artery, and you can essentially bleed to death internally in about 10 or 15 minutes. I kind of had this clarifying moment at a fairly early age in my life," Bryan says. "I thought about what people would say about me at my funeral. And I realized at that moment that nobody would have gotten up and said anything positive about me helping in my community, really impacting people around me."
His life-threatening accident, combined with a legacy of giving back left by his grandparents, forged his path towards daily generosity.
"The initial concept was, how do you merge business and philanthropy? The idea of how a company can be generous day in and day out," Bryan says. "With every order that we place and every product that gets sold, we're able to give from that."
MiiR produces a full line-up of stainless-steel drinkware (vacuum insulated) that grants 3% of its revenue to organizations with sustainable methods of empowerment. Every product they sell has a give code on the bottom of it. Customers, after registering the code, can track the grants given to amazing non-profits around the world who focus on such things as building clean-water systems in schools, getting environmental grants, and helping with climate change.
MiiR coined the phrase "Product to Project Company", which is a perfect description of who they are and what they do. According to MiiR's website, they funded 9 projects and provided 11 grants in 5 countries for a total of $210,000, impacting 9.2K people in 2018 alone.
"I think for MiiR, we've had a lot of success in the marketplace because of our generosity, our great product design, our innovation. But, ultimately, it comes down to our purpose and our mission to help empower people," Bryan says. "I think consumers are really smart. I think they know the difference between authentic and corporate."
And as their generosity has grown alongside their revenue, so have their challenges.
MiiR and Acumatica cloud ERP connect
Godwin Peck, MiiR Account Manager, explains where the company was about a year ago in terms of technology. "We were kind of relying on all of these piecemeal strategies to form this cohesive—somewhat cohesive—whole in getting orders out on time. A lot of it was based in QuickBooks, Shopify, and Google Sheets. These different systems don't talk to each other that well."
While that wasn't a huge deal when they had lower volume of orders, their astronomical growth meant they needed a better, more streamlined system to keep track of and regulate orders as well as to mine their data. After researching their options (NetSuite being one of them), they landed on Acumatica with the help of Acumatica VAR PC Bennett. Bryan appreciated how well PC Bennett listened to their needs. They also appreciated the difference Acumatica's distribution software and financial management software was going to make in their business.
Bryan says, "One thing that really got us excited about Acumatica was that not only was it a simple, scalable, and robust solution for us, but it also had a really clean and powerful API, so that when we did need a little bit more horsepower into CRM or Customer Portal, we had a place that we could connect into Acumatica that we felt confident in."
He calls Acumatica cloud ERP intuitive, natural, and powerful and has been impressed with Acumatica's unique unlimited user pricing model. "We didn't feel like we were getting charged for every single new employee," he says.
For Godwin, Acumatica's one source of truth has been the biggest impact. "Each of our team members can get a bird's eye view into what's happening with our ops team, what's happening in accounting, what's happening in invoicing. Within Acumatica, we have real-time data."
Here are some of the major benefits the MiiR team has experienced since implementing Acumatica Distribution Edition and Acumatica's Financial Management module:
Improved access to real-time data
Streamlined warehouse and processing operations
Updated inventory in real-time
Improved customer service (e.g. visibility into order status)
Time savings through integrating their systems
Gained mobility for employees who travel between headquarters and the distribution center
Increased reporting and business intelligence outlook
And more
MiiR has also utilized Acumatica's seamless third-party applications, including Fusion Warehouse Management for warehouse management functionality and Pacejet for integrating hundreds of parcel, freight, and 3PL shipping services directly into Acumatica.
MiiR's future with Acumatica cloud ERP
"For MiiR, being on Acumatica is the way we see the future and how we're going to continue to grow is being connected, being on a cloud-based system, but also having this digital interface and being able to see good data," Bryan says. "And to be able to make quality decisions from every single department, from the sales team, operations, and the admin and C-level executives being able to have good insight into all the data that sits within our system."
They plan to keep on growing, working with world-class brands, such as Patagonia, Starbucks, and Blue Bottle Coffee, to name a few. They also plan to continue spreading their product and their projects—which already spread from Abu Dhabi, UAE, and China to Japan, Korea, and even Europe—all over the world.
"The future for MiiR I would say is bright. For us, it's always continuing to focus on product to project. While we're a giving and generous company, we recognize that for us to compete in the marketplace, we have to build the very best product," Bryan says. "For us to do that, we constantly have to innovate, which then allows us to use our profits and revenue to help fund more grants and give people the opportunity they deserve around the world."
We invite you to contact our team, so we can answer any questions you may have about our distribution software and financial management software or to provide you with a demonstration of our cloud ERP solution, which is highly-rated in usability and customer satisfaction by Gartner and Nucleus Research.