Being a "one-stop shop" themselves, Kevins Worldwide recognized the many benefits of Acumatica's comprehensive cloud ERP solution. Here's their story.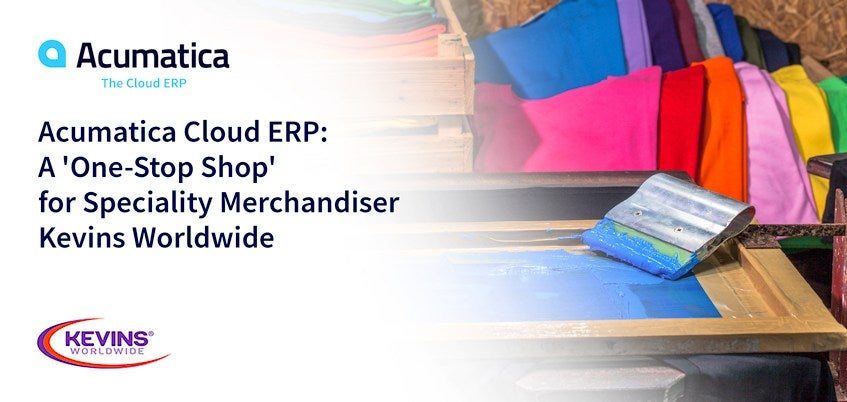 Kevins Worldwide has been in business for 25 years, and in that time, the specialty merchandiser has developed a strategy for success: "Function more as a partner than a vendor." Their focus on providing exceptional customer service has landed them on Inc. Magazine's list of 5000 fastest growing companies for the past three years. However, their success hasn't come without a few challenges, including their many-year reliance on disconnected (and, therefore, inefficient) accounting and online ordering software.
Enter Acumatica's cloud ERP solution.
No limitations with Acumatica Cloud ERP
Providing embroidery, screen printing, and promotional products to their B2B and B2C customers, Kevins Worldwide operates from an 85,000 square-foot warehouse, carrying over 800,000 apparel and incentive products. They own multiple screen-printing presses that, along with their embroidery services onsite, translates into quick, quality in-house order fulfillment. In addition, the company offers eCommerce web store management services and hosts more than 40 eCommerce websites.
Unfortunately, their legacy accounting software and its inability to connect to their online ordering software, 3dCart, caused no end of frustration. They were required to manually process their growing number of orders and input them into Everest.
With frustrations mounting, Kevins Worldwide's executives knew this was a time-consuming, error-prone process that needed to be corrected. It was high time they found a cloud-based ERP solution. They researched their options, including Acumatica, Epicor, and SAP.
Managing Director Kevin Tinkelman says, "For the investment dollars and energy, Acumatica showed a lot of promise."
Acumatica's cloud ERP and commerce management software, with its modern platform and seamless connections to third-party applications, cinched the deal. Kevins wasted no time in implementing Acumatica Financial Management and Acumatica Customer Management with the help of Acumatica partner InfoSourcing.
InfoSourcing's founder, Harsha Sarjapur, was instrumental in helping meet additional needs specific to Kevins Worldwide, including helping to seamlessly integrate Acumatica with InfoSourcing's PrintShop, an application that manages print production and scheduling, as well as helping to integrate 3dCart, software that processes online orders, with a custom plug in called "Order Sync." Harsha's efforts on behalf of Kevins don't end there.
When Kevins Worldwide wanted to offer alternative eCommerce platforms, such as BrightStores and Magento, to their customers, Harsha was enlisted to help again. Their initial custom integration took a lot of time with a high price tag, so Acumatica introduced Harsha to Celigo, a multi-cloud integrator, to ease the integration process.
According to the company's customer success story, "Kevins worked with InfoSourcing and Celigo and created a solution that gave Kevins prebuilt API connectors for multiple e-Commerce integrations with Acumatica, the ability to easily change e-Commerce endpoints, and an easy-to-use application so they could handle errors and minor changes themselves."
Once they implemented Celigo's integrator.io Integration Platform-as-a-Service (iPaaS), Kevins was able to expand their market. For more details, Harsha documents the journey in Future of eCommerce and ERP integration—iPaaS.
Ultimately, the combined efforts of Acumatica, InfoSourcing, and Celigo resulted in Kevins becoming a fully connected business. Craig Matusinksi, eCommerce & Social Media Director, says, "Acumatica is our one-stop shop for everything from accounting to inventory to sales to purchasing and so on."
Benefits of a "one-stop shop"
The benefits of having a centralized, integrated cloud ERP solution were significant. The company:
Eliminated siloed applications and gained a single version of the truth
Automated order processing, eliminating duplicate entry, reducing errors, and saving time
Streamlined print operations and project scheduling
Lowered IT expenditures
Improved their already stellar customer service
Increased employee access to the system at no additional cost due to Acumatica's unique pricing model, thus increasing productivity and cultivation of new business
Received customized dashboards
In addition to Acumatica's ease-of-use, Craig sees Acumatica's scalability as a "really big plus," and also notes that their meeting and exceeding customer expectations is assured with Acumatica as their "solid and efficient data source."
Into the future with Acumatica cloud ERP
As the Kevins Worldwide team continues to apply their successful strategy of partnering with their customers, they look forward to continuing their partnership with Acumatica, a company that shares the same philosophy.
"Everyone—production, purchasing, sales, inventory—now uses Acumatica, which gave us the ability to have one version of the truth in a central location, in one system that led to less discrepancies from area to area," Craig says. "It's rare for everything to work well without hacks or workarounds, and Acumatica works really well."
For even more details about Kevins' experience with Acumatica, check out their customer success story. For questions about how commerce companies, like Kevins, rely on Acumatica for their success, about our cloud ERP software, or about becoming an Acumatica customer, contact our team today.