What makes a cloud ERP vendor trustworthy? Acumatica's CEO answers that question today.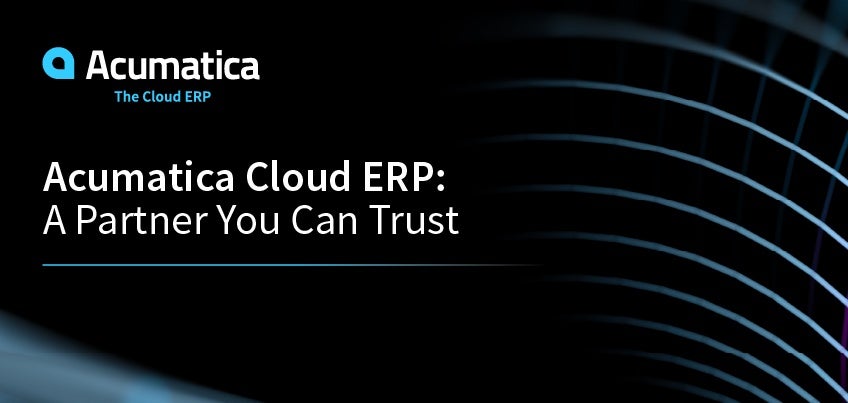 Let's talk about trust. It's often an overused word, and even more often, an unfulfilled promise. Many businesses (for today's purposes, we'll focus on cloud ERP purveyors) assure their potential customers that they will take care of the customer's business management needs while hiding their less attractive, untrustworthy qualities…until the papers are signed.
Acumatica doesn't operate that way.
Trust and cloud ERP vendors
As much as vendors should be forthright in their interactions with you, there are many that say "trust me" and then engage in unscrupulous practices. These practices include (but are not limited to):
The "bait and switch": Promising the moon but failing to disclose how much it's going to cost you
Implementation mayhem: Promising a fast, easy implementation but glossing over the potential hiccups and additional costs that always accompany a dynamic endeavor
Compliance bullying: Promising software licensing that will keep you compliant but changing the terms when it's in their best interests
Data ownership woes: Promising to protect your data rights in their SaaS end-user licensing agreement (EULA) but not revealing the fact that they legally own your private data entered into the software and that you may need to sue them to get your data should you choose to leave
Non-existent deployment options: Promising that your deployment option is the best but not offering you the ability to change how you deploy when your circumstances change (or, if they do, charge you an arm and a leg)
Lack of improvement: Promising cloud ERP software that will meet your needs while failing to invest in product development, solution enhancement, and emerging technologies
Ouch! You'll have to deal with these potential concerns if you choose what analyst Brian Sommer calls a predatory cloud ERP partner. Obviously, predatory partners are ones you can't trust.
In his Whitepaper, ERP Vendor Selection: Find a Partner, Not a Predator, Brian writes, "Unfortunately, great cultures don't always exist in technology firms that you've come to rely upon. And, if you do business with a technology firm with a bad culture, it could be a very expensive, frustrating, long-term decision."
Your rights with Acumatica cloud ERP
When you choose Acumatica, you don't have to worry about it being a bad decision. In fact, you can be confident that we'll be a trustworthy partner. Owner and CEO of Hartzell Construction and Renovation, Anderson Pinto, had to find this out the hard way.
His construction company handles commercial remodeling; residential, local, and federal government projects; new construction; windows; and plumbing. They needed construction accounting software that could manage their complex accounting, estimating, and project management duties. Unfortunately, they chose ProContractor, a frustrating and ineffective legacy solution.
Anderson and his team needed an ERP solution and a vendor they could trust. They found both with Acumatica.
"When I looked at Acumatica Construction Edition for the first time, I saw how easy it was to use," Anderson says in the company's success story. "I truly believed Acumatica would be good to partner with after seeing the innovative technology Acumatica is bringing to help modernize the industry."
He's right. We promise our customers a true cloud ERP experience, and to solidify this promise, we created the industry's first Customer Bill of Rights.
The Acumatica Customer Bill of Rights gives our customers the right to:
An easy to understand and not frequently modified End User Licensing Agreement (EULA)
A flexible, open platform for rapid integrations
Consumption-based licensing that does not inhibit business growth
Sustainable pricing with annual increases of no more than 3%
ERP implementations without hidden fees
Deployment flexibility
Access to THEIR data, anytime
Consistent, 24/7 customer service
Local business expertise
Dual layers of support
We've boldly proclaimed that Acumatica and our partner channel is dedicated to making your business a successful, connected business, even in turbulent times. For example, the current COVID-19 crisis has only strengthened our commitment to you, and it has been felt by numerous Acumatica customers.
Matt Short, Vice President, Monahan Partners, says, "We were extremely lucky to be in the process of implementing an ERP solution like Acumatica that we can access from anywhere, going live as scheduled on April 1st. This made it much easier for our office staff to work remotely when our local area experienced a spike in cases, without any disruption in customer service."
And Charlie Di Bona, Chief Financial Officer, Unify Square, says, "Count me and my team among the happy Acumatica customers! We're actually closing the quarter as normal despite the dislocations and disruption [re: Covid-19]."
A cloud ERP partner you can trust
The onus of choosing a cloud ERP partner you can trust is, unfortunately, on you. It requires an investment of time and effort, but it's worth it. If you're not sure where to start, here are a few suggestions:
Find out what users and analysts say about your ERP options
Compare ERP products to other ERP products
Request a thorough demonstration
Ask the tough questions
Check out their websites to see how they present themselves
We invite you to do all of this and more with Acumatica because we know you'll find that what we say is true: You can trust us with your business.
Acumatica Chief Marketing Officer Todd Wells says it best in his Acumatica Summit 2020 Day Two summary. "Ultimately, Acumatica is about providing superior user experience—through flexibility, ease of use, seamless integrations, automation, personalization, and quality updates. A superior experience also involves being able to trust in the company, the product, in the partners, and in the security it can provide."
If you want to learn more about why to choose Acumatica cloud ERP, check out our Acumatica Customer Bill of Rights blog series for details. You'll see what it's like to be an Acumatica customer. Our team is also standing by to answer any questions and/or to schedule a demonstration.