ToughBuilt provides tools that make their customers' lives easier and more efficient—something their financial and back office software wasn't doing for them. That's why they turned to Acumatica cloud ERP.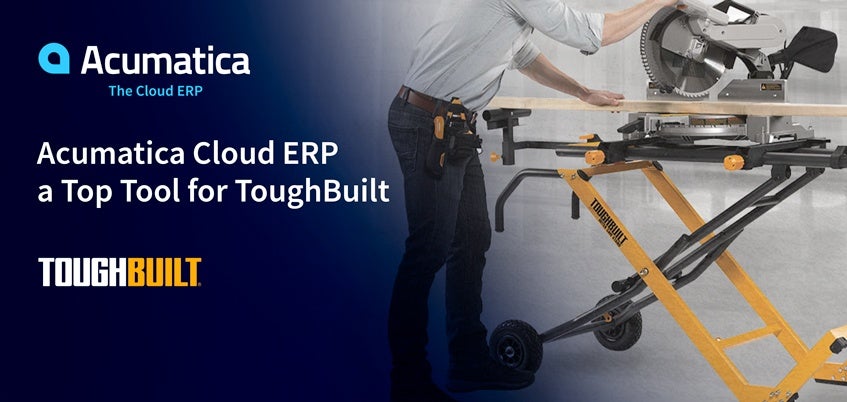 ToughBuilt has been creating, manufacturing, and distributing products for the construction industry (and for those laboring over at-home projects) since 2012. Their tools and accessories are designed to help their customers "build faster, build stronger, and work smarter." Unfortunately, the accounting and back office tool they were using wasn't designed the same way. So, after researching their ERP options, they chose Acumatica cloud ERP.
Controller and acting CFO Martin Galstyan explains why in the company's Acumatica customer success story. "[We] decided to go with Acumatica because we liked its licensing model; it was cloud-based, offered a wide variety of third-party add-ons, and also came with the ability to personalize it to the way we operate the business."
From limited QuickBooks to comprehensive Acumatica cloud ERP
Prior to implementing Acumatica's cloud ERP software, the company was using QuickBooks as their financial software. With ToughBuilt posting $20 million in sales in 2019 (compared to $1 million six years ago), the small business software was unable to scale with their needs.
Additionally, QuickBooks lacked EDI capabilities, which forced the ToughBuilt accounting team to perform headache-producing and time-consuming manual order entry tasks and expense reporting. Tracking inventory as well as communicating with sales was another huge challenge.
These challenges, and the company's move to become publicly traded, convinced ToughBuilt they needed a connected ERP solution that would set them up for success. The company's ERP must-have list included:
Affordability
Based in the cloud
Third-party application integration
Sophisticated financial reporting capabilities
Scalability
Mobility
Acumatica fulfilled their wishes and more. "With Acumatica, you are going to save money. You are going to save time. You're not going to need to hire people. You're going to be cloud-based, efficient. Your business can be run on your phone using the mobile app," says Martin. "Acumatica being cloud-based makes everything reliable and easy."
Building faster, building stronger, and working smarter with Acumatica cloud ERP
ToughBuilt, with assistance from Acumatica partner Klear Systems, implemented Acumatica Financial Management and Acumatica Customer Management. They also seamlessly integrated with multiple Acumatica third-party applications, including AP Invoice Processing Automation: Artsyl Document Imaging; Avalara Sales Tax Automation: AVALARA, INC.; Advanced Analytics by DataSelf: DataSelf Corp; SPS Commerce – Full Service, Fully Embedded EDI Solution for Acumatica: SPS Commerce.
Another third-party application they integrated into Acumatica was Sales Order Automation: Artsyl Document Imaging. Per Artsyl's ToughBuilt Customer Success Story, the ToughBuilt team was spending 15-to-20 minutes manually inputting sales orders. ToughBuilt discovered Artsyl Technologies' docAlpha transformational platform and OrderAction intelligent process application at an Acumatica Summit. After implementing the solution, they saved tremendous amounts of time, eliminated the need to hire additional employees, and provided real-time data and insights.
"Now, with Order Action, it takes two minutes max to get our sales order information into Acumatica. We cut down on a lot of wasted time for our workers to input sales orders," Martin says in the customer success story.
In addition to automating their order entry processes, Acumatica cloud ERP has increased ToughBuilt's transaction volume, improved inventory and visibility with contract manufacturers, provided anytime/anywhere access to data, allowed them to invest in R&D employees, made reporting and tracking financials more efficient, and ensured business continuity before, during, and after the COVID-19 crisis.
Says Martin, "Because Acumatica is web-based, information is there at your fingertips for you to pull whenever and wherever you need it."
A strong future with Acumatica cloud ERP
ToughBuilt is growing, and the team plans to expand even further by introducing new products, developing mobile applications, adding more major retailers to their list, and increasing international sales. And they plan to rely on Acumatica's comprehensive, flexible, and mobile cloud ERP solution while they do so.
"[With Acumatica], everything is connected and quicker, giving us an efficient way to manage the business," Martin says.
To learn more about Acumatica's cloud ERP software and what it means to be an Acumatica customer, contact our team today.