Reading customer reviews is a great way to evaluate a product or service. This includes cloud ERP solutions, which is why our ongoing customer series, starting with Superprem and Specified Technologies Inc., highlights our customers' successful journeys with Acumatica. We continue today with Ray Allen Manufacturing.
As a growing company, Ray Allen Manufacturing needed a cloud ERP system that could handle their unique business processes, and flexibility and usability were at the top of their wish list. After researching their many options—including NetSuite, Sage, Mail Order Manager, and Epicore—Ray Allen Manufacturing chose Acumatica and Acumatica's open ERP platform.
"We chose Acumatica primarily because of its flexibility and its ability to integrate with an eCommerce platform," says VP of Operations John Oakley. "We rolled with Magento at the same time we went with Acumatica and we were able to integrate all of our websites directly into our ERP. It just really streamlined the whole process for us."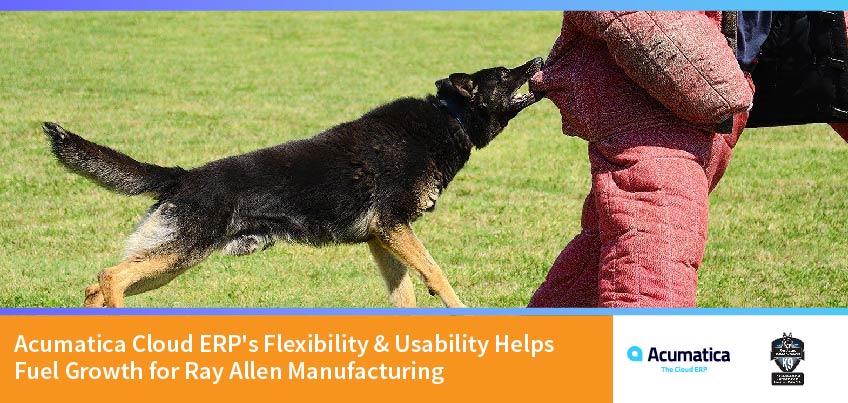 Ray Allen Manufacturing and their journey with Acumatica cloud ERP
"Cowboy" Ray Allen began his professional life with a saddle and harness business in Colorado Springs. While there, Ray connected with the U.S. Army who had moved a Sentry Dog Program into that area. He was asked by the military to provide them with basic K-9 products. He did so, and decades later, Ray Allen Manufacturing still supplies high-quality K-9 gear and equipment—many of which they manufacture themselves—to military and police departments. They also added a consumer-based product line in 2014 when they acquired J&J Dog Supplies.
Having two companies with two different customer segments and two different product mixes on the same PNL and inventory was a challenge. They needed to replace their legacy system, AS400, with cloud ERP software that allowed them to run their multiple companies from a single system as well as integrate with third-party applications, utilize a strong CRM system, and have access to powerful reporting.
In their case study and in the video testimonial below, you'll learn how choosing Acumatica has provided Ray Manufacturing with "vast" benefits and how the efficiency and ease-of-use has been felt company wide.
Implementing JAAS Advanced Manufacturing Software (JAMS) (the Acumatica Manufacturing Management Suite); Acumatica's Financial Management, Distribution, and Customer Management editions; and Acumatica Commerce Edition using Kensium Solutions – Magento/Acumatica Connector allowed Ray Allen Manufacturing to:
Streamline their operations
Improve their customer service
Establish a strategic platform for growth
Better manage their inventory
Gain insight into operations
Make better decisions
"We can do a lot of things better with Acumatica. We have great visibility of our actual operating cost—cost of goods, cost of manufacturing. It's allowed us to really get a better handle on expenses the company is encountering through its regular business, and it has definitely improved virtually every aspect of the company coming from an old legacy system and very manual processes," John says.
They eliminated manual paper-based tasks, became more efficient with a single accounting system for their sub-companies, and now serve their customers better by knowing who they are and what they need.
"Acumatica gave us the flexibility to work with platforms and the different tools we wanted to use to expand the eCommerce presence," John says. "We use it for purchasing, customer service—our inbound customer service agents are using it. It's been a really solid back end [solution]. It essentially runs all aspects of our company."
The case study points out that the company also appreciates the fact that workers in the field can perform their duties without assistance and that adding users with Acumatica's unlimited user licensing is both affordable and easy.
Acumatica cloud ERP: "One of the most configurable, easiest ERPs to work with"
"Anyone considering Acumatica for their business should definitely do due diligence and look very closely at the platform and talk to other Acumatica users. We find it to be one of the most configurable, easiest ERPs to work with that we've found," John says. "It just has been a very solid piece for our company. The costs are also very well in line, especially if you're going to do the SAAS model. It allows you to have access to that system no matter where you're at."
The usability John describes is exactly what Acumatica strives to give every user, and our latest release, Acumatica 2018 R2, is based on this ease-of-use as well as customer satisfaction. Acumatica's placement as highest in Usability in Nucleus Research's ERP Technology Value Matrix 2018 report among 22 leading ERP vendors tells us we're on the right track. So does Gartner's recent Magic Quadrant report, which rated Acumatica highest in User Satisfaction out of the 12 cloud financial solutions that were surveyed.
Why don't you contact our team today for a demonstration? Or, if you prefer a more hands-on research approach, join us at Acumatica Summit 2019 in Houston, Texas January 27-February 1, 2019. While there, attendees will learn about our comprehensive ERP solution alongside other customers—such as John who has participated in past Summits and is wanting to attend Acumatica Summit 2019—and Acumatica partners during our general, breakout, and training sessions while having fun at the same time.
"We've just been really happy with this platform and the support from Acumatica is just top notch. There's never been any issues with Acumatica that have come up that we've needed support for that couldn't be quickly resolved. They definitely know their product," he says. "We've had no downtime, no issues, no real major hiccups since we went on Acumatica in the last 2.5 year. It's the one piece of software in this business I don't think we'll ever do without again."