Claims that sound too good to be true probably are, but Acumatica's promise to provide an ERP deployment in 90-days (or less) is both good and true.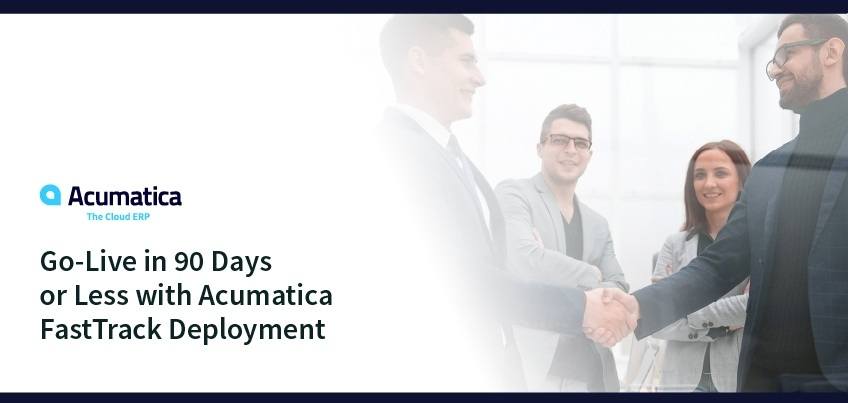 Why would you want to fast track your ERP deployment? By speeding up your ERP deployment timeline, you can experience faster time to productivity (and decreased time to value), higher customer satisfaction, and lower cost of entry. Though Acumatica has been delivering fast, flexible, and affordable deployments for years, we've upped our game with this new program, Acumatica FastTrack Deployment. It allows you and other midmarket growth businesses to go-live in 90 days or less.
"As one of the first companies to engage in Acumatica's FastTrack platform, we've been pleased with the amount of detail and attention paid to our successful launch into the system," says Dana Dabruzzi, President of Generation Cable.
How does Acumatica FastTrack Deployment work?
To understand how Acumatica FastTrack Deployment works, you must first understand traditional cloud ERP implementations.
ERP implementations begin with the Discovery phase. This involves defining what a business needs, their vision, and the scope of the project. It also involves getting the business to make a commitment to continue the process.
The next few steps are Analyze, Build, Stabilize, with continuous Planning & Monitor. Each step takes time and effort, and depending on the complexity of the business' needs, operations, and processes, it could be months before the final step—ERP deployment—occurs. This isn't unusual nor even a problem for many organizations, but there are those (including yourself) that may need this process to be fast tracked.
So, how does Acumatica FastTrack Deployment work?
It's a phased, in-the-box (ITB) approach using best practices-based templates and configuration checklists. It also uses data migration tools to streamline the transfer of data to Acumatica. The deployment framework consists of Initiation (Discovery and SOW); Adapt (Analyze, Design, Build, Stabilize); and Deploy (Go Live and Post Go Live). The final phase is Sustain, which involves continuous improvement and customer feedback.
The difference between an express deployment model and Acumatica FastTrack is a pre-defined, core business deployment—currently available for Acumatica's General Business, Distribution, and Construction editions—is that it's designed to get you into Acumatica's cloud ERP system within 90 days or less. It also gives you the opportunity to understand the system before personalizing it for your specific business needs. For example, if you require further Acumatica resources/modules or need to integrate with third-party applications, such as Procore or Smartsheet, you can easily do so once you're up and running.
As with all Acumatica implementations, you'll receive training by an expert Acumatica VAR, you won't be surprised by hidden implementation fees (or exorbitant costs), and your team won't be overwhelmed by a complex deployment.
"The product was what we have been looking for and the Acumatica team was great at assisting in the implementation," says Daniel Llull, CFO, VAL Holdings. "The goal was to work within a structured timeline until we went live and that was what we accomplished throughout the implementation process."
Is Acumatica FastTrack Deployment for you?
If you're wondering if this program is for you, then the following questions can help you decide.
Do you need an ERP system that isn't complex or costly?
Do you need an ERP solution that seamlessly supports your end-to-end business processes and doesn't require complex integrations?
Do you worry about the risks/unknowns surrounding software acquisition and deployment?
Do you have limited time, resources, and expertise in evaluating the hardware choices needed to run the software you're considering?
Do you believe that long deployment times will drive up costs and reduce your calculated ROI?
Do you want flexibility to enable users to work from home or from any location semlessly?
Answering yes to one or more of these questions means Acumatica FastTrack Deployment may be a perfect fit for you just like it was for Nikki Alsop, the Controller at Vaughn Bay Construction. "I've done enough of these implementations to know your team is great. You all made the process one of the easiest I have gone through. Thank you for everything."
There is no need for you to suffer through a stressful, costly, and time-consuming ERP deployment. With Acumatica FastTrack Deployment, you can get in, get started, and get growing right away.
Contact our team with your questions and request a demonstration today. We have the knowledge and expertise you need to migrate successfully to a cloud-based ERP solution that can save you time and potentially millions of dollars.