The combination of Acumatica and IFS promises to upend the cloud ERP space, which is great news for the Acumatica community and perhaps not-so-great news for competitors. Read what Acumatica's CEO has to say about the new partnership.
By now, you've probably heard the exciting news. Acumatica has entered into a mutually beneficial partnership with IFS AB, a global enterprise applications company, through an acquisition by EQT Partners, a leading investment firm. Why did we do this and what does this mean for Acumatica cloud ERP customers and partners? I'll answer these questions today, but let me assure you, the decision to unite with an ERP company that holds the same customer-focused values and innovative drive will power customers' business visions across the globe.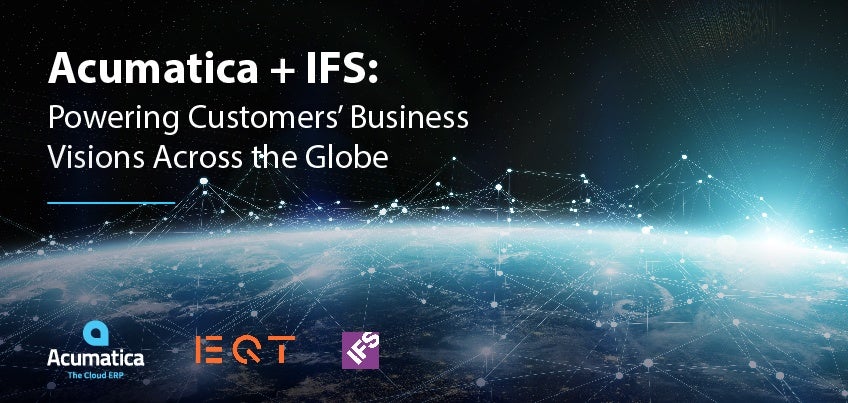 Who, what, where, when, and why: the joining of cloud ERP forces
In Acumatica's press release, IFS CEO Darren Roos' quote captures the essence of what this partnership means:
"This collaboration is great news for both organizations, our customers, partners, and employees. EQT has brought together two businesses that will enjoy the key benefits of a partnership in the growing cloud enterprise applications market. IFS and Acumatica can benefit from one another's resources, capabilities, and strategies, but still enjoy full autonomy and rapid growth trajectories while avoiding disruptions to business operations or brand equity. Acumatica's cloud-native architecture and operations are absolutely cutting edge, as is its commitment to partners and customers. I ultimately see this as two allies to cover the market from end to end, with combined strength to take market share."
His take mirrors Acumatica's belief that the Acumatica acquisition by EQT is going to provide customers and partners from both organizations with some significant benefits. As noted in a diginomica article on the Acumatica-IFS partnership, IFS brings more global infrastructure, advanced technology innovation, and IoT and IIoT capabilities to the table while Acumatica offers a true cloud ERP, modern technology, flexible user licensing, and a powerful channel program.
Brian Sommer notes in the same digonomica article that "In other ERP deals, redundant product lines were acquired that possessed little cross-functional improvement opportunity. Here, IFS and Acumatica can both contribute IP, channel assets, vertical knowledge, cloud capabilities, etc. to each other and make the pie materially bigger for both firms."
Together, our two cloud ERP forces will work together, tapping into each other's strengths. We anticipate soon generating $1 billion a year in revenues, increasing our workforce, and orbiting in the same sphere as the bigger players in ERP such as Microsoft, SAP, Oracle, Infor, and Sage (see how Acumatica compares to Microsoft Dynamics, Sage Intacct, and NetSuite in a G2 Crowd report)—while continuing to keep customer satisfaction and usability as our collective top priority.
To be clear, Acumatica and IFS will continue to operate as separate entities with our leadership teams intact. Acumatica's products and services remain a strong choice for the SMB market (ranging from $20M USD – $250 USD) and IFS will continue to target larger enterprises ($250M USD – $5B USD). We will, as stated in the press release, share access to our respective ISV, reseller, and systems integrator communities. Technical resources, roadmaps, and best practices will also cross company lines to foster efficiencies and growth for our customers and partners alike.
The places we will go
I believe that this next step in Acumatica's evolution is both exciting and rewarding for the Acumatica and IFS communities. We intend to go to great places and to bring our customers and partners with us. As we continue to adopt emerging technologies, including artificial intelligence and machine learning, to provide our customers and partners with superior cloud ERP choices, and to equip our customers for global capabilities, I hope you'll join us on our journey.
Acumatica plans to accelerate business and market opportunities for every member of the community. We remain 100% committed to our customers and to selling our product through our stellar partner channel.
For even more information, check out EQT's press release. And if you have questions, concerns, or would like to offer your feedback, contact our team today.