Every business can make an impact, but only one can receive Acumatica's annual Cloud ERP Impact Customer of the Year award. Mozaic, an amazing non-profit and business organization, earned the title this year.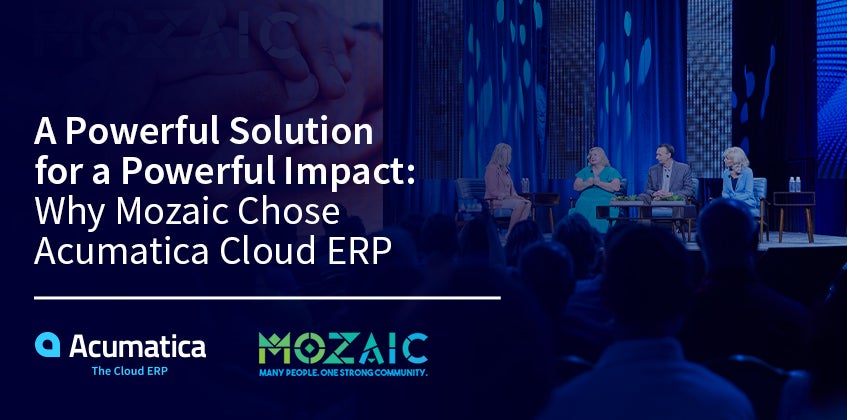 Existing for the purpose of making the world a better place—that's the criteria Acumatica's Cloud ERP Impact Customer of the Year award recipient must meet. Mozaic, a tax exempt 501(c)(3) not-for-profit organization located in the Finger Lakes region of New York, fit the description perfectly.
Their mission is "to provide lifelong opportunities that support people with diverse abilities on their path to personal success." They do it by providing a multitude of services and by operating a flourishing enterprise.
They also do it by depending on Acumatica Cloud ERP.
How Mozaic came to be
To fully understand Mozaic, you must first understand how the organization began. According to Mozaic's Acumatica customer success story, the non-profit was formed from the merger of two The Arc of New York Chapters: The Arc of Seneca Cayuga and The Arc of Yates. However, we must turn back the hands of time a bit further to understand the full story.
Prior to the merger, Tammy was the CFO of The Arc of Yates. She says she "walked into a mess" when she joined the organization, noting that they were relying on a legacy Microsoft Dynamics system. The system was on-premises and was constantly up-and-down. Security issues also abounded.
When The Arc of Yates lost their CEO, they were obligated to explore potential mergers. As they explored their options, they hoped they could adopt the financial platform of the merger partner. When a potential merger fell through, Tammy convinced the Yates board to not wait. It was time to invest in a scalable, cloud-based solution that had self-service functionality, could handle business and not-for-profit services, and was able to manage fund accounting.
"We were planning to expand and wanted to scale without per-user fees," Tammy says. "One of the major things we wanted was scalability, and that's what Acumatica brought to the table.  It was the only one that checked everything in our box of must-haves and many nice-to-haves."
They implemented Acumatica's Financial Management, Distribution Edition, Manufacturing Edition software. They also chose to seamlessly integrate with third-party application Nonprofit Accounting Solution: Accounting System Integrators—all with the help of Acumatica partner Innovative Cloud Solutions. However, even though they were running on a user-friendly, highly functional cloud ERP solution that provided automation capabilities (plus the ability to allocate and analyze expenses), and even though Tammy and the Yates team agreed to merge with The Arc of Seneca Cayuga, they encountered some major issues.
Tammy told Jon Reed of digonomica about it. "Well, we started with the merger of two chapters…We were going to merge systems; we were going to merge teams—and then COVID. And that made everything more difficult. We had to lay people off; it was very difficult for us. And then we decided to soldier on and keep working."
All would have been well, but then they were hit with a ransomware attack. Though down for two weeks with no internet, The Arc of Yates was able to keep going with Acumatica. The other division running on Sage? Not so much.
Tammy says in the Acumatica customer success story, "Sage held us hostage. They wouldn't even give us the older version to load. So, it's like we were hit with ransomware twice."
She told Jon in another digonomica article, they didn't pay the ransom. "They even wanted to charge us an additional ransom to try to bring it back. So, we pulled the copy off our backup and put it back on there, because we didn't want to pay that."
They were able to complete the merger and rename themselves Mozaic. The entire organization now runs on Acumatica.
Bringing order to chaos with Acumatica Cloud ERP
Over 2,000 people with intellectual and developmental disabilities and their families benefit from their services. Approximately 700 staff members make it all happen. "We are very complex for a $30 million operation," Tammy says.
They offer employment services, transportation, preschool education, custodial services, and snow removal and lawn care. Medicaid-based services, including clinic service, day and residential services, community support, and rep-payee services (manages individual's money), are also offered. In addition, they manufacture winter hats and other items (retail brand: Arctic Gear) for the public but have also been selling to the Department of Defense for 25 years, with all profits going back to the mission.
By choosing Acumatica's cloud ERP software, they have brought order to chaos. They can now:
Acquire, merge, and add new lines of business on a powerful platform
Access critical data from anywhere, at anytime
Rest easy knowing they have a secure solution that kept them operating even during a ransomware attack
Operate as both a for-profit and not-for-profit organization and handle fund accounting easily with a flexible financial system
Eliminate countless hours spent on manual processes and speed up financial closes
Access data and drill down into it in real time
Engage in a new partnership with an outside non-profit and help them cut their admin costs in half
Mozaic plans to help others, grow with Acumatica Cloud ERP
As a diverse and highly regulated company, Mozaic is excited to move forward with their plans to triple their growth as well as help other non-profits succeed using Acumatica Cloud ERP. Tammy says, "Acumatica is part of everything we do and supports every single thing that is missional to us."
They are making a huge difference in people's lives, and Acumatica CEO Jon Roskill was pleased to bestow upon Mozaic the 2021 Cloud ERP Impact of the Year Award during Acumatica Summit 2021 Day One Keynote.
Check out the video below to see Mozaic in action. Further details are also available in their customer success story.
To learn more about becoming an Acumatica customer and about Acumatica's manufacturing management, financial management, and distribution management software, contact the Acumatica team today.