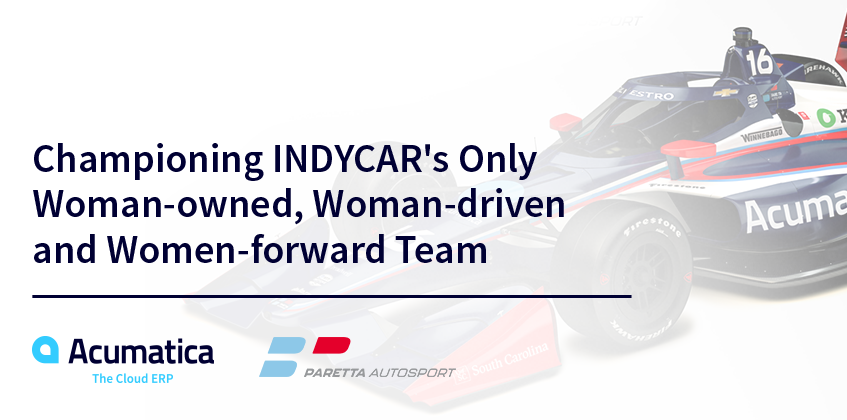 At the Big Machine Music City Grand Prix in Nashville, TN (August 5–7, 2022), Acumatica was honored to be the primary sponsor of Paretta Autosport—the first and only woman-owned, woman-driven, and woman-forward NTT INDYCAR team. This was our first foray into the sport of INDYCAR racing, and we are proud to have invested our time, money, and support in a team whose mission aligns so closely with ours.
Paretta Autosport's Mission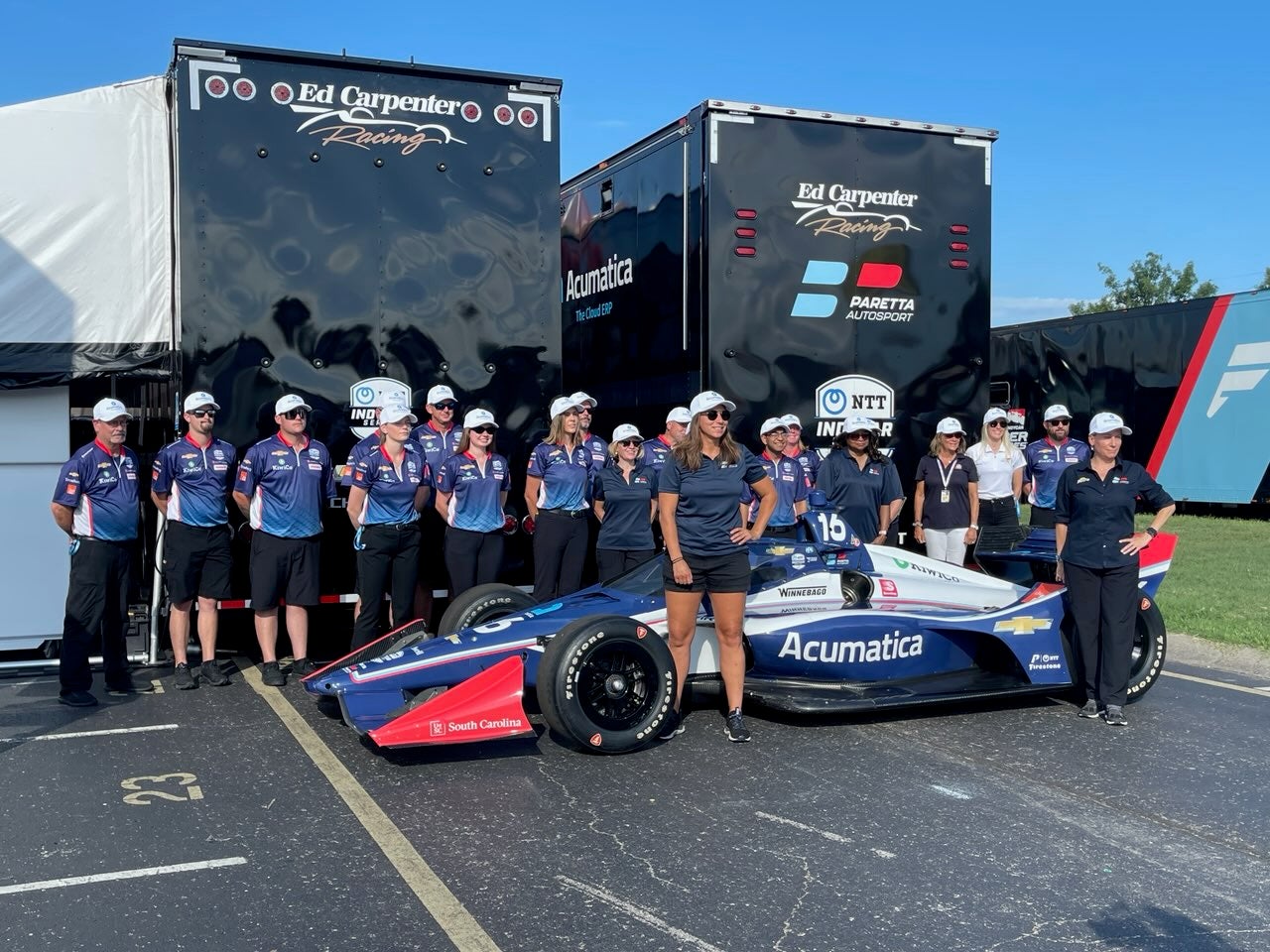 Pictured: The Paretta Racing team before the 2022 Big Machine Music City Grand Prix
Beth Paretta, CEO and Team Lead of Paretta Autosport, emphasizes her team's commitment to inclusivity and gender equity in sport. Its mission is to "[Unify] the current generation and [inspire] the next while shining a light on diversity and inclusion and developing talent to feed the STEM workforce pipeline well beyond motorsports." The diverse, talented Paretta Autosport team (over 65% women) is working tirelessly to bring this mission to life.
Opening doors and providing opportunities for everyone is exactly what diversity, equity, and inclusion (DEI) is all about. And it's something about which Acumatica is passionate.
Acumatica's Mission
Acumatica's commitment to DEI principles was confirmed by CEO John Case in the press release announcing this sponsorship. He said: "We're thrilled to sponsor Paretta Autosport at the INDYCAR Series Race in Nashville. We are laser-focused on our AcumatiCares program, which aims to make the world a better, more inclusive place. Paretta Autosport's commitment to training the next generation of women in STEM resonates deeply with us as we seek to create opportunities for women in our industry."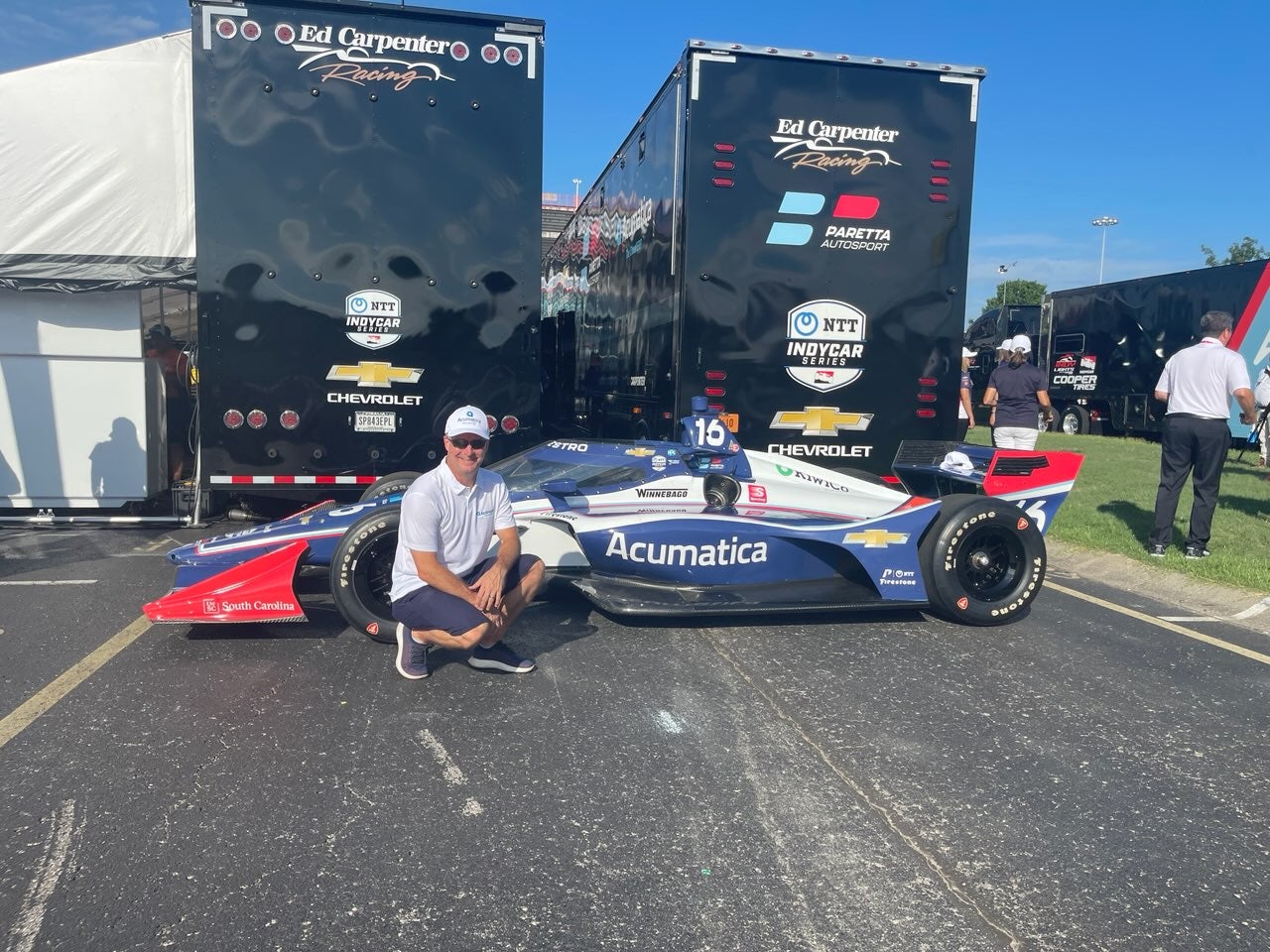 Pictured: Acumatica CEO John Case with the Paretta team's #16 Dallara Chevrolet
Our focus on creating opportunities for women has resulted in 40% of our 2021 hires being qualified, talented women and has spurred on our Women in Tech initiatives—including the Women in Tech Luncheon at our annual Summit.
Says Paretta, "Acumatica is the perfect company to sponsor the Paretta Autosport car. Like us, Acumatica is passionate about deepening its diversity, equity, and inclusion initiatives. We're proud to manifest those efforts on the racetrack to inspire others."
The woman in charge of manifesting those efforts on the streets of Nashville this weekend was Simona de Silvestro, an accomplished driver with a remarkable track record.
Sustainability: INDYCAR and Acumatica
In addition to diversity and equity, Acumatica is deeply committed to sustainable business practices and decreasing our carbon footprint. This commitment is also valued by INDYCAR.
The fuel used by INDYCAR is a variation of E85, which contains 85% ethanol and 15% high-octane racing fuel.
Beginning in 2023, Shell will produce a new racing fuel for the NTT INDYCAR SERIES, which is set to make INDYCAR the first US-based motorsports series to power racing with 100% renewable fuel. This fuel will reduce INDYCAR's greenhouse gas emissions by at least 60%.
Longtime series partner and tire supplier Firestone has developed new racing tires (Firestone Firehawk), which are partly made of natural rubber from the guayule shrub. The tires made their competition debut at the Music City Grand Prix, and Firestone plans to incorporate guayule rubber into more of its racing tires in 2023.
Acumatica is also studying the carbon impact of the INDYCAR sponsorship, and we will purchase renewable energy credits for the entirety of the exposure of the race—maintaining our existing carbon neutral certification.
The Path Forward
Thank you to Paretta Autosport for letting us be a part of such an amazing, talented, and forward-thinking team during this exhilarating race weekend. Since our cloud ERP solution drives value and enables customers to run fast with confidence as they race toward rapid growth, we can't help but think our partnership was meant to be.
To learn more about Acumatica's stance on protecting our planet and making the world a better, more inclusive place, or to ask questions about our cloud ERP software, contact our experts today. Together, we can make a difference.