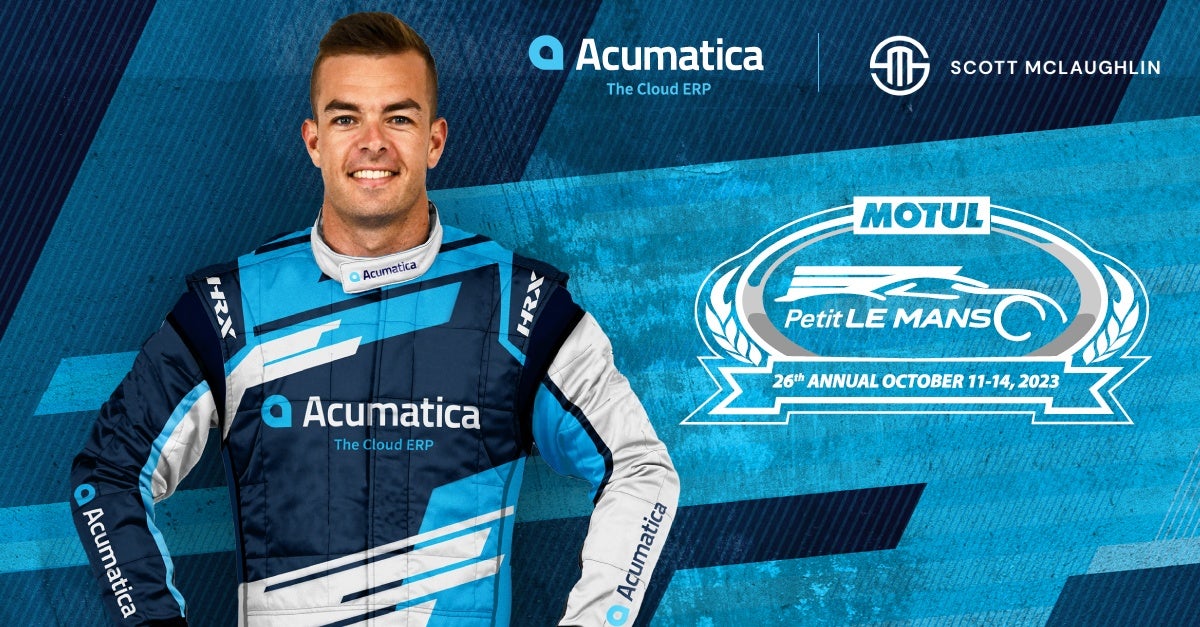 The 26th annual Petit Le Mans—an exciting sports car endurance event where teams of two or three race for 10 hours over a four-day period—will roar into Braselton, Georgia this October, and Acumatica can't wait. Why? This thrilling event kicks off a multi-year personal services and ambassador relationship with champion racer Scott McLaughlin.
In the press release announcing the new sponsorship, Scott is waving the green flag on the partnership. He says, "I am thrilled to partner with Acumatica, an innovative company that shares my passion for pushing boundaries and achieving greatness."
Racing and Technology: A Perfect Pairing
Drawing millions of spectators every year, auto racing is a high-octane, technically demanding sport. To succeed, drivers must possess incredible stamina, excellent reflexes, and keen intelligence, and when these elements are combined with a professionally engineered car and a dependable, capable team, drivers like Scott become champions.
Scott—who hails from New Zealand and has been a member of Team Penske since 2021—was named the 2021 Indianapolis 500 Rookie of the Year and the 2021 NTT INDYCAR SERIES Rookie of the Year. In 2022, Scott earned three NTT INDYCAR SERIES victories and currently ranks 4th in the 2023 championship standings.
His impressive record and drive to be the best are just a few of the many reasons Acumatica is proud to sponsor Scott. Our shared commitment to teamwork—Scott has close ties with his Team Penske teammates, including playing weekly golf with one team member and hosting a video series with another—and to performance make it an ideal partnership.
Scott agrees, noting: "Acumatica's cutting-edge technology and forward-thinking approach perfectly align with the fast-paced world of INDYCAR racing, positioning us as perfect partners on and off the track."
Revving Up for the Future
As with our previous sponsorships of LPGA player Jessica Korda, Paretta Autosport, and Joe Gibbs Racing, we're honored to have the opportunity to build strong relationships with those who are dedicated to competing and winning at the highest levels. Scott's positive mindset and innovative approach to competition are keys to his success, and we can't wait to cheer him on at Petit Le Mans this October in his Acumatica-wrapped race car and Acumatica-branded gear.
For more information about this partnership or about Acumatica  business management solution, contact us today. Acumatica is dedicated to providing an innovative, user-friendly product that exceeds customer expectations and helps them succeed in today's digital economy. With our partners, customers and through sponsorships with champions like Scott, we're building the future of business, together.