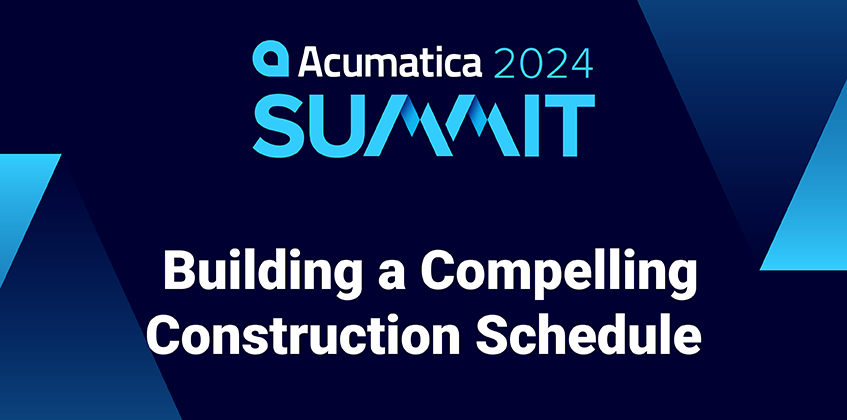 Registration for this year's Summit (January 28 – 31, 2024, at the Wynn Las Vegas) is open, and we've expanded our do-not-miss annual cloud ERP event to a full three-day experience, giving attendees more time and opportunities to experience, connect, and learn.
Summit offers a mix of the visionary big picture and broad trending issues that impact everyone, as well as subject specifics and details for those looking to dive deep into a subject, get smart about a single issue, or build a particular skill. That's why we're offering nearly 100 breakouts made up of various categories and unique sessions from which you can choose.
In the coming weeks, we'll be reviewing the Summit Breakout Sessions available for different industries, so you know what's in store for Acumatica Summit 2024, and we're kicking it all off with Construction.
What's in Store for Construction Businesses at Summit 2024
During our mainstage presentations, our keynote speakers will provide a broader vision of where technology is going and how it can help all industries and all companies be more competitive and expand their opportunities to grow and scale. At a more granular level, our product-focused Keynote taking place on day two of the event will feature industry specific information, customer stories and testimonials, and the latest feature updates that apply to construction firms.
Additionally and as in years past, the Acumatica Marketplace will provide an exciting opportunity for you to connect with ISV partners. They'll be showcasing their third-party applications' features and capabilities that are geared towards companies in the Construction industry.
Also geared towards the Construction industry are our 12 construction-centric breakout sessions where you'll have a choice of compelling topics that are core to the operational efficiencies of all construction firms, including:
Migrating project-related data into your ERP system.
Streamlining compliance management.
Getting smarter around project budgeting.
Appointment billing and service order management for field services
3 Types of Breakout Sessions for Construction Businesses
While the 12 sessions are focused on increasing your Construction technology knowledge, there are three different types: Informational, Interactive, and Focused Learning. Below are explanations and examples from the Acumatica Summit 2024 Agenda of each type.
Informational: These sessions provide the latest industry trends, product details, feature specifics, and issue background specifically designed to increase attendees' knowledge of Acumatica and understanding of technology.
Mobile Solutions for Field Service: Getting the Most out of Acumatica. Today's mobile workforce needs reliable tools and processes for collecting details in the field and connecting with everyone else in the company. This session will cover the basic workflow for field data collection and explore new ways to empower field service teams with Acumatica's mobile capabilities.
Interactive: These sessions are structured for participant engagement and the exchange of ideas, opinions and information, typically featuring a panel, group discussion, or roundtable format and provide a platform for presenters and participants to share their insights and experiences and respond to questions.
Customer Demopalooza – Construction Industry Customer Showcase: See firsthand how Construction Industry customers use Acumatica to manage and execute daily business tasks. This interactive session will feature engaging demonstrations of features built to give users a 360° view of their operations. Last year's popular session included email notifications, Business Events, and workflow suggestions.
Focused Learning: These sessions take a deep dive into common and sometimes complex business process requirements, covering scenarios and designed to alleviate business pain points.
Project-based Taxes: Simplify the Complexity: Everyone knows that tax reports must be accurate and filed on time. This process can be time consuming, and any mistakes or errors may lead to penalties. When projects are in different locations, tax accounting can get even more complex—and still more so when summary and detail layer calculations are required. Understanding the tools that simplify these processes is vitally important. In this session, participants will learn how to:
Simplify the complexity of project-based taxes.
Take advantage of Project Tax Zones when working in multiple locations.
Simplify calculations and workflows when billing line-level, document level, retainage, and GST taxes.
See how tax configurations impact cost accounting.
Review third-party integrations that reduce the errors to which manual entries are prone.
Constructing the Ideal Event for Construction Businesses
Acumatica Summit 2024 offers all those who work in the Construction industry – and all Summit attendees – the opportunity to explore topics, continue professional education, and enhance skills and knowledge that will help in your role and help expand business opportunities is available at Acumatica Summit 2024. And it's all balanced by a fun and engaging Vegas atmosphere perfect for networking, connecting, and building relationships.
To learn more about Acumatica Summit 2024, check out the Summit agenda and contact the event team at support@acumaticaevents.com with any questions. For any questions about our cloud ERP software, contact our team today.