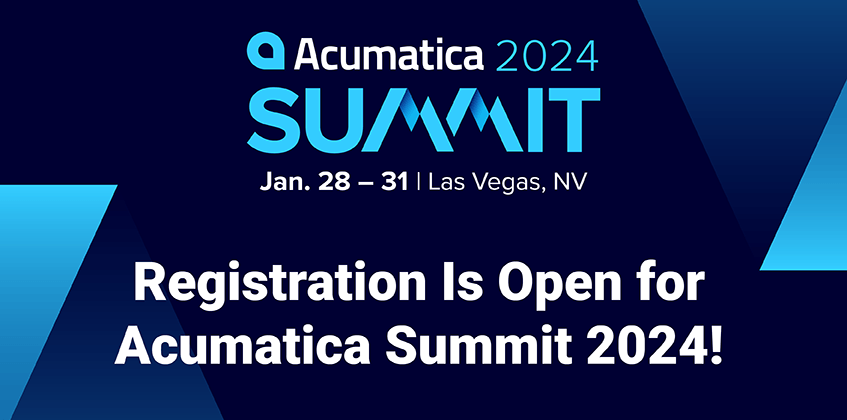 To be successful in today's digital economy, small and midsized businesses (SMBs) must constantly explore ways to evolve. Increasing sales and revenues and a growing customer base are the telltale signs of a vibrant business and the byproduct of building on past progress, adopting best practices, and seeking new opportunities to grow.
Acumatica's commitment to helping customers thrive and succeed is core to who we are and carries over to the approach we take in engaging with our Community. Our annual Summit is the premier event where we see this commitment in action. In preparation for Acumatica Summit 2024, we have taken a number of steps to expand opportunities for attendees to learn, experience, create, connect, and explore ways business technology will help their organizations grow.
It starts with expanding our cloud ERP event to three full days—up from our traditional two days. We're keeping all the great things attendees have loved about an experience that was recognized as the Event of the Year in 2023, improving other aspects based on their feedback, and providing more of everything.
Today, we're officially opening registration for Acumatica Summit 2024 and revealing our full agenda of activities—including more than 90 Breakout Sessions. Let's take a look at how we are expanding opportunities for all attendees and what we have in store for you in January 2024 in Las Vegas.
Acumatica Summit 2024: Building on What Works
Acumatica's annual Summit is the time and place where our entire Community of customers, partners, developers, and industry analysts can gather to celebrate, discover, and imagine the future of business technology. The familial atmosphere and beautiful surroundings enhance the week-long event and provide a great environment to create new opportunities.
When: Sunday, January 28 – Wednesday, January 31, 2024.
Where: Las Vegas, Nevada, at Wynn Las Vegas, a stunning, five-star, luxury resort with amenities that provide the ideal setting for fun and productivity.
Why: To increase your knowledge of Acumatica's cloud ERP software, to learn innovative ways to apply technology to your operations, and to foster an environment for making connections and forging relationships. Through visionary keynote presentations, engaging networking opportunities, and compelling informational sessions, attendees will be exposed to the latest product news, demos, and roadmaps that will help their companies thrive and grow.
In addition to expanding the length of the event, we're also offering all the great things that won Summit 2023 its Globee® "Event of the Year" award for creating an "unprecedented sense of community." This includes:
Our vibrant Acumatica Marketplace: Always the center of energy. Once again, we will have two full ballrooms of booths, experiences, entertainment, and activities, with more exhibitors on hand to showcase the most innovative, Acumatica-friendly products and technologies.
Our engaging Women in Tech Event: One of our most popular and well-attended events during Summit, the Women in Tech Luncheon features amazing speakers inspiring hundreds of attendees to promote workplace equity. We will also offer a Women in Tech Networking Reception for more opportunities to connect with other attendees.
Our special activities and extras: From the profile headshot booth, equipped with a professional makeup artist, to the Partner Showcases, where you can learn from informative presentations right on the Marketplace floor, we have plenty of special features and activities planned. More on these in the coming weeks!
Acumatica Summit 2024: Expanding Opportunities
So, what's different from last year? We're keeping all the great things you love but just giving you more. With a full third day for all attendees, we are expanding the opportunities to learn, to experience, and to connect.
Expanding Opportunities to Learn: Every year, we provide a multitude of Breakout Sessions overflowing with in-depth, industry-specific information, and attendees want more. With the extra day, we have more sessions to offer—over 90 in all. Tailored for customers, prospects, and partners, these informational, interactive, focused learning sessions are the ideal setting to expand your knowledge and pick up valuable best practices for your organization. Attendees can expect more time and opportunities to learn and ask questions.
Expanding Opportunities to Connect: Because networking is such a critical aspect of Summit, we're also creating opportunities to connect with longer break times to encourage further collaboration and more social activities for building informal, relaxed connections.
Expanding Opportunities to Experience: With visionary mainstage keynotes, informative breakout sessions, inspiring customer stories, and productive networking meetings, Acumatica Summit is the place to experience, first-hand, the industry-defining innovations and trends that are driving business success.
And this all takes place at Wynn Las Vegas—providing the fun, friendly, and productive setting for:
Expanding opportunities to grow your business with the latest technologies and capabilities.
Expanding opportunities to participate in interactive, informative, and focused learning, empowering you and your employees to leverage the transformative power of ERP technology.
Expanding opportunities to engage directly with experts to apply the latest best practices and innovations that will propel your business forward.
Acumatica Summit 2024: Better Than Ever
With a full, three-day agenda, we want attendees to know the details of what we have in store earlier, rather than later. So, this year, with the launch of registration, we're also sharing the full agenda, including the detailed descriptions of the over 90 compelling Breakout Sessions. When you register, you can read all about the opportunities Summit 2024 will provide to help you harness the power of business management software to transform and grow your business.
In the coming weeks, we will be sharing more information and highlighting specific sessions that we hope will give you more reasons to register and secure your spots for these must-attend experiences.
Register today for Acumatica Summit 2024! You don't want to miss our cloud-ERP-fueled event, building on a tradition of excellence. For any questions about Summit, contact the event team at support@acumaticaevents.com. For any questions about our cloud ERP software, contact our team today.