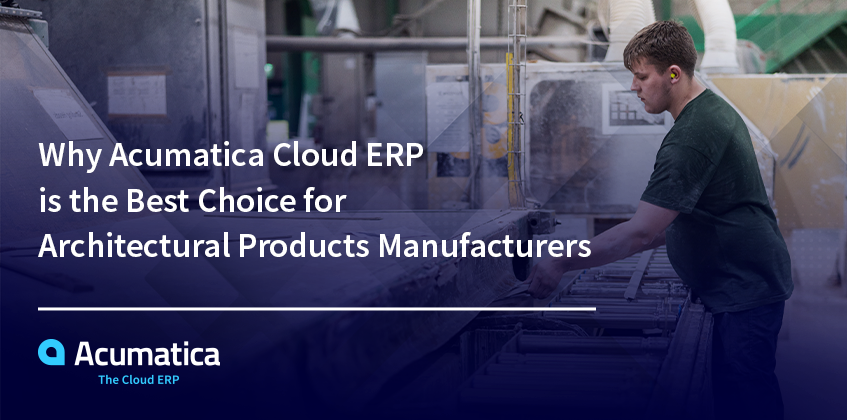 The last few years have been a rollercoaster ride for the construction industry, and by extension, the architectural products industry. The pandemic, supply chain disruptions, and labor shortages have forced these manufacturers to consider new, innovative ways to survive, and many have discovered that the best way is to implement a comprehensive cloud ERP solution.
But not just any cloud ERP solution.
According to an Acumatica Industry Digest, "Manufacturing: Architectural Products," architectural products manufacturers need to be wary of underserving cloud ERP systems. For example, some ERP solutions do not provide native configuration applications, so designing their dimensional products (e.g., doors, windows, cabinets, staircases, millwork, and prefabricated buildings) requires customizing the existing application or investing in costly third-party configurators.
Resorting to such workarounds is costly and inefficient. Choosing the right ERP solution—one that supplies the financial, purchasing, sales, inventory, customer management, manufacturing (and more) features architectural products manufacturers require—is critical. That's why the following manufacturers chose Acumatica.
Here are their stories.
Choosing Acumatica Cloud ERP
SAM 
SAM, a leading manufacturer of interior and exterior medium-density fiberboard (MDF) moldings in the UK, is a company that understands the intricacies of manufacturing. It's been a family-run manufacturing business since 1990, providing customers with quality skirting and architrave, window board, door frames, stair accessories, and much more.
Founders Sam and Julienne McCrea established their business on four core principles: teamwork, integrity, respect, and loyalty. Unfortunately, they learned the hard way that their loyalty to an underachieving business management system called EFACS—a client/server-based, on-premises system—was misplaced.
EFACS was inefficient, requiring employees to either be in the office to do paperwork or to use a VPN that didn't always work. Should more than 12 people be working in EFACS at the same time, the system kicked them out due to its limited number of seat licenses. Ultimately, SAM executives decided it was time to replace it with a modern, cloud-based solution.
Tim Patton, ICT Director, says they found Acumatica and there were two things that made the modern cloud ERP solution an attractive option right off the bat. "One was the reduced costs in maintenance, and the other was no per-user licensing. With Acumatica, there are no licensing surprises and no replacement costs."
In March 2020, the company temporarily shut down due to the pandemic, so SAM used the time to implement Acumatica (Financial Management, Inventory Management, Order Management, CRM with Outlook Integration, and B2B Gateway's EDI and API Connectivity for Acumatica). When SAM was able to reopen, SAM team members were able to:
Access critical business information from wherever they were and whenever they needed it.
Have insights into sales bookings on a daily basis, allowing the production team to plan based on actual orders.
Enjoy a streamlined order processing system where they could add notes/attachments and automatically send email confirmations.
Identify and solve issues quickly, improving customer service.
Make informed—and fast—decisions and forecast with real-time data.
Have confidence their data was safe and secure with a reliable back-up system.
"Acumatica keeps our data safe. It was one of the big successes of last year because we had Acumatica in place," Patton says. "I am still amazed to think that I can be sitting in a Starbucks drinking a coffee while looking at our ERP solution, but that is the flexibility and usability that all companies should expect nowadays."
Fabuwood
Fabuwood is a leading kitchen cabinet manufacturer, and one of the largest. Based in Newark, New Jersey, the company began in 2009 as a 40-person endeavor, working out of one warehouse and growing into multiple warehouses before moving into an over 1 million square foot facility it and it's over 1,200 employees operate out of today.
With such incredible growth, Fabuwood needed a modern ERP solution that could integrate the multiple systems upon which they were running, including QuickBooks and their in-house WMS and EZ Pricing systems. Sendy Stern, Senior Vice President of Technology, had high expectations as they had already installed millions of dollars' worth of technology and state-of-the-art machinery that allowed them to ship their kitchen cabinets to their customers within three days. In fact, Sendy describes Fabuwood as a "technology company that happens to sell cabinets."
After reviewing its ERP options, Fabuwood landed on Acumatica and Acumatica Manufacturing Edition. Sendy and his team recognized that Acumatica's customizable system would integrate easily with their vital third-party applications as well as scale alongside the company as it continues to expand. Acumatica VAR NexVue aided the Fabuwood team with their implementation, which included an initial nine integrations.
"Within five months we were live. [Acumatica] has a great platform and a great system that helped us go fast," says Sendy. And because of its complex—but successful—implementation and the incredible effort put forth by its team, Fabuwood was named Acumatica's 2018 Customer of the Year.
Now, the Fabuwood team uses Acumatica's manufacturing management software as their "single source of truth" for every aspect of Fabuwood's operation, helping them manage inventory, vendors, and customers. It's easy to use, accurate, and flexible, according to Sendy, who also says their employees "just love it" and that the support Acumatica provides is one of a kind.
Says Sendy, "We can automate more. We're purchasing better. [We have] better tracking on inventory; better tracking on costing."
SpaceManager Closets 
Though its name suggests otherwise, SpaceManager Closets is more than a custom closet organizer system manufacturer. Closet organization was the manufacturing company's first foray into home organizational systems over 20 years ago, but SpaceManager Closets expanded to include custom designed and manufactured home office cabinets, pantry closets, garage cabinets, wall beds/murphy beds, entertainment systems, and much more.
SpaceManager Closets is passionate about making life more "efficient and enjoyable by providing intelligent closet storage solutions that put things in their proper place." And the team is laser-focused on providing quality products and exceptional customer service.
To manage its financial and accounting needs, the SpaceManager Closets' team relied on QuickBooks Online, but though it did the job, it was limited in its scope. The company also utilized a CRM application called Job Nimbus, which had a mobile app that helped their field staff—but not much else.
Employees using the multiple applications were required to use spreadsheets and manual data entry was also an unfortunate necessity. President and CEO Francis Nwabudike knew they needed a new solution that could manage all of their purchasing, inventory, manufacturing, field service, financial management, and customer needs in one place. And he wanted it to be cloud based.
So, he decided to go shopping, searching for a user-friendly, nimble, and scalable cloud ERP solution that could manage their unique needs. Oracle NetSuite, Microsoft Dynamics 365, and Acumatica made Nwabudike's final list, but only one made the cut.
"When I discovered Acumatica, I was quite surprised that anything like that existed," Nwabudike says. "I was amazed that it could do all the things that it could do."
After implementing Acumatica with the help of Acumatica partner ASWi, SpaceManager Closets is able to:
Use Acumatica's low code/no code capabilities to make changes within the ERP without relying on a developer.
Save money and encourage growth with Acumatica's unique pricing model.
Provide the company's field teams with an easy-to-use and native mobile app.
Take advantage of Acumatica's many third-party applications to extend Acumatica's capabilities.
Within the first year of using Acumatica Manufacturing Management, Nwabudike says they've resolved almost 95% of their inventory challenges. They've also utilized Acumatica's real-time data, helping shop-floor employees do their jobs properly and the leadership team to make smarter, more strategic business decisions, such as buying materials in bulk, ensuring they have what they need on hand while simultaneously saving costs.
Says Nwabudike, "It's literally the lifeblood of the system at this point. There's nothing we do that doesn't include Acumatica."
Acumatica Cloud ERP: The Best Choice
These Acumatica customer stories reveal that Acumatica's ERP for architectural products manufacturing is an excellent option for so many other architectural products manufacturers seeking a modern, comprehensive ERP solution. As noted in Acumatica's Industry digest:
Acumatica provides unmatched functional breadth with last-mile features such as disassembly, engineering change control, demand forecasting, and outside processing to streamline critical manufacturing processes. Production Orders support make to stock, make to order, engineer-to-order, job shop, and configure-to-order manufacturing. In addition, project accounting provides project-centric manufacturers with production and resource planning for specific manufacturing projects.
Download the complimentary Industry Digest today to learn more about Acumatica's award-winning cloud ERP software. Experts are also standing by to answer any questions or to set up a demonstration.